Limousin cow Burnbank Jenny continued her successful season by lifting the Interbreed Beef Championship at the 150th Bucks County Show on Thursday 31 August. Exhibited by Paul Barwood and Anita Padfield, Great Yarmouth, the three-year-old Wilodge Fastrac daughter was bought from the Graham family, Stirling, at the 2014 Red Ladies Day sale at Carlisle. Being shown with her heifer calf, Brambles Naughty But Nice by Ulm and back in-calf to the same sire, she already has Interbreed wins at the South of England, Suffolk and South Suffolk shows to her name this year. Placing her into top spot was judge Mr Colin Hutchings, who travelled from Somerset to judge the championship classes.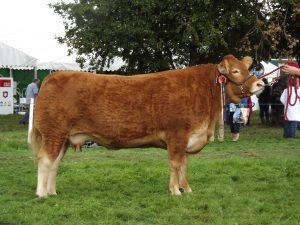 On her way to the title she had taken the Supreme Champion Limousin prize piping the January 2015 born heifer Brockhurst Littlegem from W J & M Mash Ltd, Chesham, Bucks into reserve. Littlegem by Wilodge Fastrac out of Ronick McAinsi is also no stranger to success this year herself having collected a string of summer triumphs. She is half-sister to Brockhurst Heavenly who scooped the Limousin Overall Supreme Championship and the Beef Individual Interbreed Championship at the 2016 Great Yorkshire Show.
Limousin reigned supreme in the Interbreed Beef Group Championship. The team of four consisted of three early 2015 born heifers, all by Wilodge Vantastic and one bull. The heifers were, Ironstone Lavender from Smiths of Boxham and Brockhurst Lucy and Littlegem from W J & M Mash Ltd. Making up the foursome was the January 2016 born bull Mereside Marshall from the Fountaine family, Beachampton, Bucks. Judge Mr Hutchings described the team as "easy winners" with "a clear similarity in type and quality, they matched perfectly"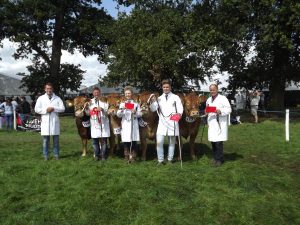 Full Results
Calf born after 1 Sep 2016
Brambles Naughty But Nice – Barwood & Padfield
Parkhill Miss Gewell – Mr M J Dickens & Family
Heifer born after 1 January 2016
Parkhill Melody – Mr M J Dickens & Family
Calverton Maria – G R Fountaine
Dinmore Macaroon – A & E Bishop
Heifer born after 1 January 2015
Brockhurst Littlegem – W J & M Mash Ltd
Ironstone Lavender – Smiths of Bloxham
Brockhurst Lucy – W J & Mash Ltd
Cow in calf/calf at foot born before 31 Dec 2014
Burnbank Jenny – Barwood & Padfield
Hannem Jinglebell – Mr M J Dickens & Family
Brockhurst Jade – W J & M Mash Ltd
Bull born after 1 January 2016
Mereside Marshall – G R Fountaine
As usual the commercial judging featured a healthy cohort of Limousin genetics. Taking the female champion position and then the Supreme Commercial Beef Championship was the February 2016 born Limousin cross Sally Anna from Mr Mike Dickens & Family, Little Horwood, Milton Keynes, Bucks.