Four things to consider when purchasing a cattle crush
A cattle crush is an essential piece of equipment for beef and dairy producers. Here are 4 things to keep in mind when picking the best model for your farm.
From collecting herd management data to safely keeping up with herd health protocols, a cattle crush is an essential piece of equipment for every cattle farm.
"Having a good cattle crush will make a big difference in a farm's ability to optimise herd health and take the extra step in collecting performance data that will be beneficial to their management decisions," says Edward Wise of Wise Agriculture, UK dealer of Arrowquip cattle handling equipment.
As engineering for cattle crushes continues to advance for some manufacturers but remains stagnant for others, Mr Wise recommends farmers increase their quality and safety standards when making investments into a new cattle crush.
Below, he outlines four things cattle producers should take into consideration when selecting the best cattle crush for their farm.
Safety
First and foremost, a cattle crush must be safe for both the people operating the equipment and the cattle they are restraining.
"This is surprisingly overlooked on a large scale – it's not uncommon for us to speak to farmers who have lost fingers or vets who have had cattle injure them when using poorly designed cattle crushes," says Mr Wise.
Data from the Health and Safety Executive estimate 24% of livestock producers are injured each year, with 47% of those injuries being due to inadequate facilities.
Look for multiple access points
To improve safety when handling cattle, Mr Wise advises farmers to look for a cattle crush that has multiple access points that allow contact with all areas of an animal while keeping it properly restrained. This should include gates that give full access to the side of the animal, with top and bottom gate sections allowing for partial side access. Also, look for front hoof and neck access and rear access.
"These accessibility points need to be easy to use so handlers aren't slowed down when using them and aren't tempted to stick their hands in a place that could result in injury," adds Mr Wise.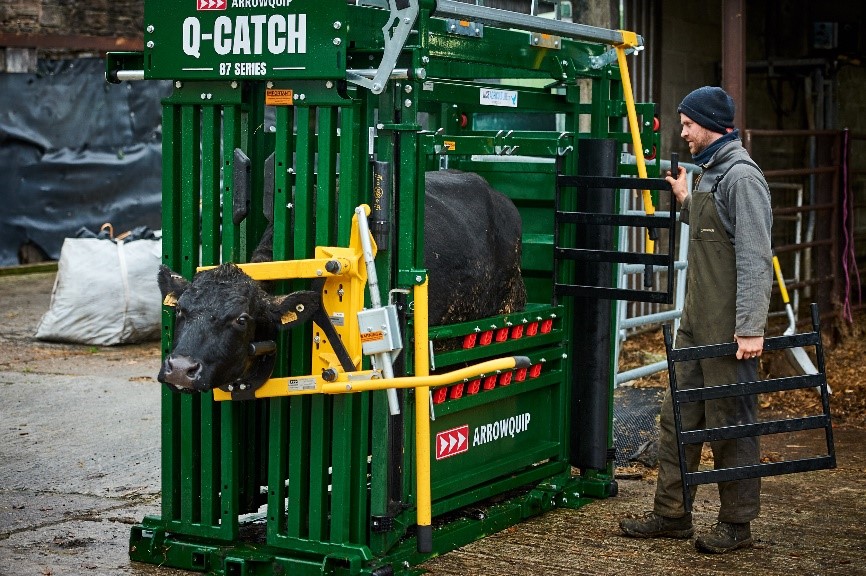 Opt for a squeeze crush
For both handler and animal safety, opt for a squeeze cattle crush rather than a model with a fixed width. Often, cattle that are nervous in a crush will calm down when a little pressure is applied to their sides. It's also a good way to further restrain animals to protect both them and handlers when close contact handling like physical examinations are being done.
"Your crush squeeze needs to be on a reliable locking system and needs to be able to restrain cattle ranging in size from a small calf to a large bull," says Mr Wise. "It also needs to be easy to operate so handlers don't hesitate to use it."
Ask about manufacturer safety investments and guarantees
When researching safety features on cattle crushes, look into the manufacturer's safety research and safety warranties. According to Mr Wise, safety is a top priority for Arrowquip, with the company making significant investments into R&D to improve safety features to have the 'safest cattle crush on the market.'
"If your cattle crush causes you to become injured while working cattle, Arrowquip will issue you a refund," says Mr Wise. "That's how strongly they feel about the safety design of their products – which should be standard for all cattle crush manufacturers."
2. Manual or hydraulic
A common question Mr Wise is asked by farmers is whether they should go for a manual or hydraulic cattle crush. This is largely going to depend on the number of head being worked at a time and how prepared handlers are for the extra physical effort required to operate a manual crush.
Making the step up to a hydraulic cattle crush
For larger herds working upwards of 100 head of cattle at a time or smaller herds needing to work more efficiently, Mr Wise recommends going down the hydraulic route. While it is a bigger investment upfront, a hydraulic will speed up the flow of work, resulting in a financial return associated with time savings.
"We recently spoke to a farmer who TB tested over 1,000 head in one day using an Arrowquip hydraulic crush. She initially rented the crush for that specific job, but is now looking to invest in a hydraulic crush for all of the farm work now after seeing the labour savings," says Mr Wise.
Hydraulic cattle crushes are also a great option for farms where an operator's physical build needs to be taken out of the equation to keep up with the flow of cattle. Arrowquip's Q-Power 107 Series hydraulic crush is operated by levers mounted on a swinging arm that is at waist height and requires no physical effort to operate the head gate, rear gate and squeeze.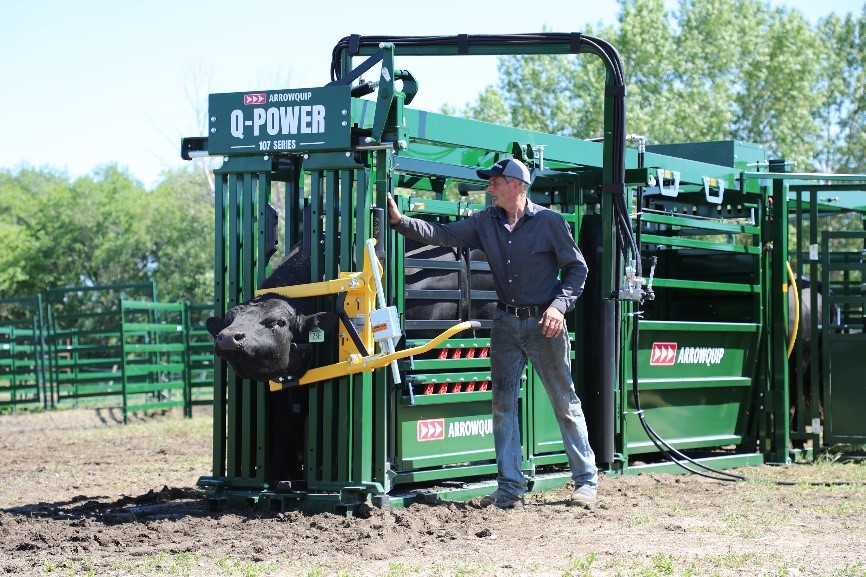 Making the right choice for a manual cattle crush
When shopping around for a manual cattle crush, make sure it is easy to operate.
"It should be easy to open and close the head gate and to apply the squeeze. Accessibility gates should be easy to open and swing around without requiring the handler to handle any weight," says Mr Wise. "A manual squeeze crush like Arrowquip's Q-Catch 87 Series can easily be operated with one hand by someone small in stature."
Ease of operation will give handlers the double benefit of not tiring as quickly and also keeping up with the flow of cattle, resulting in greater output efficiency.
"Just because it is a manual crush, doesn't mean it has to be physically taxing to run," he says.
3. Works with animal behaviour
A critical element to the safety and efficiency of a cattle crush is choosing a design that is based on animal behaviour.
"Farmers need to look beyond the basic elements of a cattle crush and look for design elements that will work with animal behaviour instead of against it," advises Mr Wise.
Cattle crush quietness is essential
This starts by selecting a crush that has been engineered for quietness to help keep both cattle and handlers calm. Look for engineering that mitigates the clang of metal on metal with nylon bushings on moving parts and nylon coatings on slam latches.
"When looking at a crush, give it a rattle test. Grab it at the side and give it a shake," says Mr Wise. "Crushes that rattle and bang are only going to agitate cattle and give them a negative experience within the crush, which can hurt their willingness to go into it in the future. It's also going to make the working environment for both cattle and handlers to be loud and unpleasant, which can lead to an escalation in negative reactions."
Keep things calm with a rubber floor
To also contribute to quietness and to prevent slipping, choose a cattle crush with a textured rubber floor.
"A high-quality, textured rubber floor is going to give cattle better traction as they travel through and stand in the crush, which will help keep them calm and also muffle any noise that would have been created from a metal floor," explains Mr Wise. "Durability is an important factor here, with poor quality rubber floors quickly wearing through and needing to be replaced. Arrowquip uses tractor tyre grade rubber in their floors and have yet to have one wear through – even in equipment that are having thousands of head through each week."
Cattle crushes that utilise light give flow benefits
When improving the flow of cattle through a handling system and a crush, lighting needs to be kept in mind.
"Cattle won't want to travel forward through an area that has poor lighting – their natural behaviour is to travel towards light," explains Mr Wise.
To improve the flow of cattle through a crush, he recommends selecting a cattle crush with slats in the headgate that let light through and also be mindful of the lighting conditions of where the crush is placed.
"You can have the best crush in the world, but if cattle are expected to walk from a brightly lit area outdoors into a dark building with little lighting, it will be a struggle to get them to flow through," he adds.
4. Warranty and customer service
With the price increases seen throughout the machinery sector in recent years, farmers need to invest in equipment that will yield them a return for a long period of time. Along with the functionality of the crush coming into play, an equally important factor is manufacturer-backed build quality and customer care.
"A cattle crush should be built to last on your farm for more than a decade. It should also have a manufacturer warranty to support this," explains Mr Wise.
For example, Arrowquip has a 15-year warranty for its Q-Catch 87 Series manual and Q-Power 107 Series hydraulic squeeze crushes. Along with extended warranties, Mr Wise advises farmers to purchase from dealers and manufacturers that prioritize customer care.
"It's important to have the assurance that if something goes wrong with your equipment or it isn't suitable for your farm, both the dealer and manufacturer are going to take it seriously and help get any issues resolved," concludes Mr Wise.