118 Bulls sold, up five on the year
Clearance rate of 83%
13 bulls make five figures and over
Almost 50% make between 4,000 and 9,500gns
Bulls gross £662,140
Average £5,611.36
The outstanding year for British Limousin Cattle Society sales moved into its final period on Saturday 20th October 2018 when all roads led to Borderway Mart, Carlisle for the 41st autumn show and sale of pedigree bulls.
Against the backdrop of a challenging summer for suckler producers and uncertainty about what the new year will bring, commercial buyers were still out in force. Underpinning a remarkably vibrant trade this reflects just how high confidence in the breeds fit in the market place is. With a clearance rate of 83%, a packed ring saw 118 bulls sold, five more than in the corresponding sale last year, to an average of £5,611.36.
In a sale that was dominated by commercial types, thirteen bulls made five figures or more, with 29 in all making 7,000gns or above. Highlighting the depth of trade coming from the commercial side of the business half of the bulls forward sold for between 4,000 and 9,500gns.
Commenting on the sale BLCS Chief Executive Iain Kerr said "There has been a strong demand for Limousin bulls throughout 2018, and it was great to see it continue at the Society's October sale at Carlisle. An increased number of bulls sold and a clearance rate higher than last year provides yet more evidence of the breeds position as the go-to for commercial buyers. Yet again, a notable feature of the day was the emphasis buyers were putting on bulls that had strong calving figures, and, there was also attention being paid to the health status of bulls for sale. There is clear demand from buyers for as much information as they can get when investing in their businesses; through its plan of investment the Society and its members are committed to providing it".
He added "Beef producers are looking for easy calving, easy care cattle that are feed efficient and produce a high-end suckled calf with tremendous carcase attributes. The Limousin breed is synonyms with all these characteristics and that's what's driving the continued and increased demand around the UK".
The audience had to wait until late in the sale for the top priced bull to emerge from the super cohort of junior bulls. Leading the way at 17,000gns was Pabo Niro from Anglesey breeders Peredur and Llyr Hughes.  This July 2017 born bull by Netherhall Jackpot and out of Pabo Icemaden had stood as Reserve Junior Champion and Reserve Overall Champion in the pre-sale show on the previous day under the eye of Judge Mr Adam Watson of the Saunders herd, Brampton, Cumbria. Alongside his stablemate and full brother Pabo Netherhall they had stood as Limousin Pairs Champions at the Royal Welsh Show back in the summer. The winning bid was made bid was made by Gary Bell for his enterprise at Haas Side Farms on the outskirts of Lockerbie where he focuses on producing top-quality commercial cattle.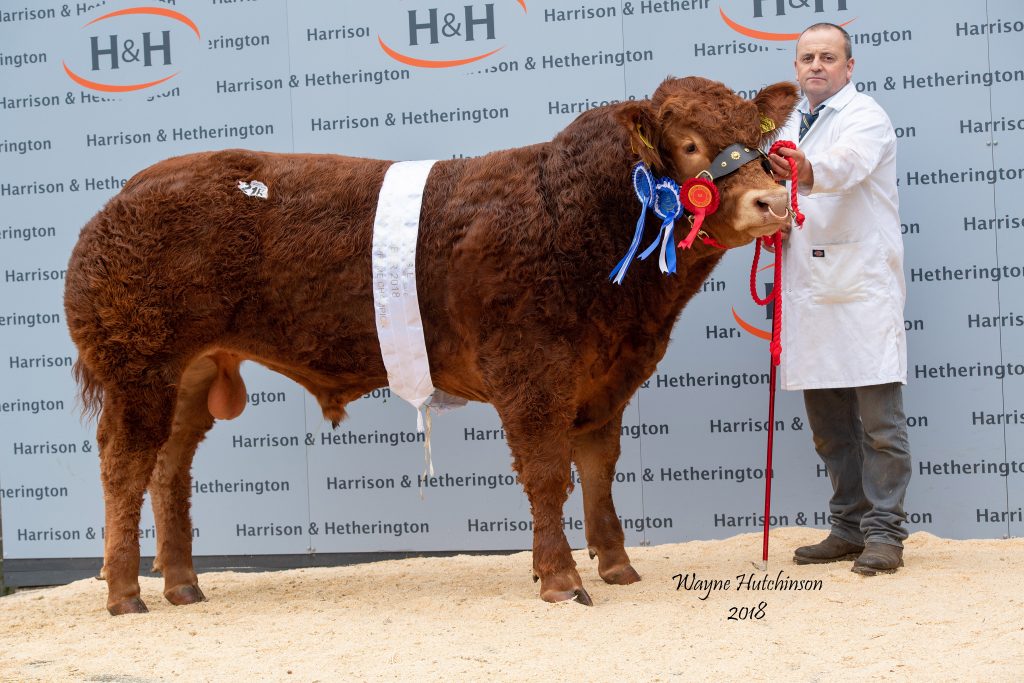 Limousin's tick all the boxes for first generation farmer Gary; of his purchase he said "I am always looking for style and quality, and I see it right here in Niro. It's my second purchase from the Hughes family having previously bought the Lodge Hamlet son Pabo Mr Muscle from them. I believe in making relationships with breeders and I have every confidence that Niro will go onto feature strongly in my ambition to produce top quality calves". He went onto say "While calving ease is vital to me when I am buying bulls, I am also looking for the carcase elements of length, top-lines and tight bellies. I am always spoilt for choice with the modern Limousin, but today Niro was a stand out for me, he is exactly what I wanted, I am excited to get him home"
It was a very successful day for the Hughes family having achieved 8,000gns for Pabo Netherhall, who was in the ring immediately before Niro. July 2017 born, Netherhall had stood as Reserve Overall Male in the Limousin judging at the Royal Welsh Show and stood second in his class in the pre-sale show at Carlisle to his brother. He made his way home with Messrs Williams, Holyhead, Gwynedd.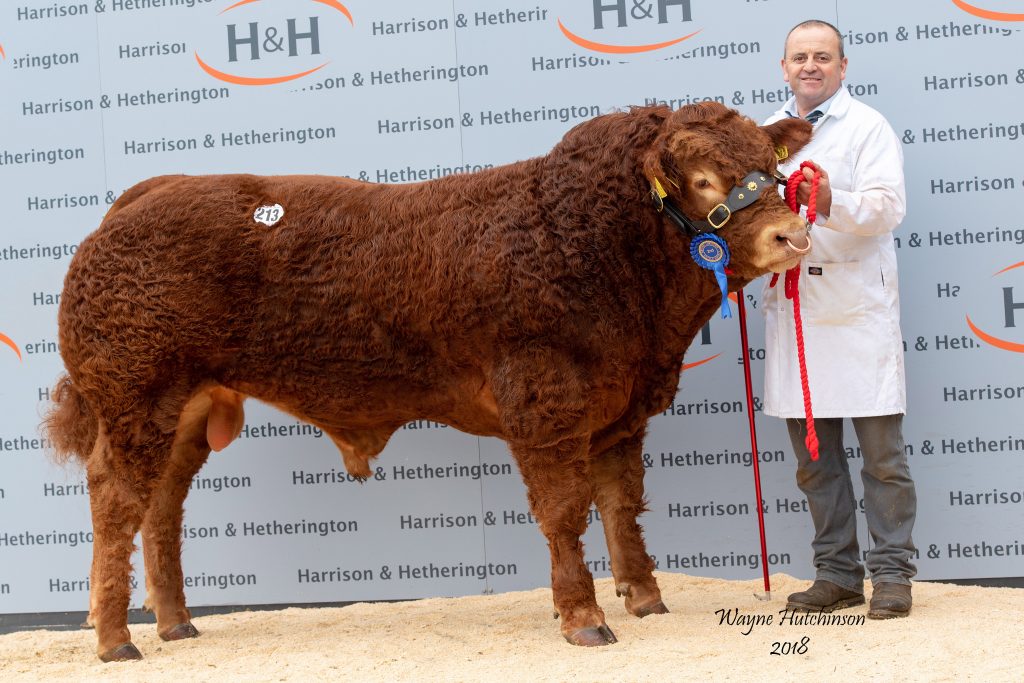 Selling at 16,000gns was Huntershall Nutcracker, a stylish, correct, well-muscled bull from Stephen Nixon, Wigton, Cumbria. Born April 2017 he is a Plumtree Fantastic son out of a home-bred Rossignol daughter Huntershall Josie. Taking him home was the Harryman family who purchased him for their Keskadale Limousin herd at Keswick, Cumbria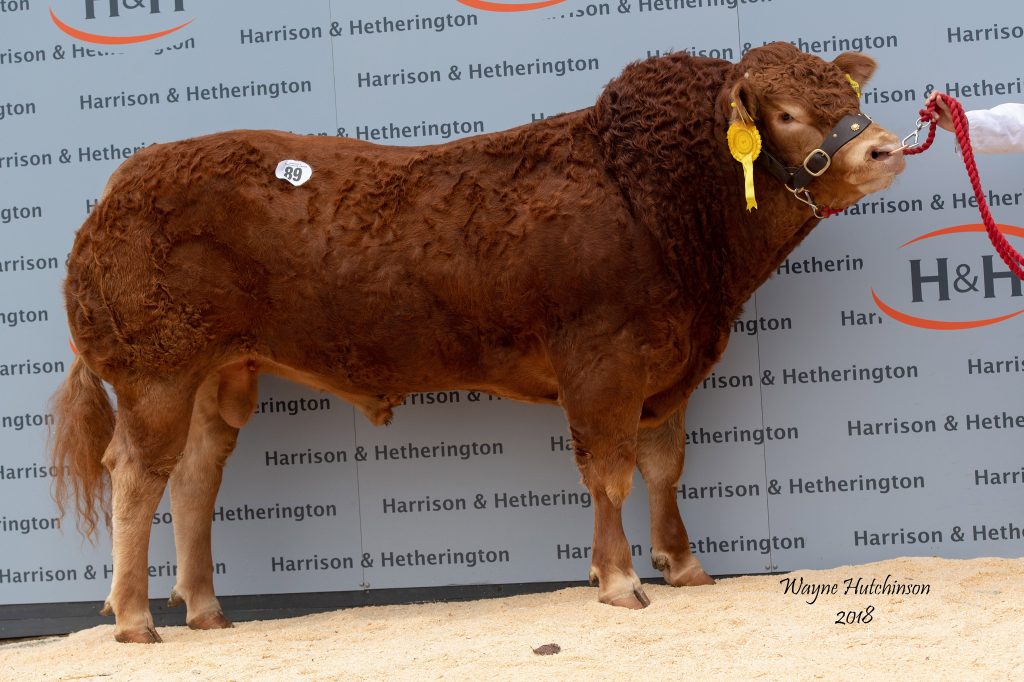 At 14,000gns came another junior bull, this time in the shape of Goldies Northstar from Bruce Goldie, Mouswald, Dumfries and Galloways. A class winner the day earlier, this May 2017 born bull came to Carlisle with a fantastic combination of calving and beef value figures, visual appeal and pedigree. Northstar is sired by Goldies Juggler and out of Goldies Gracious who is a full sister to Goldies Comet and Goldfinger and maternal sister to Goldies Jackpot. Purchasing him in a shared arrangement was two Aberdeenshire based breeders, Messrs Patterson and Messrs Morrison.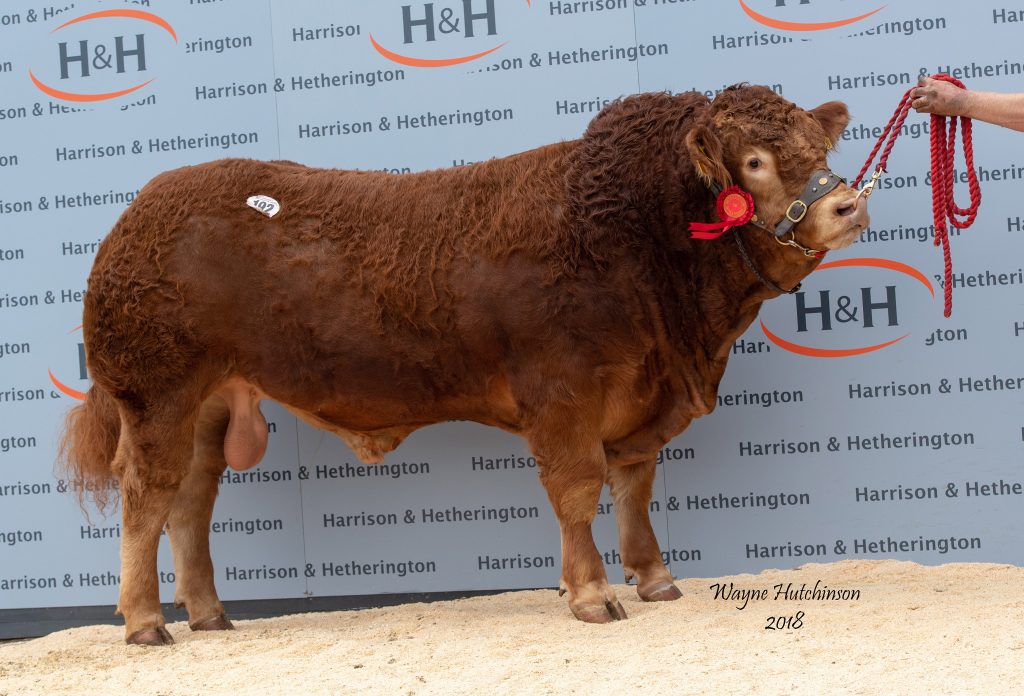 Not far behind in the price rankings at 13,000gns came the first bull into the ring, Dinmore Jollygood from Redpath Farms, Kelso, Roxburghshire. Bred by Paul Dawes at Kipperknowle Farm, Dinmore Manor, Hereford this four-year-old bull has had a great show career including Overall Champion successes at both the Border Union and Berwickshire County Shows over the last three years. By the well-known Wilodge Tonka out of Dinmore Gaiety, who's breeding goes back to Haltcliffe Vermont and Ronick Hawk, Jollygood is an easy calver who's progeny is described as showing great potential. Taking him home was the Booth family who run the Sevengun Limousin herd at Hardwick Hall Farm, Aston, Sheffield.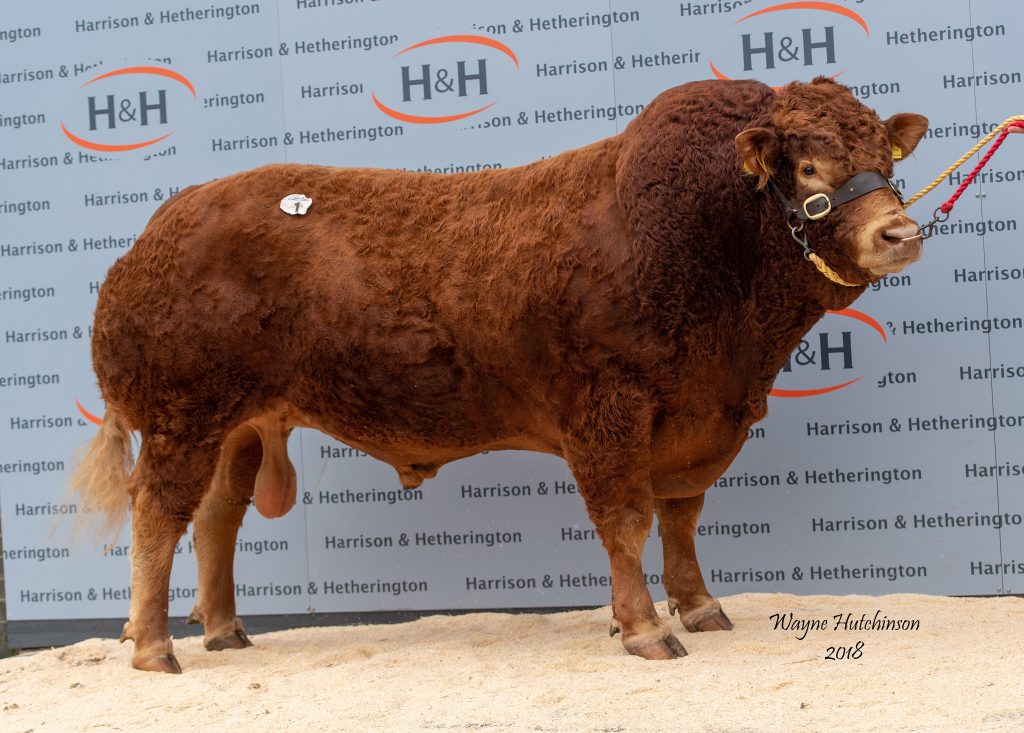 Next in the pecking order of prices was a junior bull from Ian Handley, Ingleton, Lancashire, in the shape of Gunnerfleet Noble. The June 2017 bull is by Plumtree Fantastic out of one of the Gunnerfleet herds top cows Gunnerfleet Cindy. He was knocked down at 12,500gns to Balfour Baillie for his Sebay Limousin herd in Tankerness, Orkney.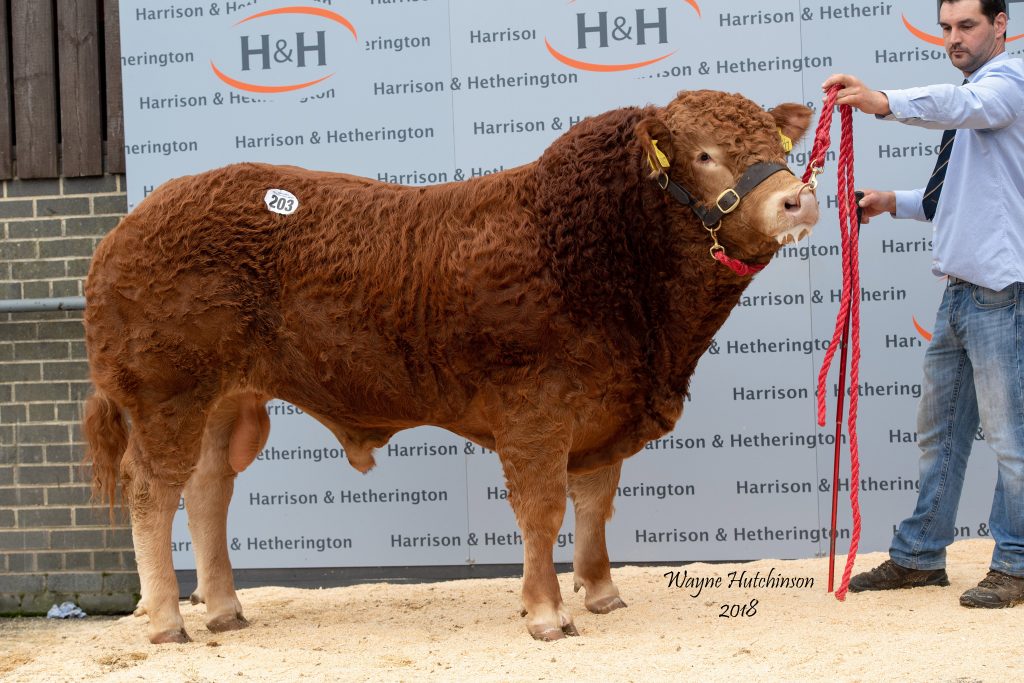 At 12,000gns came a pre-sale show class winner from Garry Patterson, Aultmore, Keith, in the shape of Aultside Nirvana. This February 2017 born bull came to Carlisle full of great breeding; his dam Spittalton Flush bred Aultside Meanmachine who led the trade at Carlisle in February 2018 at 65,000gns, and Aultside Mystique who made 18,000gns at Red Ladies in 2017. He is sired by Foxhillfarm Jasper, himself out of Bankdale Alice, widely regarded as one of the best breeding cows in the breed. Nirvana was knocked down to M and W J B Cleasby who run the Cleaden Limousin herd at Temple Sowerby, Penrith, Cumbria. When the hammer went down on this bull it added to what had already been a successful trip to Carlisle for Gary, just a couple of lots earlier he had secured 10,000gns for Aultside Notorious. The same way bred as Nirvana, Notorious was knocked down to Gary Howells for his Shadog Limousin herd at Llandysul, Dyfed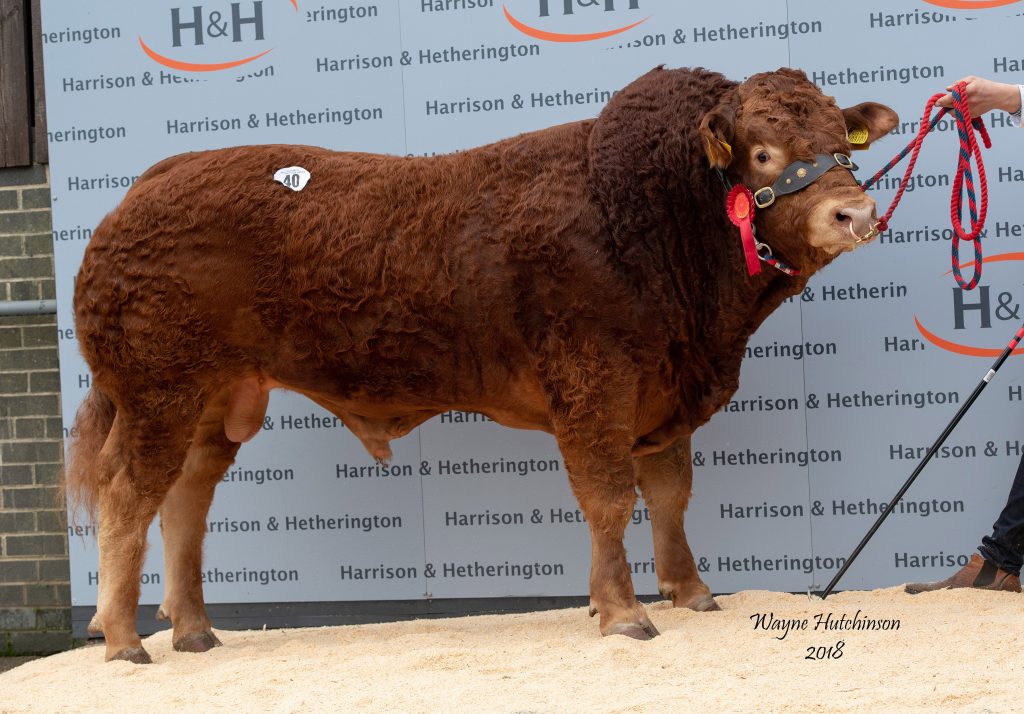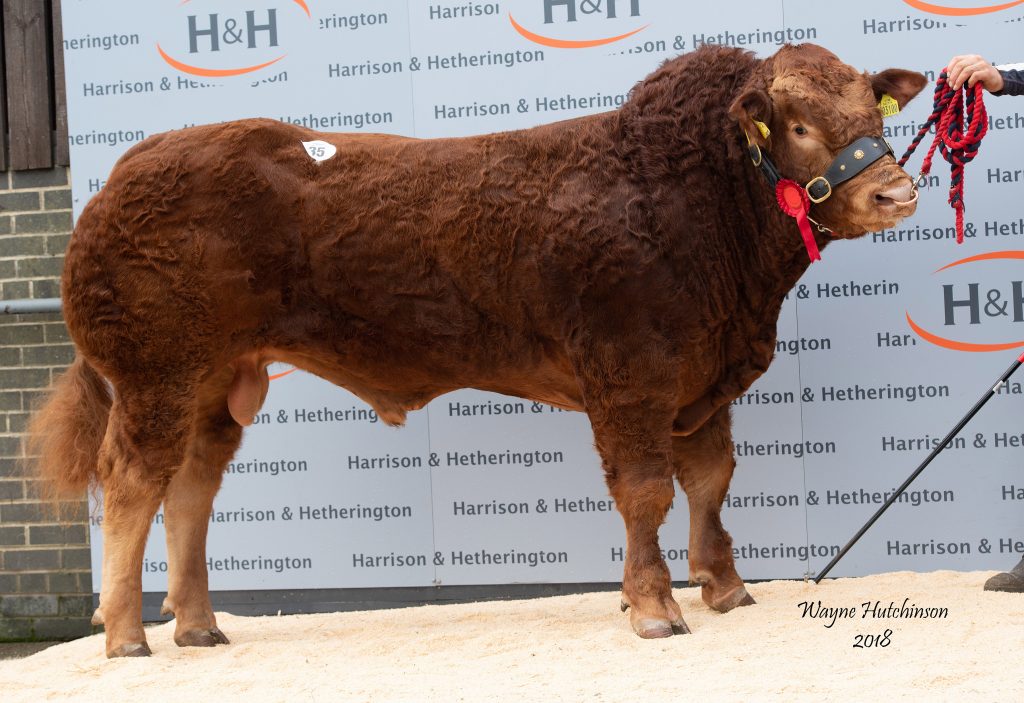 Hot on Nirvanas heels in the pecking order at 11,500gns came a bull from Craig Ridleys Wigton based Haltcliffe herd Haltcliffe Newton. Yet another junior bull to be in the leading prices list, the May 2017 born Newton is by the Lowerffrydd Empire son Ballyrobin Joop and out of the Sympa daughter Haltcliffe Enigma. Making this purchase to add to their 120 head bull stud-farm was Dovea Genetics of Co Tipperary, Ireland who provide the best available genetics to the Irish cattle herd. Focusing on increasing efficiency their aim is to deliver more profitable livestock to Irish farmers.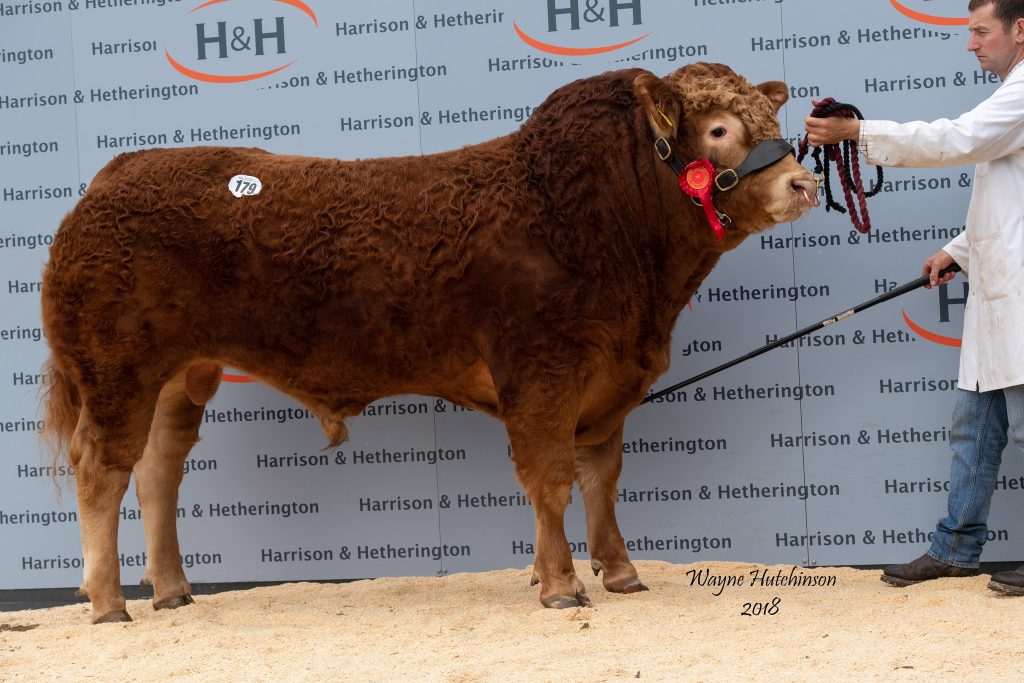 Two bulls made 11,000gns, the first being Ampertaine Norseman from Messrs W J and James McKay, Maghera, Co Derry who at this price led the trade for intermediate bulls. The April 2017 born bull is by the 38,000gn Ampertaine Foreman and out of Ampertaine Fantasia, herself a full sister to Ampertaine Gigolo. Fantasia is proving to be a great breeder in the Ampertaine herd, already producing 18,000gns Ampertaine Lawson. Norseman, who has great all-round figures for calving value, gestation length, muscle and milk was snapped up by Ashford Hall Farm, Chesterfield, Derbyshire.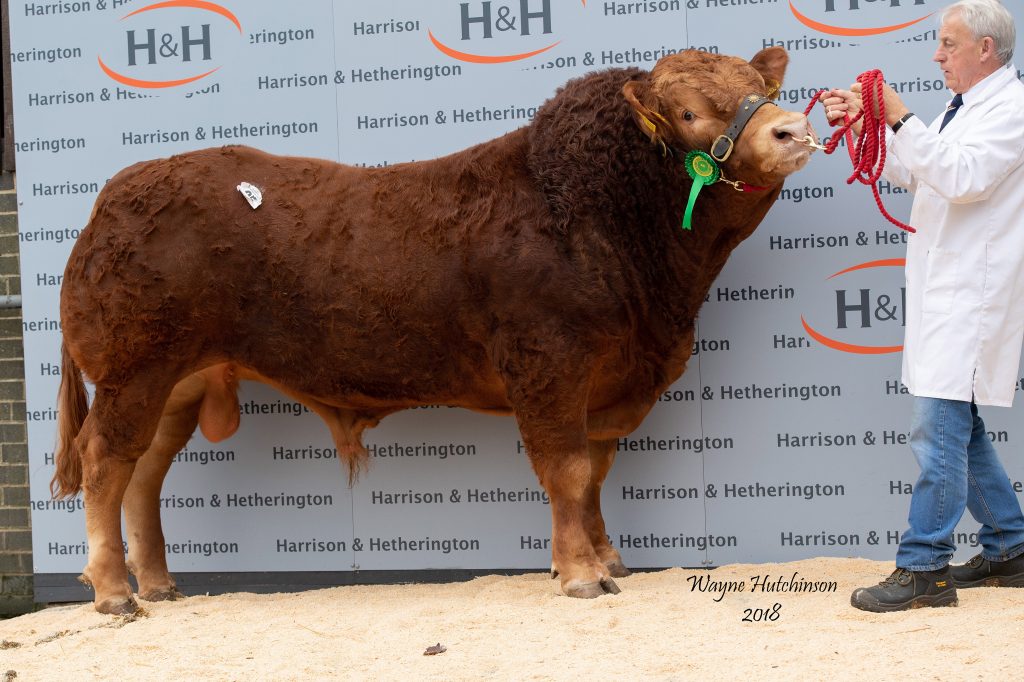 Next at this price was Kinniside Novel from G and A E Marrs and Son, Cleator, Cumbria. Born June 2017 this bull is by the Sympa son Dylans Irnbru and out of Kinniside Bronte, granddam to Kinniside Login who made 9,000gns at Carlisle in October 2016 and Kinniside Majestic who sold for 14,000gns at Borderway in February 2018. He was knocked down to Messrs Telfer and Son, Stocksfield, Northumberland.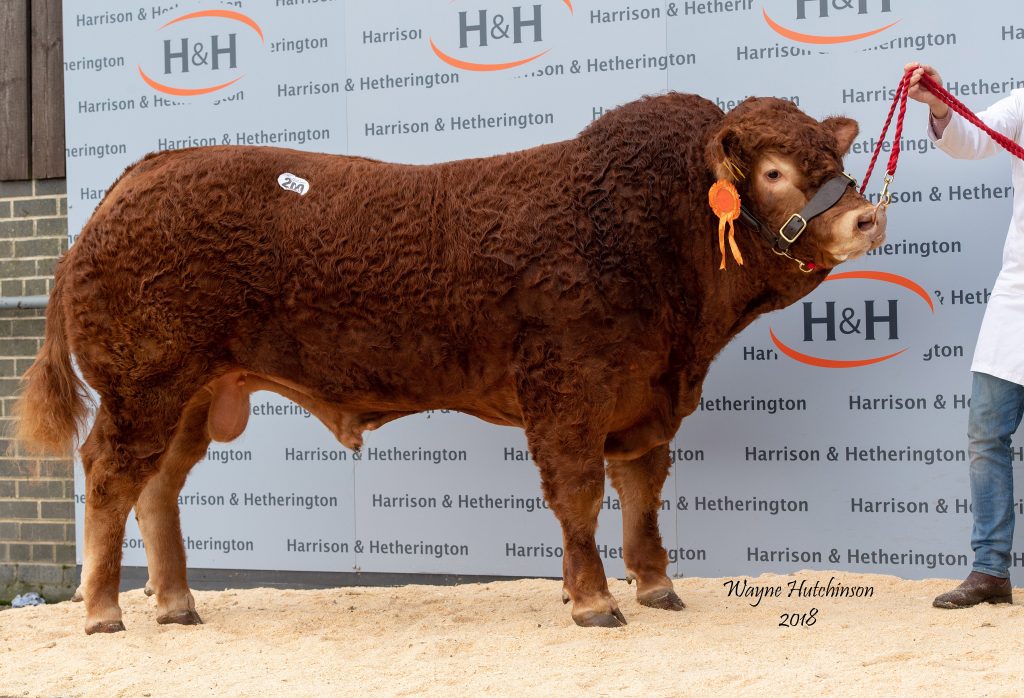 A further three bulls made the 10,000gns mark. Two at this price came from the Homebyres herd of John Logan at Kelso. First for John came the April 2017 born Homebyres Newtown, a natural calf by Ampertaine Elgin out of Homebyres Dawn. He was bought in a half-share arrangement by Messrs Campbell and Messrs Fisher, both from Stranraer, Wigtownshire. Then it was the last lot of the day from John, Homebyres Newman which took the same price. Born July 2017 this bull, by Larkhill Julius out of Homebyres Echinacea, was the pick of D R and R L Burns, Lodge Farm, Upper Broughton, Melton Mowbray.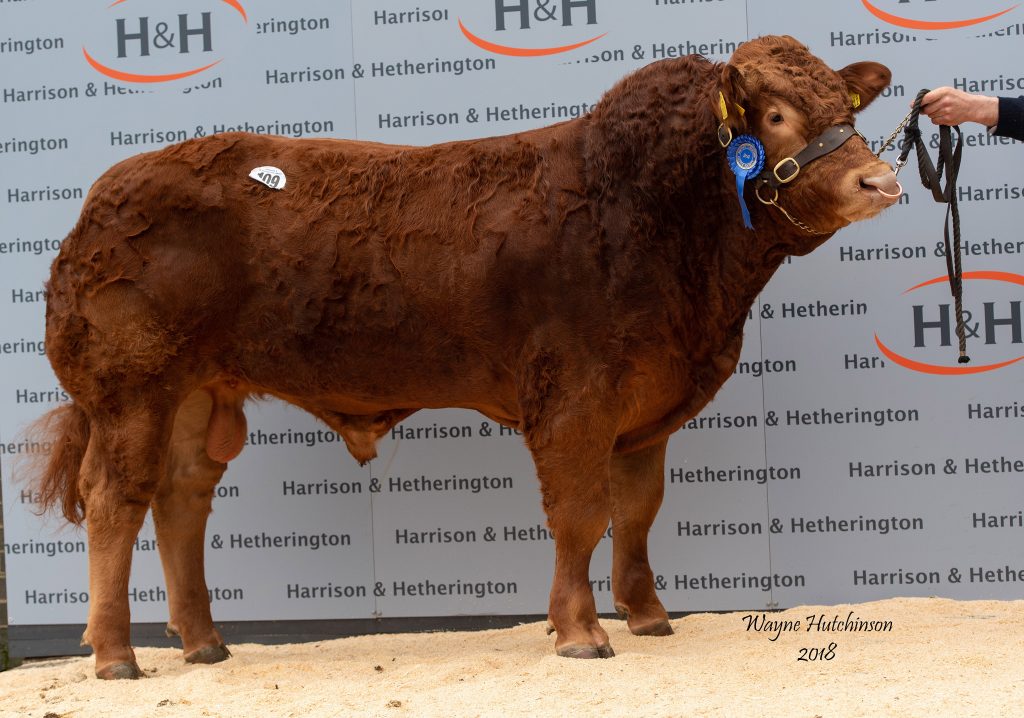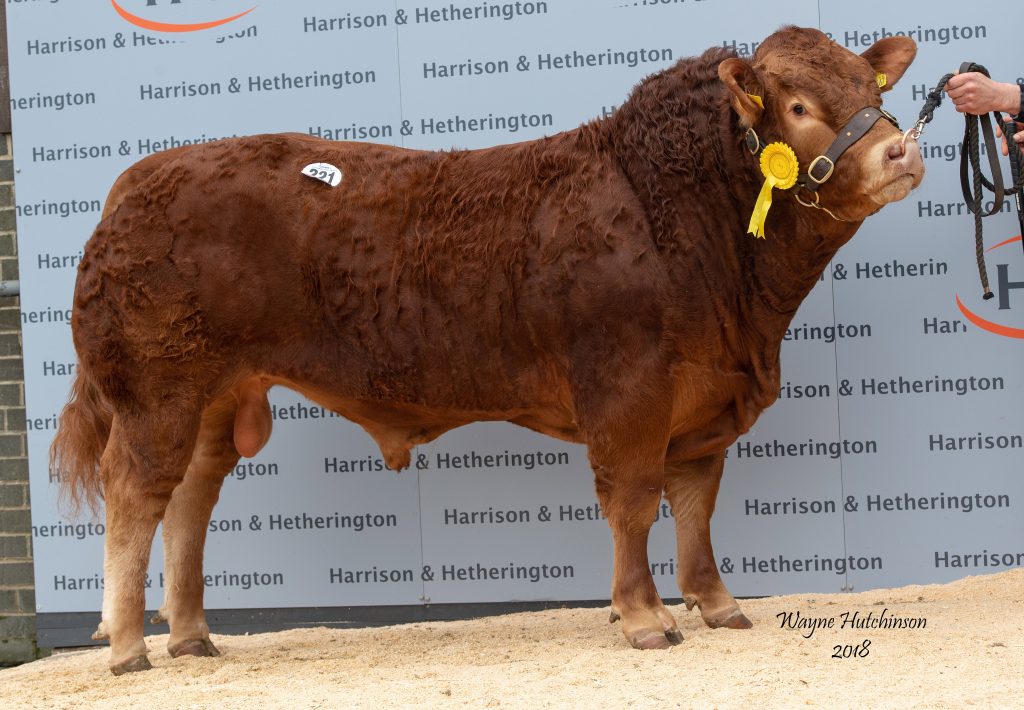 Also making 10,000gns was another from Bruce Goldie, Goldies Nugget who came to Carlisle with a super calving and beef value. The July 2017 born bull is by Ampertaine Foreman out of Goldies Fragrance, which makes him a full brother to 9,500gns Goldies Jeronimo and maternal brother to 10,000gns Goldies Juggernaut. He made his way home with R and S Duncan, Ballindalloch, Bannffshire for their Livet Limousin herd.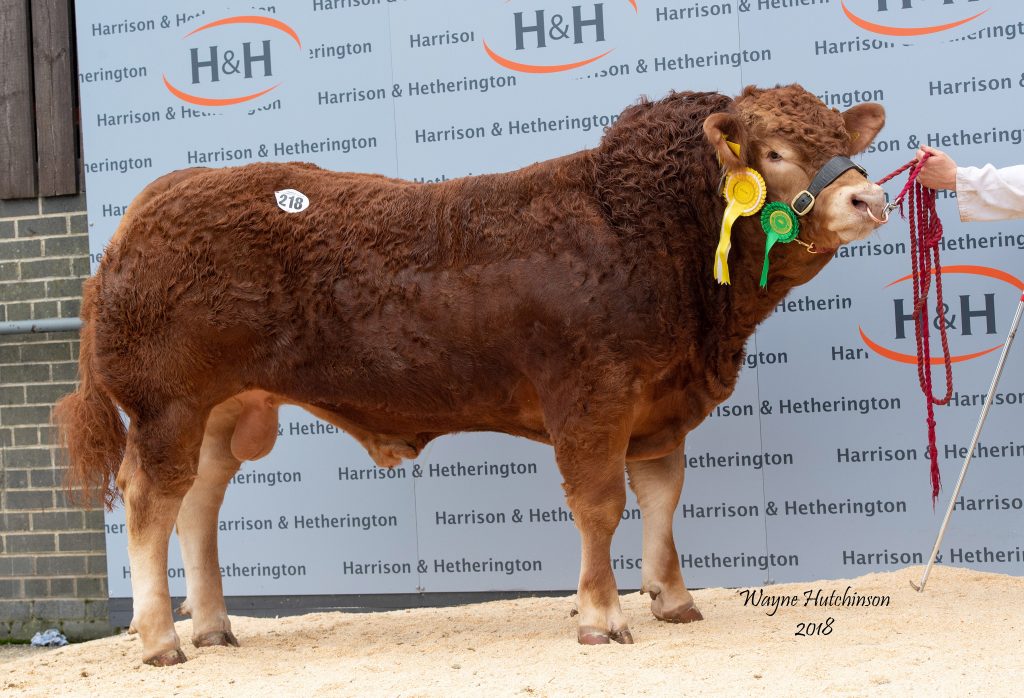 In the pre-sale show, Judge Adam Watson had tapped out the June 2017 born Mereside Nijinsky as his Overall Champion, having earlier in the day selected him as his Junior Champion. This Trueman Jagger son out of Mereside Clover was knocked down for 8,000gns to Eric Norman for his Norman Limousin herd at Little Orton, Carlisle.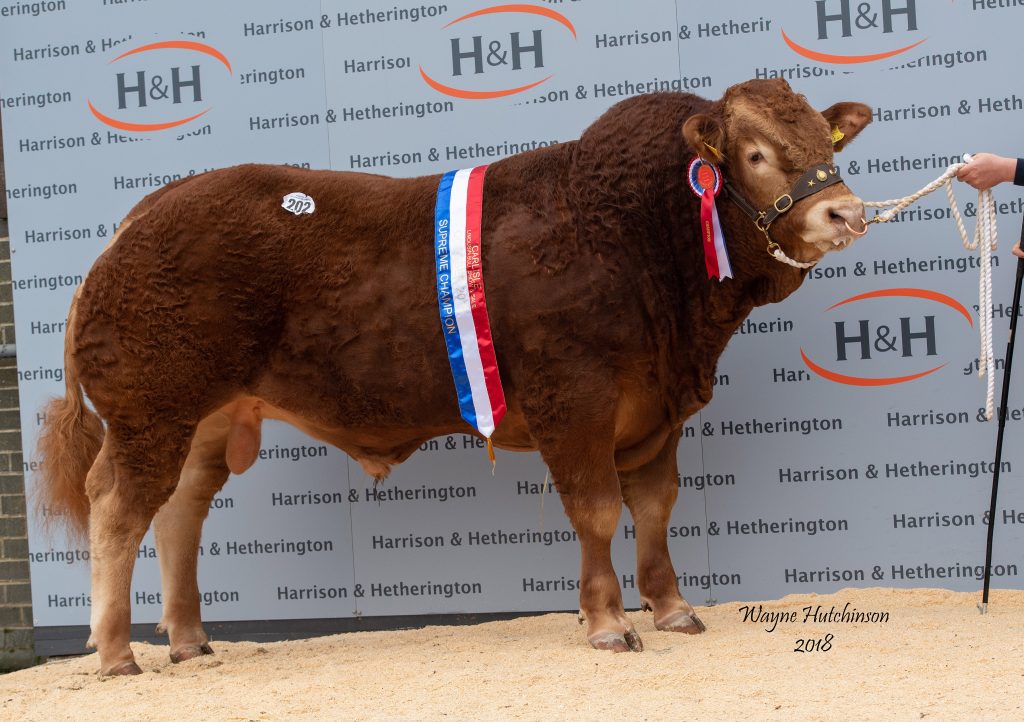 Other leading prices
9,500gns, Gunnerfleet Nick, D J Lloyd and Co, Cefnbarrach,Trefeglwys.
9,000gns, Loosebeare Nectar, Page Bros, Elkington, Northampton.
8,000gns, Ballyrobin Neptune, P R Walker and Son, Driffield.
8,000gns, Mariscote Nacho, T Laird and Son, Cumnock, Ayrshire.
8,000gns, Gorrycam Notorious, Michael Phillips, Co Sligo, Ireland.
Averages
34 Senior bulls                £4782.36
46 Intermediate bulls   £5141.63
38 Junior bulls                 £6921.71
Overall average               £5611.36