93% clearance in pedigrees
6000gns top call three times
Bulls average £4635
The inaugural Spring British Limousin Cattle Society (BLCS) Sale held at Melton Mowbray Market on Saturday 20th April, saw an exceptional demand for all classes of stock, resulting in a 93% clearance in the pedigree Limousins offered with three lots topping the sale at 6000gns.
This new BLCS sale fixture, held in a joint venture by North West Auctions and Melton Mowbray Market, saw a packed ringside and was hailed as a great success with Paul Gentry of NWA saying it was a reflection of the quality of stock vendors put forward. He said: "This was a great first joint venture sale with Melton Mowbray and both myself and Hugh Brown of Melton Mowbray would like to thank the vendors for their support of this sale and consigning such a high standard of cattle."
Taking the day's first sale topping bid of 6000gns was a well-travelled bull from the Quick family's Loosebeare herd, Devon. This was Loosebeare Nibbler, a son of Ampertaine Jeronimo and out of the Aghadolgan Emperor daughter, Loosebeare Jilly. Going back to both Sympa and Wilodge Vantastic, this bull was the pick of Napper Farms, West Hagbourn, Oxfordshire.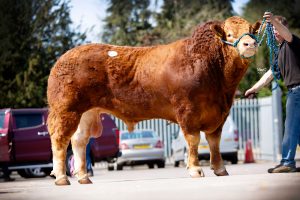 Following at the same money was Brockhurst Nosferatu from the Mash family, Buckinghamshire. This ET bred bull is a son of the noted Wilodge Vantastic and is out of Brockhurst Bolshoi, a Grahams Samson daughter from the top breeding female Ronick McAinsi. Nosferatu, a full brother to the 24,000gns Brockhurst Howzat, sold to Will Ketley, Toppesfield, Essex.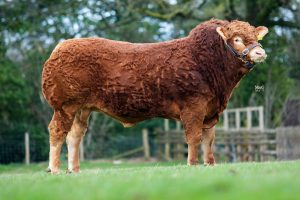 Two bulls then sold at 5500gns.  The first of these was another from the Mash family in the shape of Brockhurst Neuf, a son of Ardglasson Highlander and out of Brockhurst Hotstuff, a dam going back to the French cow Segala.   The first bull in the ring, Brockhurst Neuf was knocked down to Lowesby Estate, Lowesby, Leicestershire.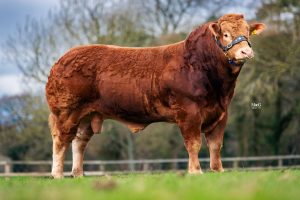 The second bull at 5500gns was Hollingreave Noble from S Littlewood, Hollingreave House Farm, Ray Gate, Newmill, Huddersfield. Again carrying top level breeding, he is by the 23,000gns Goldies Fandango and is out of Tweeddale Demi, a Sympa daughter. This one found a new home with J Bottesch, Holwell, Hertfordshire.  Another from S Littlewood, Hollingreave Owen, made 4500gns when selling to J B Wallwin, Langar, Nottinghamshire.  Sired by the privately purchased Boldventure Ian, a Goldies Terence son, Hollingreave Owen is out of Hollingreave Idol a Goldies Fandango daughter. Earlier in the day this young January 2018 born bull had placed first in his class before being tapped out as the Male Champion and Overall Reserve Champion at the pre-sale show by the judge Dougie McBeath of the noted Springsett herd, Bannockburn, Stirling. The Male Championship marked a first for the 20 cow Hollingreave herd at a Society Sale and the 5500gns, and 4500gns top prices also represented the herd's highest sale prices to date.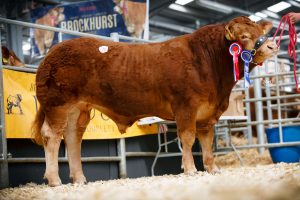 Two further bulls also sold at 4500gns. Hitting this mark was Ewdenvale Noel from S Wilde, Bradfield, Sheffield. Sired by the homebred Ewdenvale Lovejoy, he is out of a dam which goes back to Wilodge Tonka and was bought by D I Draycott and Sons, Peckleton Leicester.
Also at 4500gns was McInnes Nightrider from S Gilleard, Sour Lane, Thorne, Doncaster. Bred by Ashley McInnes and sired by Loosebeare Iain, he is out of a Netherhall Chancer daughter.  McInnes Nightrider was sold to W Howe, Barwell, Leicestershire.
Thirteen of the sixteen bulls forward sold to average £4635.
Females
Taking the day's third 6000gns call was the Champion Female and Overall Supreme Champion, Frogmore Nevada, from Chris White, Gloucestershire.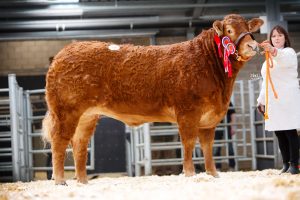 Sired by the 140,000gns Trueman Jagger this May 2017 born heifer is out of the 9000gns Miscombe Gamble, an Oxygene daughter. She was well fought for, with the final bid coming from William Tomlinson, who runs the Tomlinson pedigree herd at Springfield House, Treswell, Retford, Notts.
A cow and calf outfit then grossed 5000gns when Messrs Lee and Lloyd, Kidwelly, Carmarthenshire sold Ampertaine Irishgirl and her heifer calf Calogale Ola, a Sarkley Moray daughter. Irishgirl herself is by Ampertaine Elgin and out of the Wilodge Cerberus daughter Ampertaine Gem. This pair sold to L J Stamper, Bromswold, Cambridgeshire.
Next best in the females was a 4200gns for Brockhurst Magnum from the Mash family. This daughter of Brockhurst Indemand is out of Brockhurst Idolise, a Netherhall Chancer daughter. She was sold in-calf to Newroddige Jetset and went home to the Turville herd of HB & LJ Lear, Creslow Manor, Whitchurch, Aylesbury, Buckinghamshire.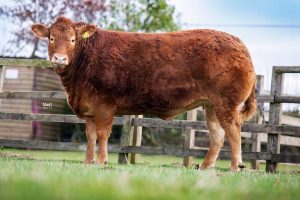 Another from the same home then sold at 4000gns, with this being Brockhurst Maple, a Talent daughter out of Millington Fancied, a Mas Du Clo daughter. She was offered in-calf to Brockhurst Limelight and was knocked down to the Lukeroyal herd of Mel and Diane Lucas, Antrim, Northern Ireland.
Continuing the good run of females from the Mash family Brockhurst Madam made 3200gns. This is another Talent daughter and is out of the Netherhall Chancer daughter Fenrose Gertrude. In-calf to Newroddige Jetset, she was the pick of P A Knight, Kettering, Northamptonshire.
Close behind at 3000gns was Brockhurst Monalisa, another by Brockhurst Indemand and this time out of Brockhurst Icecream, a Brockhurst Centurion daughter. She was again sold carrying to Newroddige Jetset and was bought by the G N Pamplin, Ringstead, Northamptonshire.
At the same money was Brockhurst Melodie, a Brockhurst Inky daughter out of a dam by Hafodlas Domino. Another offered in-calf to Jetset, she found a new home with previous buyer HB & LJ Lear for their Turville herd at Aylesbury, Bucks.
AVERAGES:
13 Limousin bulls £4635.15
63 Limousin maiden heifers £1521.33
28 Limousin in-calf heifers £2184.38
24 Limousin cows £2261.88