Ninety-three per cent of Limousin bull buyers will definitely purchase further Limousin bulls at future Society Sales. That's the headline figure following an extensive buyers' survey carried out by the British Limousin Cattle Society (BLCS) of over 1,500 pedigree Limousin bulls sold at official Society sales throughout 2008 & 2009.  The survey received a response of just over 40% per cent and returned a strong endorsement of the breed's commercial abilities and performance.
Bull buyers in the period, from across the United Kingdom, were sent a wide-ranging questionnaire covering their criteria for purchasing, to how satisfied they have been with all aspects of the performance of their Limousin bulls to date.  The survey asked purchasers on the all-round working abilities of the bulls including calving ease, docility of bulls and progeny, fertility, quality and performance of progeny, including food conversion and growth rate, through to marketing.  Additional questions asked of the importance placed on areas such as pre-sale inspections, herd health information, and performance figures.
Of the characteristics of the breed most important to buyers, ease of calving ranked first; with carcase traits and conformation second; and marketability of progeny third.
A highlight of the survey, 85% percent of respondents recorded no calving problems from their bulls at all.  The breed's benchmark traits of carcase qualities, feed efficiency and feed conversion also produced an excellent satisfaction rating.  Good food conversion, 95%, was singled out along with the breed's ability to produce good calves from a variety of crossbred cows.  93% percent responded that the progeny had been up to the standard they had expected with 94% percent also commenting on good growth rates.  90% confirmed in all that the bulls had been good workers.
Continuous breed improvement in docility also came through with only 5% of buyers replying that the bull they had purchased had what they deemed as a below average temperament.  Docility of the progeny of the bulls, as stores, finished cattle, or calves at foot, also returned a 90% approval rating.
The popularity of the Limousin female was reflected in the survey with 69% of the respondents indicating that they kept heifer calves by their Limousin bulls as replacements.  Purchasers were asked what breed of suckler cows made up their herds.  A significant 47 percent said that their suckler cows were Limousin sired females with British Blue x females ranking second at 19% and Simmental cross females third at 13%.  The predominant suckler herd size of buyers at 51% was thirty to one hundred females, with 27% at one hundred to two hundred cows.  In marketing the progeny, 56% are noted as sold as stores, with 39% finished.
Indicating an increase in market share of bulls purchased, 23% of buyers confirmed that they had changed breed of bull to a Limousin in the last five years.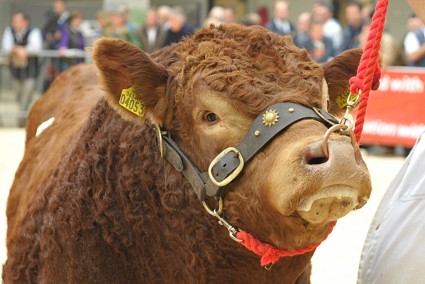 Over three-quarters of respondents, 76%, run one to three bulls with a further 18% running between three and seven.  Of the bulls purchased, 75% were used in suckler herds; 18% were bought by members to be used in their pedigree and suckler herds; with 7% used in dairy herds.  A split of the bulls saw 54% being sold to hill and upland farms with 46% selling to lowland farms.
94% of respondents said that the Society's pre-sale inspection was important with 67% within that highlighting it as very important.  Of the respondents, 54% said that locomotion was the most important part of the inspection with 35% indicating testicles and 11% teeth.
The importance to buyers of vendors' herd health status at sales was also highlighted with 97% of respondents saying that this was a factor in their purchasing considerations.  In 2007, the BLCS introduced Herd Health Declarations at the point of sale to increase understanding, accuracy and transparency of health information for customers.
In commenting, BLCS Chief Executive Iain Kerr welcomed the figures and said that feedback from the buyers' survey was just one element of longer term breed planning and development. "The survey returns represent an excellent approval rating of the breed's performance across the traits of economic and management importance", he said.  "In addition to the bull buyers' survey the Society will also be seeking the views of breeders, processors and retailers, on the performance and future priorities of the breed. The forward aim is always to keep the breed focused and relevant to the needs of the market place, and to maximise returns at every level.  In providing choices and directions for the future it is important to have the input of Limousin users at every level of the industry."