This year, in the Spring, we held an Introduction to Showing by kind permission of Mr & Mrs Bill Harper. This took place on Sunday 17th April, in conjunction with South Devon members.  The day was open to any age and ability and was intended to encourage new entrants, giving them training in leading, clipping, washing and preparation for show.
On Wednesday 20th April we held our Spring Show andSale at Holsworthy Market.  Our thanks go to the British Limousin Cattle Society for appointing Kivells as approved Auctioneers.  The judge was Mr Geoff Hollow, Chytodden Herd who awarded the Supreme Champion to Loosebeare Eclipse, consigned by EW Quick & Sons the day's top price selling at 4,500gns.  We had a very well supported sale, with a 90% clearance.  The female trade peaked at 2,050gns for the Female & Reserve Overall Champion, Rosecroft Finest, exhibited by Mr & Mrs DK Wheeler.
May saw the Devon County Show where we welcomed Society Chairman Mr Jim Bloom and his wife Margaret down to the West Country again. The Champion Limousin at the Devon County went to C Williams, Wilodge Herd.
There followed by the Bath & West Show in June, the Breed Championship going to Mark & Kate Lanfear, Woodston Herd. With our third County show being the Royal Cornwall, JH Neale & Sons of the Nealford Herd took the Championship.  A good representation of the Limousin breed was seen at all the County Shows; thankyou to everyone who entered.
In July we held an Open Day at Church Farm, Steeple Ashton, Trowbridge by kind permission of FC Cottle & Sons.   Talks were given by Susan Duthie from Biobest on Cattle Health Schemes and Sam Boon from Signet on the importance of EBVs in breeding.  This was followed by a tour of the Cottles' suckler herd,   a 335-head quality commercial suckler herd of mainlyLimousincrosses all running with  Limousinbulls.  Our thanks go to Richard Saunders and the Society for their support  in this event.
Next was the Summer Show & Sale of Pedigree Bulls and Females held on Tuesday 12th July at Bristol Sales Centre, kindly judged by Mr E Phillips of Abergavenny,  Supreme Champion went to Mr Harry Parker with Stourhead Explorer.  Female Champion went to JH Neale & Sons with Nealford Evita.  Top price of the day was 5,500gns for Chytodden Elite, a two-year-old maiden heifer consigned by our Chairman Geoff Hollow.  Included in the sale was our Treasurer Mr Bill White's Herd Dispersal.  Leading the way was a cow and calf unit, sold separately for 4,200gns and 1,900gns respectively, which realized the top combined price of 6,100gns. This was for the four-year-old cow Exmoor Crystal.  At 5,000gns was Exmoor Elf, an October 2009 born maiden heifer.
At the end of July were the 40th Anniversary celebrations of the Limousin Breed.  A team of Members from the South West visited Carlisle for the weekend . Thank you to Vicky Maynard, D & A  Wheeler, M & D Lanfear for taking cattle up from the South West.  The Wheelers won the Senior Female Champion with Brickhill Carol and the South West Club won the Bill Callion Trophy for the tidiest lines and best Club stand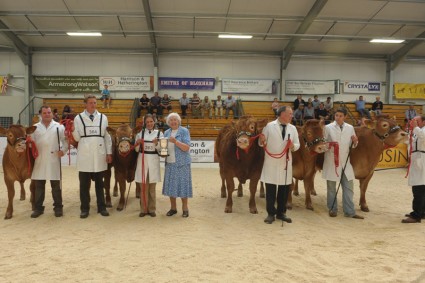 The South West Herd Competition was held in August when Mr Martin Bull formerly of the Bapton Herd judged 18 farms in the region.  In September we held ourAGMat the Tyringham Arms, Lelant, St Ives.  The officers continued with Geoff Hollow as Chairman, Mark Quick as Vice, Bill White as Treasurer and Diane Richards as Secretary.  We welcome three new committee members: Caroline & David Nott and Kate Lanfear.  The meeting was followed by a carvery  and was well attended by 70  from the South West region.  Martin Bull presented  the Herd Competition awards.  A collection  was made for  Mr Robin Weston , a former Committee and Council member, who  many of you will know. Mr Weston now lives inFranceand he cycled the Tour de France route  in aid of prostate cancer accompanied by his wife Sandra.   We then all drove to Geoff and Carolyn Hollow's at Chytodden Farm, Towednack to be taken around their Pedigree herd of Limousins.  We were driven around on tractors and trailers, to see some fine cattle and the day was thoroughly enjoyed by all. Geoff and Carolyn then provided us with a lovely tea after which,an auction was kindly conducted by Mr Mark Bromell from Kivells Auctioneers which  raised £1,350  in aid of Cornwall Air Ambulance.  Our thanks go to Geoff and Carolyn for all their hospitality and the support from the South West members for making it such a successful day.  The Cornwall Calf Show in October attracted over 100 entries and the Champion of the day went to David & Anne Wheeler with Rosecroft Frankie.
Congratulations go to Vicky Maynard and Matt Smith on their Wedding in September.  Columpark Limousins now fall under the Smiths! Finally, we would like to wish everyone a Happy, Healthy & Prosperous New Year.
Herd Competition Results  Judge Mr Martin Bull
Small Herd
1st                           Rosecroft  Herd                 David & Anne Wheeler (Tanhill Trophy)
2nd                          Woodston  Herd               Mark & Kate Lanfear
3rd                          Poole Herd                        Thomas Hillsdon
Medium Herd
1st                           Trevassack Herd               Messrs RA & RS Bassett (Holcombe Cup)
2nd                          Chytodden Herd             Mr & Mrs G Hollow
3rd                           Atley Herd                          Mr Andrew Ball
Large Herd
1st                           Loosebeare Herd             Messrs EW Quick & Sons(Goosehill Trophy)
2nd                          Killerton Herd                   Mr & Mrs PW & SM Greed
3rd                           Nealford Herd                  Mr & Mrs JH Neale & Sons
Overall Winner
Loosebeare        Messrs EW Quick & Sons
Stockbull with Progeny
1st                           Nealford Commando                      Messrs RA & RS Bassett (Bapton Trophy)
2nd                          Haltcliffe Anzak                                Messrs EW Quick & Sons
3rd                           Haltcliffe Cyclone                            Mr & Mrs JH Neale & Sons
Bull born in 2010
1st                           Killerton Faberge                            Mr & Mrs PW & SM Greed  (Shapcott Cup)
2nd                          Nealford Fisher                                Mr & Mrs JH Neale & Sons
3rd                           Loosebeare Frosty                          Messrs EW Quick & Sons
Heifer born in 2010
1st                           Rosecroft Fabulous                         David & Anne Wheeler  (Wakeham Cup)
2nd                          Loosebeare Fifi                                 Messrs EW Quick & Sons
3rd                           Sloughpool Felix                              Messrs CR & MM Gollop & Sons
Bull Calf born in 2011
1st                           Rosecroft Greg                                  David & Anne Wheeler  (Wayside Trophy)
2nd                          Trevassack Gary                              Messrs RA & RS Bassett
3rd                           Nealford Glenfiddich                     Mr & Mrs JH Neale & Sons
Heifer Calf born in 2011
1st                           Trevassack Gem                              Messrs RA & RS Bassett
2nd                          Rosecroft Goldengirl                     David & Anne Wheeler
3rd                           Cranscombe Gorgeous                 Mr & Mrs N Skelton
Best New Entrant
1st                           Holwell Herd                                     Russell Stevens
2nd                          Woodston Herd                                 Mark & Kate Lanfear
3rd                           Smithy Herd                                       Jo Smith