The Spring saw a busy start to the South West's year, when March blessed us with a full month of sunshine!  The rain came and just didn't seem to stop making farming extremely challenging in every Region.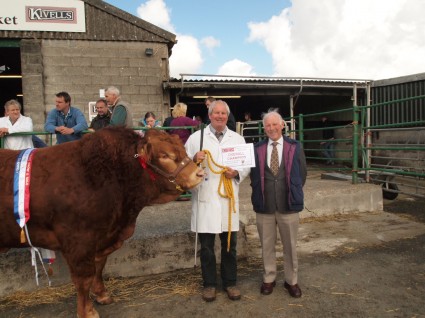 We held our Spring Show & Sale at Holsworthy on Wednesday  11th April, with Kivells Auctioneers.  Our judge this year was Mr Bill White who gave the Championship  to Mr & Mrs PW & SM Greed, Columbjohn Farm Ltd with Killerton Faberge, sired by Lowabbey United and out of the homebred dam, Killerton Vofive, achieving 4,400gns .  The Reserve Champion, again shown by Patrick, was Killerton Frodo which sold for 3,600gns.
Mr & Mrs H & JL Parker  gained the second highest price at 3,700gns with  Stourhead Ferdie, the youngest lot sold being July 2010 born.  Ferdie is by the Ronick Hawk grandson, Killerton Chicago, and is out of the Utha-sired dam, Stourhead Cordelia.   Harry sold the previous lot Stourhead Farlap for 2,600gns.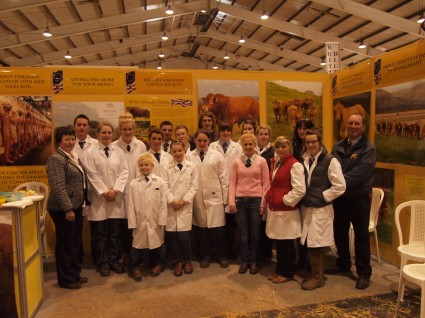 In May, we were privileged to host the Young Breeders' Stockjudging Competition at the Devon County Show.  On Sunday 22nd April Vicky & Matt Smith kindly hosted the South West's Stockjudging training at Caseberry Farm, Bradninch, Exeter.  On Saturday 19th May, regional teams travelled down to join us at the Show.  The Judge was Dr Delana Davies whom our grateful thanks go to along with all the teams for taking part.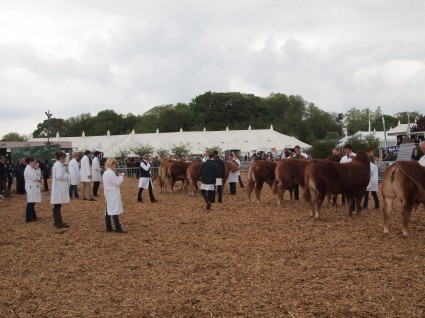 YLBC Stockjudging Competition Results
Individual Overall
1st Joint – Jess Simms, Cheshire  NW Mids & N Wales
Matthew Wright, Stafford  NW Mids & N Wales
2nd Joint –Stuart Persey, Allhallows, Cullompton  S West
Katrina Donaldson,  North Yorks  North East
Senior Teams
1st S West   Michelle Batting, Widhayes Farm, Devon
Stuart Persey, Allhallows, Cullompton
2nd NE   Katrina Donaldson,  North Yorkshire
Karl Suddes, South Farm, Cornsay, Durham
3rd NI    Kim Nicholson, Londonderry
Junior Teams
1st NI   Ruth Hamill, Dunmurry Lane
Andrew Hamill, Dunmurry Lane
2nd SW Jess Maynard, Caseberry Farm, Exeter
Millie Hendy, Woodlands Farm, Doynton
3rd NE Hannah Donaldson, North Yorkshire
Rebecca Parkinson,  North Yorkshire
Douglas Crighton Silver Salver & Overall Winner: Jess Simms & Matthew Wright
Noel Lusby Cup & Junior Winner: Jess Simms
Andrew Hamill, Dunmurry Lane
2nd SW Jess Maynard, Caseberry Farm, Exeter
Millie Hendy, Woodlands Farm, Doynton
3rd NE Hannah Donaldson, North Yorkshire
Rebecca Parkinson, North Yorkshire
Our thanks go to everyone's support in the Event
At the Devon County Show, the Limousin Stand won the Bronze Medal for the Exhibit which best promotes a breed of Cattle!
The three County Shows saw the Breed Championship won by Mr N & Mrs L Hill at the Devon County and Bath & West  Shows, with PW & SM Greed taking Royal Cornwall's title.  The Royal Cornwall Show saw the 25th Anniversary of Limousin classes, Mr Mei Thomas of the Nebo Herd kindly coming down to judge, and we were honoured to have the Chairman, Mr Peter Kirton, down from the Society.  On Friday evening around eighty all enjoyed a lovely hog roast.
Nick  & Lisa Hill went on to win the Ed Down Cup for the most points gained at the Summer Shows in the Region.
This year has seen the South West's launch of the Limo-lotto with prizes drawn at the Royal Cornwall Show, AGM and finally Beef South West.
Colin Hutchings retired as our Council Representative  so  we thank Colin for all his hard work representing the South West.  Harry Parker from the Stourhead Herd was elected as our new Council Representative, and  the Club wish him well.  In July, Harry  organised  a trip to Ireland to see some of the top herds.  24 members had a brilliant trip which everyone enjoyed!  The Club look forward to hosting the Irish next year.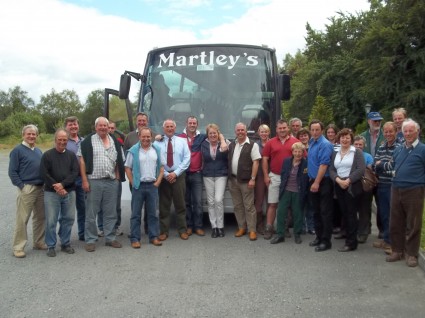 Our Herd Competition took place in August with 18 herds from across the region, including one new entrant Messrs MR & HJ Coombes of the Trefrew Herd, and also included herds which hadn't entered for a while.  Mr Steven Priestley from the Brontemoor Herd, together with his wife Ruth,  kindly made the trip down to the South West to judge all the herds.  They returned to the West Country again on Sunday, September 23rd , at our AGM, which took place at the Ruffwell Inn, Thorverton, Exeter. When  presenting the herd competition prizes, Steven gave his knowledge and wisdom to each of the herds judged, with points on breeding and animal characteristics, which was very interesting and beneficial to the Club members.  Seventy of us enjoyed a carvery lunch before visiting the Killerton Herd, by kind permission of Patrick Greed and his wife Sheila, and despite the weather we were taken to see some lovely cattle.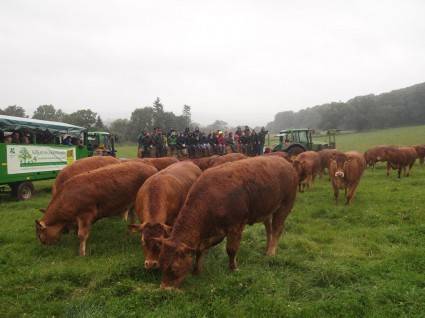 On Tuesday 18th September, we held an Autumn Show & Sale with Harrison & Hetherington Auctioneers, which included the major reduction of the 'Timberlands' herd on behalf of Mr Colin Phillips.  The Supreme Champion at the Show went to Mr Chris Richens, Totnes.  His 18 month old, home bred bull Broadoak Galahad, sired by Fieldson Alfy and out of a Mynach Tzar-sired mother, saw a top price of 3,400gns.  Following at 2,650gns was Stourhead General, an 18 month old bull shown by H & JL Parker, Stourhead General being a son of Utha and bred from a Stourhead October-sired mother.
Our thanks go to everyone and our sponsors for supporting the Club Sales this year.
On behalf of the Club, thank you to everyone who has played a part in supporting the South West Region.  May I take this opportunity to wish everyone a happy, healthy and prosperous New Year!
Diane Richards, Secretary