The Northern Ireland Limousin Cattle Club, in conjunction with Linden Foods of Dungannon, held a Carcase Competition on Tuesday 5th March 2013 which served to highlight the quality of locally-produced Limousin beef.
Open to all Limousin-bred cattle, the competition saw an entry of 40 carcases from both commercial and pedigree breeders which were subsequently graded by carcase inspector Terry White of LMC the following day, coming in grading mostly U3+ with some as high as U4+.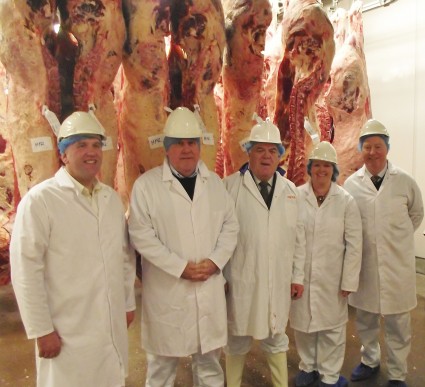 Carcases were split into two classes covering young commercial Limousin-cross animals that were Farm Quality Assured (FQA), with a class each for steers and heifers under 30 months with a weight range of 260-380 kilos. As a special incentive, Linden Foods paid a bonus of 6p per kilo on top of current market prices. A further two classes were open to older cow classes with no age restriction: one for purebred Limousin cows and the other for Limousin crossbred cows.  Prizemoney of £200, £100 and £50 was awarded in all classes.
Denzel Johnston, Enniskillen won both the FQA Steer class as well as the purebred cows section. Lisgoole Abbey, Enniskillen took first place in the FQA Heifers with Gary Stewart, Templepatrick winning the Crossbred Cows.
William Waugh, Linden Foods' Procurement Director, when invited to comment, noted that based on his many years of experience in the beef industry, half-bred and three-quarter-bred Limousins have the advantage of excellent conformation, good killing-out percentages and consistently-high yields of saleable meat.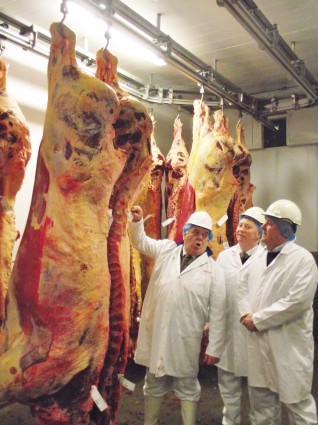 The Northern Ireland Limousin Cattle Club would like to thank William Waugh and his staff at Linden Foods for hosting the event and also convey their thanks to Mr Terry White for taking the time to judge the carcases.  Finally thanks to all the commercial and pedigree breeders who supported this competition.
Results:
CLASS 1 Steers FQA – 1st Denzel Johnston, Enniskillen, 2nd James Thompson, Dromore, 3rd James Thompson, Dromore
CLASS 2 Heifers FQA – 1st Lisgoole Abbey, Enniskillen, 2nd Lisgoole Abbey, Enniskillen, 3rd William Sherrard, Coleraine
CLASS 3 Purebred Cows – 1st Denzel Johnston
CLASS 4 Crossbred Cows – 1st Gary Stewart, Templepatrick, 2nd Gary Stewart, Templepatrick and 3rd Lisgoole Abbey, Enniskillen