Dinmore secures 7,500gns Top Price for Bulls
Messrs Heald, Home Farm, Repton, Notts equalled the 8,500gns centre record at the British Limousin Cattle Society (BLCS) Breeders' Sale and ninth annual Limousin Day held at Newark Market, Notts on Saturday 13th April 2013 on behalf of members of the East Midlands, and North West Midlands & North Wales Limousin Clubs.
 The sale saw a top call of 8,500gns for the February 2012-born maiden heifer Coachhouse Hellebore (lot 242), an Overthwaite Crackerjack daughter, and out of Coachhouse Damson, a Coachhouse Virgil daughter when selling to Boden & Davies Ltd, Mellor Hall Farms, Mellor, Stockport for their Sportsmans Herd. The same purchasers then snapped up the 7,000gns Coachhouse Heidi (lot 234) who is by Mereside Daytona and is out of Coachhouse Discreet, a Sympa daughter.
Continuing an excellent day's trade for the 110-cow pedigree Coachhouse Herd was the 4,500gns Coachhouse Hazel (lot 237) when going under the hammer to the Whiskey prefix of Dai Walters' Duffryn Farm Partnership. Again sired by Mereside Daytona, and this time out of Coachhouse Cider, a Haltcliffe Picasso daughter, this was one of five 12-14 month heifers bought for the Whiskey prefix. Earlier, in the bulls, the same buyer had snapped up the 6,000gns Reserve Male Champion, Coachhouse Gregor, sired by Mereside Daytona and out of the Picasso daughter, Coachhouse Velvet. He was described by Duffryn Herd Manager, Pat Greaney, as "a well-balanced, very correct bull with a lovely head and a super back pedigree" and will be turned out with cows later in the spring.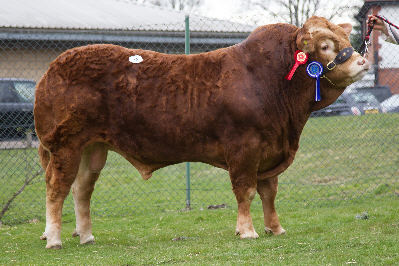 The bull trade saw 39 bulls find homes with four more bulls sold on the year. Leading price was the 7,500gns paid for the Male Champion, Dinmore Genus, consigned by Mr P Dawes, Kipperknowle Farm, Dinmore Manor, Hereford. Sired by the 20,000gns Procters Duvalier, and out of the Saunders Stallone daughter, Dinmore Venus, he sold to Bowes of Norfolk Ltd, Watton, Thetford, and was described by Judge Mr P Sykes, Irish Limousin Cattle Society Secretary, as "a naturally-fleshed, typical Limousin bull, long, clean and with good muscling." Another from Dinmore was the 5,500gns Dinmore Gerald, once more by Procters Duvalier, and this time out of the Wioldge Tonka daughter, Dinmore Brimrose. He carried a Beef Value of LM+28 and sold to Messrs Houlgrave.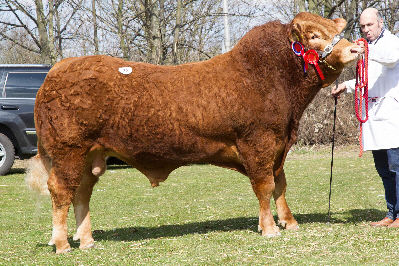 Second best in the bulls was the 6,200gns Lowgate Grant, a Threaphurst Dynamo son, and out of the thirteen-year-old Goldies Oswald daughter, Lowgate Rosie. Carrying a Beef Value of LM+36, this bull came from the high-health holding of Mr I Brown, Brownwood House, Welbourne Lane, Holbear, Lincs and was purchased for the commercial suckler enterprise of Messrs Scott & Scott (Ayston), Uppingham, Rutland.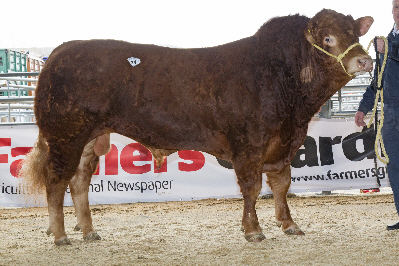 Two further bulls made 6,000gns. The Reserve Junior Champion, Ironstone Godzilla, an embryo son of the prolific 42,000gns Wilodge Vantastic, and out of the French dam, Unicite, the 2010 top-priced Limousin  cow at 29,000gns, secured a 6,000gns bid for Smiths of Bloxham, Newlands Farm, Bloxham, Banbury. September 2011-born, he went under the hammer with a Beef Value of LM+33 to Gascoines Group Ltd, Southwell, Notts. Heading to the same buyer was the 4,500gns Withersdale Guru, consigned by Mrs J Fountaine, Hill Farm, Beachampton, N Bucks. Bred by DC Wharton, Harleston, Suffolk, the May 2011-born Guru is by the Mas Du Clo son, Tehix, and is of of the Ronick Hawk-sired Withersdale Cherry.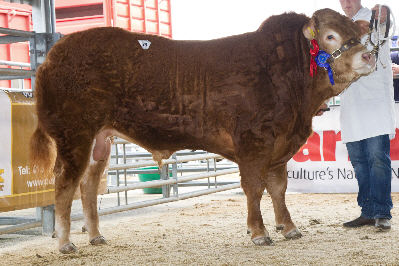 The final bull at the 6,000gns mark was in respect of the Junior Male Champion, Mereside Gravel (LM+31), brought forward by RM Hazard & Sons, Saltby Heath Farm, Skillington, Lincs. November 2011-born, this young bull is by the Cloughhead Umpire son, Plumtree Deus, and is out of the Objat granddaughter, Mereside Expresso.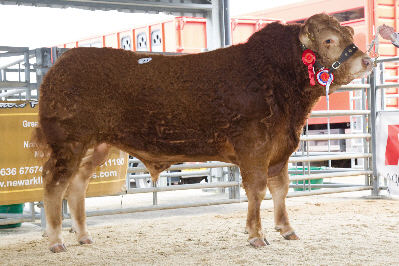 Back to the females and it was a final bid of 6,000gns from Mr M Whitlock, Hillfields Farm, Coombefields Road, Ansty, Warks for his Whitbred Herd which was next best for Cockleshell Geri (lot 149). A Vivaldi daughter and out of Cockleshell Unice (by Jockey) she sold with a Beef Value of LM+35.
Making 4,500gns was Brockhurst Fiona (lot 133) from WJ & M Mash Ltd, Torrington Farm, Chesham, Bucks. Sired by Suisse B, she is out Brockhurst Bolshoi, a Grahams Samson daughter.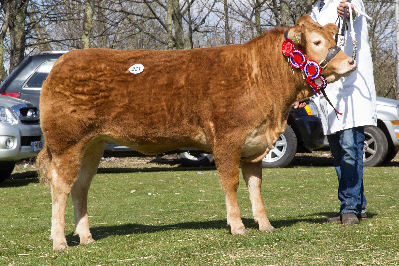 Auctioneer: Newark Livestock Market