British Limousin Cattle Society Launches Performance Recording Services
In a major extension to its service provision, the British Limousin Cattle Society (BLCS) has this week, 2nd April, launched the online Limousin Performance Recording Services.  Heralding a new era in the breed's on-going commitment to genetic improvement, the new online service is paperless and has been introduced with an annual £120 per herd saving compared with previous performance recording costs.
The online performance recording service will enable breeders to enter weight and measurement data, across a range of traits, through an easy to use interface built on the BASCO (Beef and Sheep Company) livestock database.   As well as managing their performance data and producing dynamic Estimated Breeding Value (EBV) reports tailored to their own requirements, breeders will also be able to use the interface to register new pedigree calves with the BLCS.  Beyond the weight and measurement collection, the Edinburgh-based Egenes, situated within Scotland's Rural College (formerly SAC), will continue to provide the genetic evaluations of the Limousin performance data.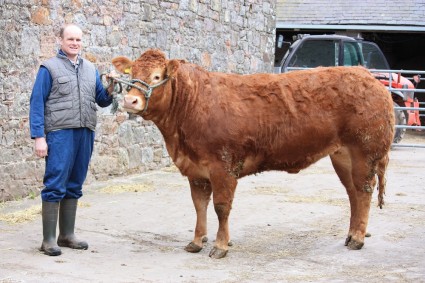 Commenting on the new Limousin Performance Recording Services, Iain Kerr, BLCS Chief Executive said "This new provision to breeders is a major, long-term extension of the BLCS' core work. The Society's aim has been to introduce a service that is easy to use, is paperless, cheaper, and attractive to existing and new recorders.  Increased performance recording and data collection will drive breed improvement to increase productivity, and profitability, for those breeders and commercial producers using Limousin genetics".
The launch of Limousin Performance Recording Services is receiving widespread support within the breed, with many breeders recognising the immediate and longer term advantages it will offer commercial Limousin buyers.
Says Stephen Illingworth, BLCS Vice Chairman, whose Lockerbie-based Glenrock herd has been performance recorded for more than 25 years, "This simple and easy-to-use development is a major step forward for the sector.
It will bring performance recording to a wider number of breeders, producing more accurate results for buyers of breeding stock".
"It offers breeders the flexibility to record information that is relevant to their buyers now and in the future, ensuring the cattle they produce are meeting the requirements of their customers' herds and markets".
"The development is one of a number of breeding initiatives currently underway, underlining the Society's and breeders' commitment to providing quality breeding stock to industry"
The new service commenced on 2nd April.  It can be accessed by clicking on the 'BASCO Online Herdbook' button on the main Limousin web site www.limousin.co.uk. Fully web enabled, this is also the point of entry for anyone, members and non-members to browse the Limousin database and look at pedigree and performance information relating to any registered Limousin animal (click on 'Beef Search').  For enquiries contact the BLCS office on 02476 696500 or email info@limousin.co.uk.