100 BULLS AVERAGE £5,893
81% CLEARANCE RATE
INTERMEDIATE BULLS AVERAGE £6836
SALE GROSSES £589,300
8 BULLS OVER FIVE FIGURES
26 BULLS AT 6,000GNS AND OVER
Mereside Godolphin, from RM Hazard & Sons, Saltby Heath Farm, Skillington, Grantham, Lincolnshire stole the show when making 40,000gns to lead the British Limousin Cattle Society's May Show and Sale of bulls held at Borderway Mart, Carlisle on Saturday 4th May 2013.
At the pre-sale show this October 2011 born bull had won the second class of bulls in a strong intermediate section. Got by AI, Mereside Godolphin is by the 35,000gns Plumtree Deus, a Cloughhead Umpire son, and is out of Mereside Dawnmarie whose pedigree goes back to one of the herd's foundation females Tankersley Trixie.  This hard muscled bull, who won the Best Bull Calf award in the 2012 East Midlands Herd Competition, was purchased by Willie Barron who runs the Barrons pedigree herd of thirty breeding females at Morrow Edge Farm, Burnhope, Durham. Commenting, Mr Barron said: "The sheer width of this bull caught my eye and his fantastic shape. When handling him, he is tremendously well muscled. Godolphin has a great pedigree, of course, and something different on the dam line with Mereside Dawnmarie being by Alaska."  Mr Barron's aim is to collect semen on-farm straightaway.  The bull will then be turned out with some cows early this summer.  "I hope he'll be a good fit with my Ampertaine Commander and Sarkley Volvo females," added Mr Barron.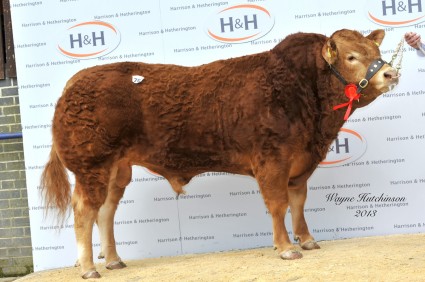 The 40,000gns top price also marked a spectacular return to Carlisle, after some nine years, for the Hazard family with stock from their noted 100 cow Mereside herd.
The sale, with a smaller than usual number of bulls forward, saw 100 bulls sell to a very solid average of £5983 with an excellent clearance of 81%. A trade underpinned by commercial beef producers saw bulls with length, width, and solid tops readily bid for and easily sold. Three bulls made over 20,000gns with nineteen making 7000gns and over. Twenty seven bulls, equating to 27% of the bulls sold, made between 4 – 6000gns.
Selling at 26,000gns was the Reserve Overall Supreme Champion Gorrycam Hazard from Stephen Reel, Cullyhanna, Newry, Co. Down.  This much admired January 2012 born junior bull, a heifer's calf, is a Cloughhead Umpire son and is out of Gorrycam Daisy who is a full sister to the 18,000gns Gorrycam Diarra.  Gorrycam Daisy is an embryo calf out of Honeylodge Ava described as an 'exceptional' cow in herself.  The 26,000gns represented the top sale price to date from the five cow pedigree herd.  Purchasing this "well-muscled, typical Limousin" bull was the Whinfellpark pedigree herd of Messrs Jenkinson, Clifton Moor, Clifton, Penrith.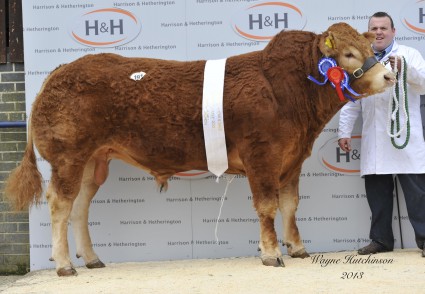 Featuring in the breeding of both the top two prices, and through many of the bulls in the catalogue, was the August 2003 born Cloughhead Umpire.  A bull purchased in 2005 for 42,000gns by Messrs Ridley, Haltcliffe, Hesket New Market, Wigton, Umpire has made a considerable mark in both the Haltcliffe herd and as an AI sire used heavily in the British Limousin herdbook. One of the stories of the day this rising 10-year-old Petunia son, out of the Espagnol daughter Gascogne, led the day's proceedings as the first lot and made 9000gns when selling to Kedzlie Farms Ltd, Galashiels. Cloughhead Umpire was bred by Mr GL Hutton, Setmabanning, Threlkeld, Keswick, Cumbria.
Selling at 21,000gns was the stylish Goldies Goldfinger from Bruce T Goldie, Townfoot Farm, Mouswald, Dumfries.  The judge Mr Brian Baker of the Wealden Herd, Olives Farm, Hooe, Nr Battle, East Sussex, had given this November 2011 born the tap to make him the Champion of the Intermediate section.  A full brother to the noted 30,000gns Goldies Comet, Goldies Goldfinger is by the prolific Wilodge Vantastic and is out of the Sarkley Ragtime sired Goldies Vitality.  Combining quality, depth of pedigree, and performance (a top 1% Beef Value of LM+44) this bull was purchased by the Knock pedigree herd of Albert Howie, West Knock, Stuartfield, Peterhead, Aberdeenshire.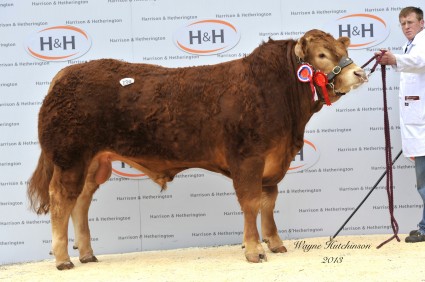 Another bull to go to Messrs Jenkinson, Whinfellpark, was the 18,000gns Anside Gigolo from Mr & Mrs Stephen Irvine, Braehead Farm, Drummuir, By Keith, Banffs, Moray.  Another first prize winner from the Intermediate section, Anside Gigolo is the first son offered from the 22,000gns Derriaghy Enfield, a Broadmeadows Cannon son.  Arriving at Carlisle, Anside Gigolo brought a show track record that had seen him win eight events since first being shown at 8 months old.  Sporting a Beef Value of LM+40, the November 2011 born Anside Gigolo is out of the Wilodge Tonka sired Larkhill Didi.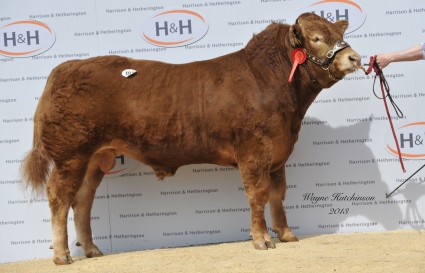 The prolific herd of Messrs Ridley enjoyed another strong day of trading when selling 11 bulls in all to gross over 77,000gns.  Of this team, Cloughhead Umpire featured in seven of these bulls breeding.  Leading the way was the 15,000gns Haltcliffe Gentry who sold to the Overthwaite herd of Mr RS Harker, Overthwaite, Holme, Carnforth, Lancashire.  With a red ticket from the Intermediate section, this November born bull is by the 100,000gns Haltcliffe Vermount and is out of the Sympa sired Haltcliffe Bianca.  Haltcliffe Bianca had previously bred the 18,000gns Haltcliffe Fencer.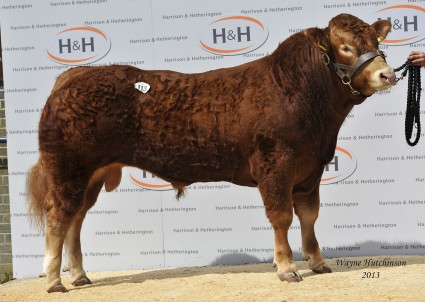 A further first prize winner from the same herd, Haltcliffe Genial made 12,000gns.  October 2011 born, this bull combined proven performance along with new bloodlines.  Haltcliffe Genial is sired by the French bull Esteban whose pedigree goes back to the noted Ultrabeau.  Out of the Cloughhead Umpire sired Haltcliffe Camilla, whose previous progeny had sold up to 12,000gns, this October 2011 born bull with a Beef Value of LM+39 was purchased by Lincolnshire breeders Messrs JW & MC Fieldson for their Fieldson herd at Poplar Farm, Corringham, Gainsborough. Further bulls from the Haltcliffe herd in the featured prices were sold at 8000gns, 7500gns, 6800gns, and 5500gns respectively.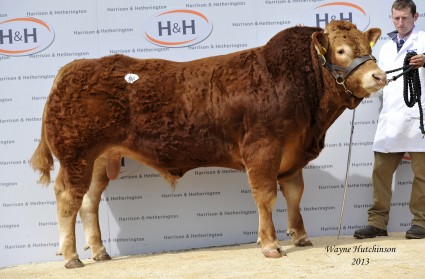 Two bulls made 10,000gns.  The first of these was the August 2011 born Homebyres Geoffrey from Messrs J Logan, Humebyres, Kelso.  Entirely homebred, Homebyres Geoffrey is by the Sympa son Homebyres Arnott and is out of the Homebyres Vanhee daughter Homebyres Dahlia.  Purchasing this first prize bull was the noted commercial producer Robert Neill & Partners, Upper Nisbet Farm, Jedburgh, Roxs.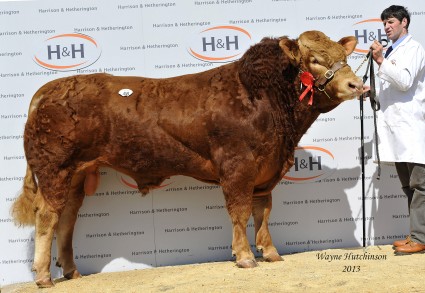 The second bull at 10,000gns was the red coated bull with black genetics, Swarland Black Geordie from A & D Proctor, Swarland Old Hall, Swarland, Morpeth, Northumberland.  This powerful bull, with a thick top is by the Bailea BMW son Emslies Enigma and is out of the Greensons Gigolo daughter Swarland Tansy.  Sold with a Beef Value of LM+40, Swarland Black Geordie was purchased by the Lowrow herd of LW Todd & Son, Longhurst, Brampton, Carlisle.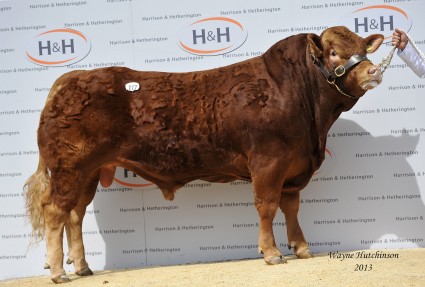 Garyvaughan Guy made 9500gns when selling for breeder CV Lewis & Sons, Buttington New Hall, Buttington, Welshpool.  This November 2011 born bull is another by the herd's stock bull, the 35,000gns Plumtree Deus, and is out of the Rocky daughter Sarkley Bagatelle.  Garyvaughan Guy is a maternal brother to Garyvaughan Ginola, a bull sold privately for £32,000.  Purchasing this bull was the noted commercial producers E Jones, Coedmawr Hall, Cellan, Lampeter, Dyfed.
Northern Irish bulls had featured strongly throughout the pre-sale show and emerging as Overall Supreme, Reserve Overall, Reserve Senior, Reserve Intermediate, and Champion and Reserve in the Junior section.  A further N.Irish bull, Craigatoke Highandmighty, from Martin Conway, Plumbridge, Omagh, continued the fine weekend for bulls from the province when selling for 9000gns to DR Owen & Son, Sandilands Farm, Tywyn, Gwynedd.  This first prize winning January 2012 born bull is another by the Cloughhead Umpire son Plumtree Deus.  Another bull with proven bloodlines and performance, Highandmighty is out of Craigatoke Unique the mother of the 30,000gns Craigatoke Apache.
Bred from the same home, and by the same sire, was the Junior and Overall Supreme Champion Champion Craigatoke Halo shown and sold by first time exhibitor Michael Coyle, DouglasBridge, CountyTyrone.  This January 2012 born bull had been purchased as a calf at foot by Michael Coyle for his newly establishing Dernalebe pedigree herd.  Another by Plumtree Deus, Craigatoke Halo is out of the Heatmount Talon sired Craigatoke Bianco.  Speaking of his Champion bull the judge Brian Baker said; "This bull had a lot of Limousin breed character.  He is well muscled with a solid top, good loin, and is powerful from front to back.  He had good locomotion and is just a powerhouse of a bull.  This bull made 8200gns when selling to T Hutchinson, Lee Hall Farm, Wark, Hexham, Northumberland.
The Senior Champion was the upstanding Sportsmans Gigolo from Boden & Davies Ltd, Mellor Hall Farm, Mellor, Stockport.  This July 2011 born bull, with a beef value of LM+43, is an AI son of the prolific Sympa and is out of Bapton Amy.    After securing another section Championship for the Sportsmans herd, Sportsmans Gigolo went north when sold for 8000gns to the Kinnihaird pedigree herd of Mr JP Clark Ltd, Kinnahaird Farm, Contin, Strathpeffer.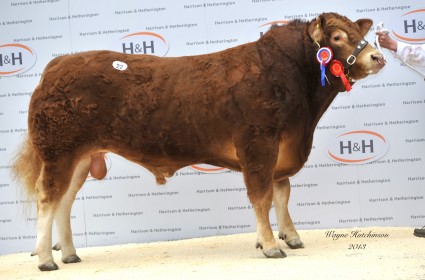 From Messrs Ridley's Haltcliffe team, the Haltcliffe Vermount sired Haltcliffe Gower also made 8000gns when selling to RI Owen & Co, Cwmffynnow, Pandy, Llanbrynmair, Powys.  This bull had taken the prize for the best young bull under one year of age in the 2012 North West Limousin Club herd competition.  November 2011 born he is out of the Cloughhead Umpire sired Haltcliffe Bridget whose progeny have previously sold up to 12,000gns.
Continuing the strong day for Northern Irish breeders was the Reserve Intermediate Champion Ballynahone Gigolo from Richard Henderson, Tobermore, Magherafelt, Co Derry.  Got by AI, this December 2011 bull is by the Irish bred Bremore Artist, a Nenuphar son, and is out of the homebred Wilodge Vantastic daughter Ballynahone Darcy.  This bull was purchased for 8000gns for the Portmore herd of Gregory Yarr, Witton Farms, Tillydovie, Glenlethnot, Edzell, Brechin.
AVERAGES:
25 Senior Bulls                        £4309.20
47 Intermediate Bulls  £6836.17
28 Junior Bulls                        £5724.64
100 Bulls                                 £5893.20
Auctioneers:  Harrison & Hetherington
To view the sale of  Lot 76 top price  40k Mereside Godolphin click here
To view Limousin Spring Bull sale at Carlisle – 7 Bulls priced 11,000gns – 26,000 gns  click here
To view Limousin Spring Bull sale at Carlisle – 7 Bulls priced 8,000gns – 10,000 gns click here