Killerton Gucci, exhibited by PW & SM Greed, Columbjohn Farm Ltd, Rewe, Exeter took the Individual Interbreed Championship at Devon County Show held at Exeter 16-18 May 2013.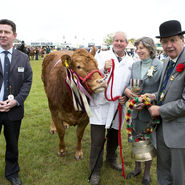 Having taken the Female and Overall Limousin Championship on the first day under Judge Mr Michael Priestley, Cracrop Farm, Brampton, Cumbria, Killerton Gucci was described by the Judge as "a very correct, eye-catching young heifer with excellent conformation." She went on to be crowned Individual Interbreed Champion under Judge Mr Richard Davies, Towcester, Northants.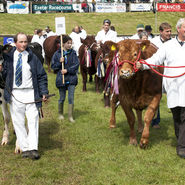 The March 2011-born Killerton Gucci (LM+37) is by the Ampertaine Abracadabra son, Kaprico Donato, purchased for 7,500gns at Carlisle in May 2010, and is out of Killerton Darcy (by Lowabbey United). Kaprico Donato himself secured the Male Limousin Championship here at the Devon County.
Devon County Limousin Class Results
For the Best Limousin Senior Bull:          Loosebeare Trophy
Awarded to    P Greed         Kaprico Donato
For the Best Young Limousin Bull:          Lee Trophy
Awarded to    D & A Wheeler         Rosecroft Hero
For the Best Limousin Cow:                      Killerton Trophy
Awarded to    J Neale & Sons        Nealford Englishrose
For the Best Limousin Intermediate Heifer :       Gorton Trophy
Awarded to    P Greed                     Killerton Gucci
For the Best Limousin Junior Heifer:                   Cotton Trophy
Awarded to    J Neale & Sons                    Nealford Honey
For the Best Limousin Group of 3:           Rathergrange Trophy
Awarded to    J Neale & Sons                    Nealford Genevieve, Nealford Honey & Nealford Hercules
For the Best Pair of Limousin Cattle Bred by Exhibitor:           Creedy Trophy
Awarded to    J Neale & Sons                    Nealford Genevieve, Nealford Honey
For the Best Limousin Bred or Exhibited by a Resident in Devon:   Haldon Trophy
Awarded to    P Greed                     Killerton Gucci
Herdsman Award  For the most Points in Classes:
Awarded to Andrew Hughes
For the Limousin Champion Female:                 Cheston Trophy
Awarded to    P Greed                     Killerton Gucci
For the Limousin Champion Male:                      Battleaxe Trophy
Awarded to    P Greed         Kaprico Donato
 Breed Champion Limousin Perpetual Challenge Trophy (Show)
Awarded to    P Greed                     Killerton Gucci
For the Best Bull Calf:                                 Irish Walters Plate
Awarded to    J Neale & Sons                    Nealford Hercules
For the Best Heifer Calf:                             Westcroft
Awarded to    D & A Wheeler         Rosecroft Harmony
Male Champion       P Greed         Kaprico Donato
Res Male Champion           C Hutchings            Breconside Delboy
Female Champion  P Greed         Killerton Gucci
Res Female Champion                  J Neale & Sons                    Nealford English Rose
Breed Champion     P Greed         Killerton Gucci
Res Breed Champion         J Neale & Sons                    Nealford English Rose
Inter Breed                P Greed         Killerton Gucci