Limousin-sired Heifer wins Commercial Championship
Continuing a fantastic show summer, the rising two-year-old Limousin maiden heifer Foxhillfarm Gracie, from Michael & Melanie Alford, Foxhillfarm, Blackborough, Cullompton, Devon took the Overall Supreme Limousin Championship on the opening day of the 2013 Royal Highland Show at Ingliston, Edinburgh on 20th June.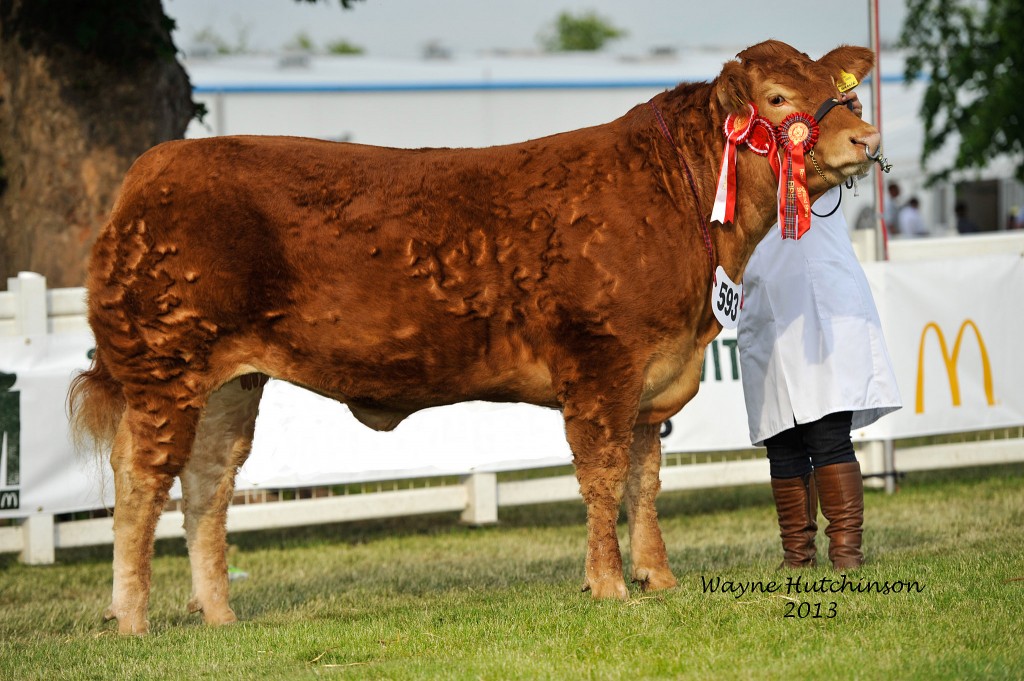 The judging took place under the watchful eye of Mr Mei Thomas of the noted Nebo Herd, Bryn Farm, Nebo, Llanrwst, Conwy and was played out in front of a huge ringside crowd enjoying the dry and warm conditions.  Once again, it was a large and quality entry of Limousin cattle with over 100 head catalogued in all.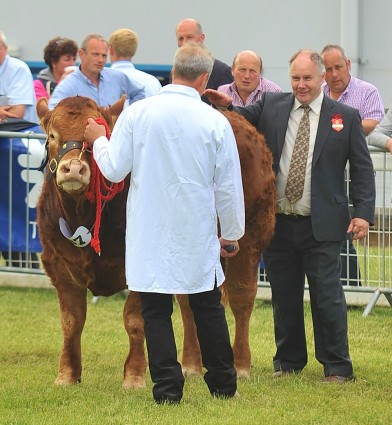 Foxhillfarm Gracie is by the prolific 42,000gns Wilodge Vantastic and is out of the 15,000gns foundation female Bankdale Alice who was purchased at the Bankdale Dispersal Sale at Carlisle in July 2011 whilst in calf with Gracie.  Gracie's haul of honours at the Highland included Supreme Overall Champion, Overall Female Champion, Overall Junior Champion, Junior Female Champion and Best Exhibitor Bred.  The Championship at the Highland continues a remarkable show summer for Gracie whose wins have also included Limousin championships at the Royal Bath and West (where she also stood Interbreed Champion), Royal Cornwall and Limousin Grand Prix Champion at the Royal Three Counties Show.  Foxhillfarm Gracie is also entered for the Royal Welsh Show later in July.
Speaking of his champion, the judge Mei Thomas said, "This heifer really had the X-factor and that bit of sparkle that immediately catches your eye.  She is a tremendous female, very stylish with a nice head and front.   She has tremendous width throughout, is square on the plates, and has excellent conformation. A really worthy champion, she is just full of style and character."
Winning the Limousin Championship here rounded off a spectacular "double" for the Alfords, who were exhibiting pedigrees for the first time at the Highland, coming as it did on the back of winning the Commercial Cattle Championship last year with their Limousin-cross heifer Smarty Pants.
Commenting on his day, Mei Thomas said it had been a great honour to be asked to judge the Highland Show and he congratulated the exhibitors on presenting such a high quality entry before him.  In particular he noted that it had been a tremendous show of females which he said showed the quality and depth of breeding within the Limousin herd book and said that such females would be an asset to any herd.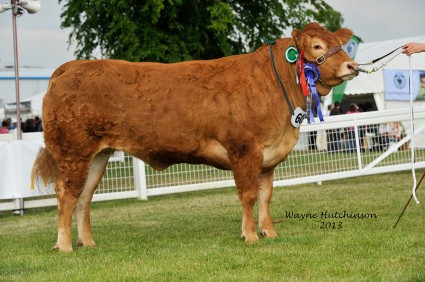 Backing this up, the Reserve Overall Champion was the November 2010-born Glenrock Fantastic from S & H Illingworth, Howgillside, Eaglesfield, Lockerbie whose herd comprises around 50 pedigree cows.  This heifer was placed first in her class and followed the Champion all the way through by taking the Reserve Female title and then the Overall Reserve.  An embryo calf, Glenrock Fantastic is by the 100,000gns Haltcliffe Vermount and is out of the noted cow Glenrock Spangle who has bred daughters to 20,000gns (Glenrock Bianca, Red Ladies 2007) and sons to 16,000gns (Glenrock Fortune, Carlisle May 2012).  At the 2012 Royal Highland, Glenrock Fantastic had been awarded the Reserve Junior Championship and this year successes have included the Interbreed Championship at Cumberland Show. She now heads to the Great Yorkshire Show in July.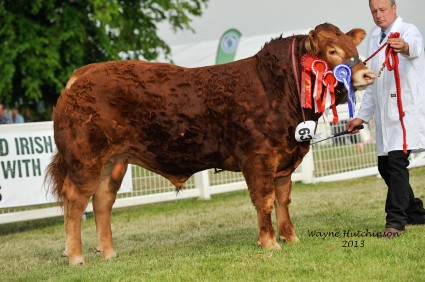 The Overall Male Championship was won by Ian Nimmo, Bogside Farm, Newmains, Wishaw with the April 2012-born Maraiscote Hop. This continued a remarkable run at the Highland for the Nimmos which has seen them win the Junior Male Championship for an unprecedented four years in a row.  Their previous winners, Maraiscote Ember, Maraiscote Floyd and Maraiscote Gigolo, have gone on to sell for 15000gns, 30000gns and 7800gns respectively.  Of these four Junior Champions, three have been sired by the herd's 23,000gns stock bull Goldies Comet including this year's winner Maraiscote Hop.  He is out of the cow Maraiscote Bop, a Normande Urquhart daughter, and picked up the Overall Male title, Junior Male title and was also placed Overall Reserve Junior to the Supreme Champion.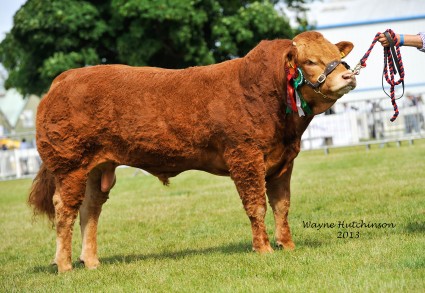 The Reseve Male Champion was Ardglasson Highlander from Messrs D McBeath & SJ Jessop, Lower Greenyards Farm, Bannockburn, Stirling.  This much-admired young bull was bred in Ireland by Fiona Gilsenan, Kells, Co Meath and was purchased at the Roscrea Sale in March where he had placed Junior Champion under the judging of Dougie McBeath.  January 2012-born, the bull is by the noted AI sire Fieldson Alfy, and is out of Ardglasson Daisy.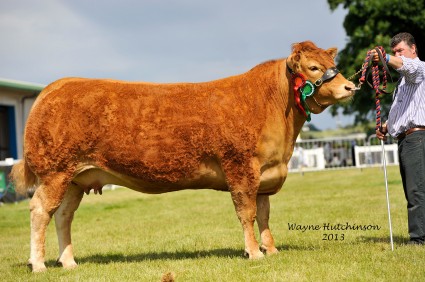 Back with the females and the Best Cow award was given to the prolific show winner Brockhurst Bolshoi from Buckinghamshire breeders WJ & M Mash Ltd, Torrington Farm, Chesham.  The 2006-born Bolshoi, a previous Supreme Champion at the Great Yorkshire, is by Grahams Samson and is out of Ronick McAinsi.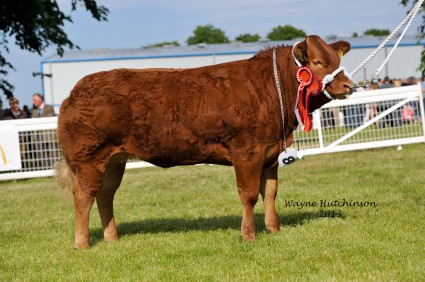 Continuing its dominance in recent years at the Royal Highland, a Limousin-sired heifer won the high-profile Commercial Championship.  Taking Supreme Championship on the Thursday afternoon was Mr Wilson Peters, Cuilt Farmhouse, Monzie, Gilmerton, Crieff, Perthshire with Duches, a May 2012-born crossbred heifer sired by Normande Adventurer (by Ravageur) who weighed in at 418kg. Judge Mr Hugh Dunlop, Holehouse, Auchiltree, Ayrshire commented: "My Champion was a very well brought-out and well-made heifer with a good top, beautiful head, tremendous width and depth, who moved well."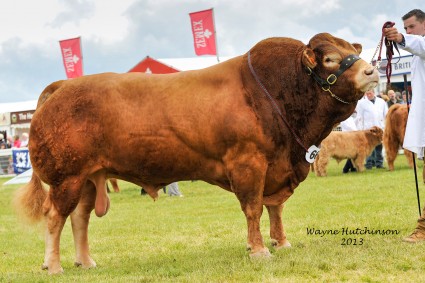 To watch video of Limousin judging, click here.
| | | |
| --- | --- | --- |
| Female born after 1 April 2012 | | |
| 1st | Dynamite Henrietta | Mr A Hyslop |
| 2nd | Ronick Hera | W Dick & Sons |
| 3rd | Maraiscote Holdon | Mr J Nimmo |
| | | |
| Female born between 1 January & 31 March 2012 | | |
| 1st | Ronick Honey | W Dick & Sons |
| 2nd | Glenrock Honeysuckle | S & H Illingworth |
| 3rd | Burnbank Holly | D & L Graham |
| | | |
| Female in calf or Maiden Heifer born between 1 July & 31 December 2012 | | |
| 1st | Foxhillfarm Gracie | Mr & Mrs M J Alford |
| 2nd | Grahams Gayla | Mr & Mrs R Graham |
| 3rd | Fairywater Gabriella | Mr A Ewing |
| | | |
| Female in calf or Maiden Heifer born between 1 August 2010 & 30 June 2011 | | |
| 1st | Glenrock Fantastic | S & H Illingworth |
| 2nd | Grahams Goldenfly | Mr E MacGillivray |
| 3rd | Clydeside Guitar | Mr A R Lindsay |
| | | |
| Female in Milk, with Calf at foot born after 1 January 2010 | | |
| 1st | Grahams Foxtrot | Mr & Mrs R Graham |
| 2nd | Lodge Fairy | WI & AW Callion |
| | | |
| Female in milk, with Calf at foot born before 31 December 2009 | | |
| 1st | Grahmans Chantilly | John P Clark Ltd |
| 2nd | Ronick Evette | W Dick & Sons |
| 3rd | Evidence | WJ & M Mash Ltd |
| | | |
| Female in Calf any age | | |
| 1st | Brockhurst Bolshoi | WJ & M Mash Ltd |
| | | |
| Bull born after 1 June 2012 | | |
| 1st | Stephick Hero | Miss S Dick |
| 2nd | Maraiscote Hogwarts | Mr J Nimmo |
| 3rd | Kinnahaird Highlander | John P Clark Ltd |
| | | |
| Bull born between 1 April & 31 May 2012 | | |
| 1st | Maraiscote Hop | Mr J Nimmo |
| 2nd | Maraiscote Hawk | Mr J Nimmo |
| 3rd | Maraiscote Hiphop | Mr J Nimmo |
| | | |
| Bull born between 1 January & 31 March 2012 | | |
| 1st | Ardglasson Highlander | Messrs McBeath & Jessop |
| 2nd | Grahams Hawkeye | Mr & Mrs R Graham |
| 3rd | Allanfauld Honka | A MacGregor (Allanfauld) Ltd |
| | | |
| Bull born between 1 July & 31 December 2011 | | |
| 1st | Fortfield Guiness | Mr S Mitchell |
| 2nd | Killmactransa Gordon | Mr A Ewing |
| | | |
| Bull born between 1 July 2010 & 30 June 2011 | | |
| 1st | Franky Ben | Mr & Mrs R Graham |
| | | |
| Bull born before 1 July 2010 | | |
| 1st | Diablo | Mr & Mrs R Graham |
| 2nd | Brockhurst Elvis | WJ & M Mash Ltd |
| 3rd | Espoir | Mr E Penty |
| | | |
| Best Junior Female | Foxhillfarm Gracie | Mr & Mrs MJ Alford |
| | | |
| Best Cow | Brockhurst Bolshoi | WJ & M Mash Ltd |
| | | |
| Best Female | Foxhillfarm Gracie | Mr & Mrs MJ Alford |
| Reserve Female | Glenrock Fantastic | S & H Illingworth |
| | | |
| Best Junior Bull | Maraiscote Hop | Mr J Nimmo |
| | | |
| Best Bull | Maraiscote Hop | Mr J Nimmo |
| Reserve Bull | Ardglasson Highlander | Messrs McBeath & Jessop |
| | | |
| Best Junior Animal | Foxhillfarm Gracie | Mr & Mrs MJ Alford |
| Reserve Junior Animal | Maraiscote Hop | Mr J Nimmo |
| | | |
| Champion Limousin | Foxhillfarm Gracie | Mr & Mrs MJ Alford |
| Reserve Champion | Glenrock Fantastic | S & H Illingworth |
| | | |
| Best Animal bred by Exhibitor | Foxhillfarm Gracie | Mr & Mrs MJ Alford |
| | | |
| Best Animal bred by Exhibitor who is member of Scottish Limousin Club | Glenrock Fantastic | S & H Illingworth |
| Group of Three | | WJ & M Mash Ltd |