Bull Champion Lynderg Hero
Heifer Champion Ardnacrusha Hilarious
Lynderg Hero wins Castlewellan Show Interbreed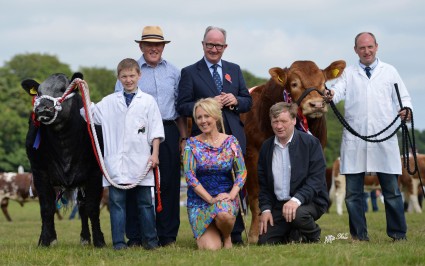 The seventh annual All-Ireland Limousin Heifer & Bull Derby took place at Castlewellan Agricultural Show on Saturday the 13th July with honours shared between Northern Irish and Southern Irish breeders.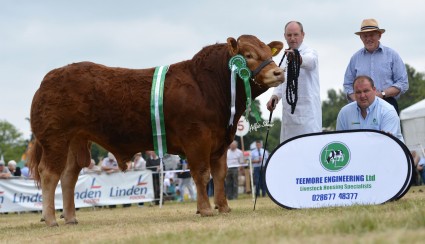 From a 36-strong entry from the two regions, the judge Mr Dougie McBeath, Lower Greenyards Farm, Bamnnockburn, Stirling had the task of judging four classes comprising two bull and two heifer classes supported by long-standing sponsors Teemore Engineering Ltd and Bank of Ireland respectively.
Overall Bull Derby Champion was the January 2012-born Lynderg Hero, bred by Mr J Quail, Banbridge. Entirely homebred, this powerful young bull is by Lynderg Eisenhower, a Guards Boomer son, and is out of the dam Lynderg Diana, a Haltcliffe Underwriter daughter.  Lynderg Hero followed on from his success at this year's Royal Ulster Show where he stood Male Champion. Later in the day at Castlewellan, he went on to win the Limousin Championship, the Junior Bull Interbreed Championship and Overall Interbreed Championship in the Castlewellan Show classes, under Judge Mr David Leggat of United Auctions, Stirling.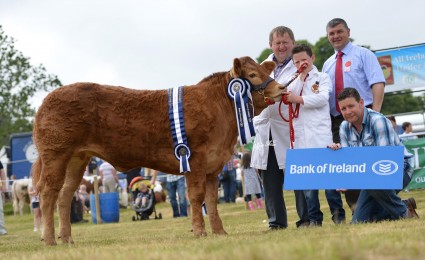 In the All-Ireland Limousin Heifer Derby, it was Ardnacrusha Hilarious bred by Mr D Moloney, Ardnacrusha, Co Clare who won the Heifer Derby Championship.  This stylish September 2012-born heifer is sired by Wilodge Vantastic and is out of the French imported cow Etole, a Beatnik daughter.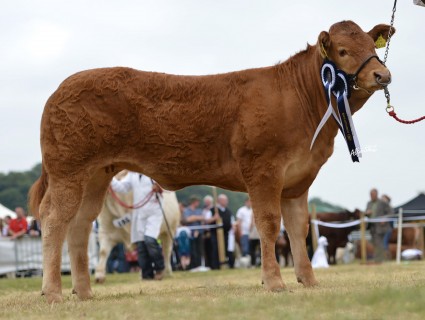 Gaining the Reserve Heifer Championship was Elite Hope, bred by E Tynan, Mountath, Co Laois.  Another sired sired by Wilodge Vantastic this heifer is out of the dam Ardlea Eire.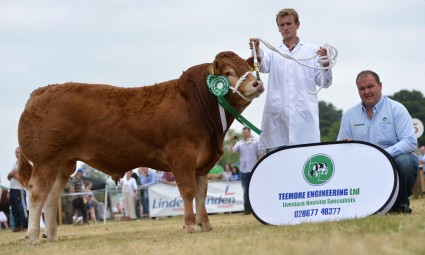 Standing as the Reserve Bull Derby Champion was Donnelly Hernando, bred by A Donnelly, Claremorris, Co Mayo. This stylish September 2012-born bull had won the second of the bull classes and is also sired by Wilodge Vantastic whilst being out of the dam Newtown Trixie, a tremendous breeding cow sired by Dauphin.
Having stood second in his class behind the eventual Bull Derby Champion, Lynderg Hero, Artanagh Houston from WJ McIlroy, Dromara also won the Junior Interbreed Reserve Championship in the Castlewellan Show itself.  A breeding feature of the day, this March 2012-born bull is another by the prolific 42,000gns sire Wilodge Vantastic, and is out of Goldies Sonia, a Bailea Olympia daughter.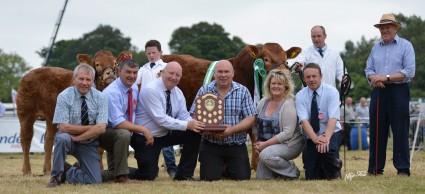 As with every year at the All-Ireland Derby, the Points Shield was up for grabs for the region gaining most points in the 2013 competition. As usual, this was a very close contest, but with the Northern Ireland Limousin Cattle Club finally taking the honours.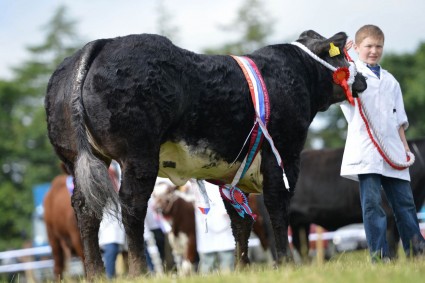 Back to the Castlewellan Show Interbreed Championship, and standing Reserve to Lynderg Hero was the stylish Limousin-sired heifer Eddie Rocket. Bred and exhibited by James Alexander, Randalstown this April 2012-born heifer is sired by Swarland Eddie, and along with her sibling Steady Eddie have notched up no less than seven supreme awards between them since Balmoral in May. The commercial duo then joined forces and won the Interbreed Pairs Championship, again under Judge David Leggat.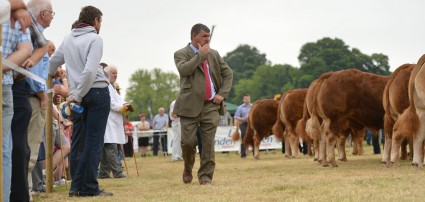 This year's hosts, the NI Limousin Cattle Club, would like to thank the Irish Limousin Cattle Society and their exhibitors for making the trip up to Castlewellan for the All-Ireland Derby and also all the local exhibitors for showing their continuing support. Grateful thanks are extended to Dougie McBeath for taking the time to act as judge, to Castlewellan Agricultural Show Committee for all their help in running the event, and to sponsors Bank of Ireland and Teemore Engineering for their continued support.

Results
Class 1 bulls born between 1st Jan 2012 and 31st July 2012
1st Lynderg Hero, J Quail
2nd Artanagh Houston, WJ McIlroy
3rd Millgate Herbie, M Loughran (Condor x Millgate Doughnut)
4th Shanhill Hunter, L Crilly (Sympa x Limo Vixen)
Class 2 bulls born on or after the 1st August 2012
1st Donnelly Hernando
2nd Carrowreagh Homer, P Bruen (Wilodge Vantastic x Carrowreagh Birdie)
3rd Lanmore Hercules, R Duffy (Ardlea Dan x Lanmore Cora)
4th Millgate Herman, M Loughran (Millgate Fame x Ballyline Barbara) 
Class 3 heifers born between 1st June 2011 and 30th June 2012
1st Elite Giselle, E Tynan (Wilodge Vantastic x Uriel B)
2nd Artnagullion Hanna, W McAllister (Virginia Andy x Teeshan Evanoush)
3rd Derriaghy Hermonie, D Green & Sons (Ampertaine Commander x Dinmore Elvira)
4th Artnagullion Gvanoush, W McAllister (Wilodge Vantastic x Teeshan Vanoush) 
Class 4 heifers born on or after 1st July 2012
1st Ardnacrusha Hilarious, D Moloney
2nd Elite Hope, E Tynan
3rd Elite Hazel, E Tynan (Wilodge Vantastic x Ardlea Coillte)
4th Millgate Halfpenny, M Loughran (Millgate Fame x Millgate Euro)