Glenrock Fantastic takes the Overall Reserve & Female Championship
Dougie McBeath & Sarah-Jane Jessop, Lower Greenyards Farm, Bannockburn, Stirling, have won the inaugural Scottish Limousin Grand Prix with their January 2012 born bull Ardglasson Highlander.  This new event, set up by the British Limousin Cattle Society (BLCS) to promote the Limousin breed and to support local agricultural shows in Scotland, was held within the Black Isle Show at Muir of Ord, Ross Shire on Thursday 1st August.  A further £1000 was put forward by the BLCS in prize money.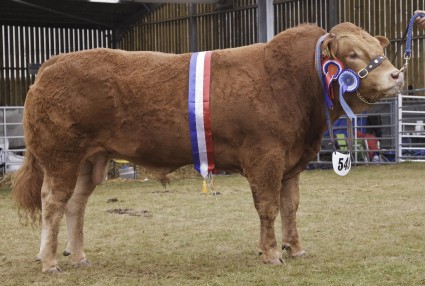 From an entry of some sixty Limousin cattle from the north and south of Scotland,   Ardglasson Highlander took the Male Championship title before being given the Overall Supreme Championship nod by judge for the day Craig Ridley of the noted Haltcliffe herd, Hesket-New-Market, Wigton.
Taking the Reserve Overall was the Female Champion in the shape of the heifer Glenrock Fantastic from Steven & Helen Illingworth, Howgillside, Eaglesfield, Lockerbie.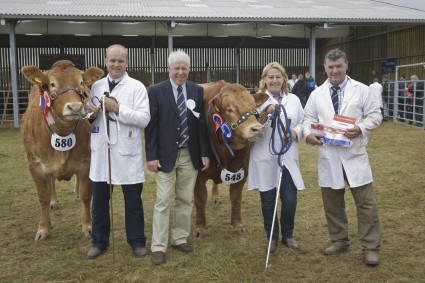 Ardglasson Highlander was bred in Ireland by Fiona Gilsenan, Kells, Co Meath and was purchased at the Roscrea Sale in March where he had placed Junior Champion under the judging of Dougie McBeath. With no intentions of buying a bull at the time Mr. McBeath said that the bull had just stood out to him as a terrific all-round bull.  A deal was duly done!  January 2012-born, Ardglasson Highlander is by the noted AI sire Fieldson Alfy, and is out of Ardglasson Daisy who goes back to a Pelletstown bull.
This high profile win follows on from the 2013 Royal Highland Show where Ardglasson Highlander stood as the Overall Reserve Male Champion.  The Scottish Limousin Grand Prix is the bull's second show outing and he is now due to go to Perth Show on Saturday 3rd August.
Commenting on his Champion the judge Craig Ridley said:  "This is an outstanding young bull.  He's a typical Limousin type, long and clean with a very good backend, top and width throughout".  Of the inaugural Scottish Limousin Grand Prix, Mr. Ridley went on to say; "It's been a pleasure to judge this new event held this year within a great show like the Black Isle.  There has been a high standard of Limousin cattle forward with some very close classes throughout."
In addition to the Overall Supreme title, Ardglasson Highlander picked up on the way the Male Championship and Junior Championship titles.  For good measure Dougie McBeath & Sarah-Jane Jessop also took the Herdsman award.  In addition to their own cattle the McBeath & Jessop team were also showing on behalf of Buckinghamshire breeder WJ & M Mash of the Brockhurst herd.
Glenrock Fantastic, has also enjoyed a terrific show season.  The Overall Reserve, Female Championship, and Best Bred by Exhibitor at the Scottish Limousin Grand Prix followed on from Overall Reserve positions at both the Royal Highland and Great Yorkshire Shows respectively.  Interbreed honours were also secured at the Great Yorks. An embryo calf, Glenrock Fantastic is by the 100,000gns Haltcliffe Vermount and is out of the noted cow Glenrock Spangle who has bred daughters to 20,000gns and sons to 16,000gns.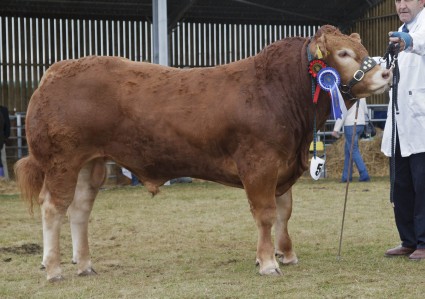 The Illingworths also took the Overall Reserve Male Championship and Reserve Junior Championship with Glenrock Highwayman.   April 2012 born, Highwayman is by the noted Sympa and is out of Glenrock Campari.  Campari is a Cloughhead Lord daughter out of the aforementioned Glenrock Spangle.
Taking the Overall Reserve Female Championship was the heifer Grahams Foxtrot from R&J Graham, Airthrey Kerse Dairy Farm, Bridge Of Allan, Stirling.  Entirely homebred, the January 2010 Grahams Foxtrot is by Grahams Alexander and is out of Grahams Diana.  Foxtrot was also a first prize winner at this year's Royal Highland.
John P Clark, Kinnahaird Farm, Contin, Strathpeffer enjoyed a good day with two first prize tickets in the maiden heifer classes with Kinnahaird Gertie, and Spittalton Gina bred by Andrew Burnett.  A further first prize ticket was secured by the Clarks in the cow class with the six year old Rodeo daughter Grahams Chantilly shown with her December 2012 born Vagabond bull calf at foot, Kinnahaird Highlander.  Grahams Chantilly was bred by R&J Graham, Stirling.  Mr Clark also won the Best from Ross award with the February 2011 born Spittalton Gina heifer, a Hargill Blaze daughter.
Commenting on the event, Scottish Limousin Club Chairman Walter Cruikshank, Clury Farm, Inverness, said; "It's been a successful day and a good first step in establishing this new Limousin event. The 2014 Scottish Limousin Grand Prix will see the event move on to support another Scottish local show with a venue due to be announced shortly."
In June this year, the British Limousin Cattle Society established and supported a similar Limousin Grand Prix event within the Royal Three Counties Show held at Malvern, Worcestershire.

Within the Black Isle Show itself, the Commercial Beef section saw a Limousin one-two in the Championship positions.  Overall Champion was a June 2012 born Limousin cross heifer from Donald Morrison, Cairnnulla, Burnside, Kinlochbervie. This calf was bred by the Scotts of Thirlwall Castle at the Spring sale in Carlisle.   The Reserve Champion was a Limousin steer,  May 2011 born, and shown by Blair Duffton & Rebecca Stuart, Huntly. This calf was bought at Thainstone for £4200 from the Robertsons of Fodderletter. It was sired by Cawfield Dylan out of a Fodderletter cow. This calf, a champion & reserve at a number of local shows this season is now heading to Turriff and is aimed at this year's Scottish Winter Fair.
Results
Class:
232 Class 232 CALF, born after 1st January 2013, bull or heifer
1st
R & K Davidson
Corsairtly Isla
Class:
233 Class 233 BULL, born on or after 1st June 2012 to 31st Dec
1st
Mr & Mrs Stephen Irvine & Sons
Anside Hawkeye
2nd
R & J Graham
Grahams Hunter
3rd
W J & M Mash
Brockhurst Hardnut
Class:
234 Class 234 BULL, born 1st April 2012 to 31st May 2012
1st
S & W Illingworth
Glenrock Highwayman
2nd
Mr & Mrs Stephen Irvine & Sons
Anside Hannibal
3rd
J Burnett & Sons
Spittalton Harrier
Class:
235 Class 235 BULL, born 1st January 2012 to 31st March 2012
1st
D McBeath & S J Jessop
Ardglasson Highlander
2nd
J Burnett & Sons
Spittalton Hero
3rd
R & K Davidson
Corsairtly Harley
Class:
236 Class 236 BULL, born 2011
1st
J Burnett & Sons
Spittalton Garrison
2nd
S & S Mitchell
Fortfield Guiness
3rd
Michael Robertson
Spittalton Gold
Class:
237 Class 237 BULL, born prior to 1st January 2011
1st
R & J Graham
Franky Ben
2nd
W J & M Mash
Brockhurst Elvis
3rd
Shirley Brown
Black Isle Black Beauty
Class:
238 Class 238 HEIFER, born between 1st June 2012 to 31st Dec
1st
Michael Robertson
Fodderletter Honeysuckle
2nd
Michael Robertson
Fodderletter Halle
3rd
Michael Robertson
Fodderletter Herrera
Class:
239 Class 239 HEIFER, born 1st April 2012 to 31st May 2012
1st
Mr & Mrs Stephen Irvine & Sons
Anside Halle
2nd
Taymar Limousins
Taymar Hilda
Class:
240 Class 240 HEIFER, born 1st January 2012 to 31st March 20
1st
S & W Illingworth
Glenrock Honeysuckle
Class:
241 Class 241 MAIDEN HEIFER, born 1st June 2011 to 31st De
1st
John P Clark Ltd
Kinnahaird Gertie
2nd
R & K Davidson
Corsairtly Glitz
3rd
Mr & Mrs Stephen Irvine & Sons
Anside Glair
Class:
242 Class 242 MAIDEN HEIFER IN CALF, born 1st January 201
1st
John P Clark Ltd
Spittalton Gina
2nd
Taymar Limousins
Taymar Girl
Class:
243 Class 243  HEIFER, born 2010 in calf or with calf at foot
1st
S & W Illingworth
Glenrock Fantastic
2nd
R & J Graham
Grahams Foxtrot
Class:
244 Class 244 COWS, in calf or with calf at foot
1st
John P Clark Ltd
Grahams Chantilly
2nd
W J & M Mash
Evidence
CHAMPIONSHIP and SPECIAL PRIZES
Champion
D McBeath & S J Jessop(548)
Ardglasson Highlander
Reserve Champion
S & W Illingworth(580)
Glenrock Fantastic,
Female Champion
S & W Illingworth(580)
Glenrock Fantastic
Reserve Female Champion
R & J Graham(582)
Grahams Foxtrot
Male Champion
D McBeath & S J Jessop(548)
Ardglasson Highlander
Reserve Male Champion
S & W Illingworth(541)
Glenrock Highwayman
Opposite Sex to Champion
S & W Illingworth(580)
Glenrock Fantastic
Best From Ross (Other Than Champion) Champion
John P Clark Ltd(577)
Spittalton Gina
Herdsman
D McBeath & S J Jessop(548)
Ardglasson Highlander
Best Bred by Exhibitor
S & W Illingworth(580)
Glenrock Fantastic
Junior Champion
D McBeath & S J Jessop(548)
Ardglasson Highlander
Reserve Junior Champion
S & W Illingworth(541)
Glenrock Highwayman
Senior Champion
S & W Illingworth(580)
Glenrock Fantastic
Reserve Senior Champion
R & J Graham(582)
Grahams Foxtrot