Champion makes 20,000gns; Reserve makes 15,000gns
Seven animals in all at 5,000gns and over
Red Ladies sale grosses £143,535
79% clearance rate
Bringing the official British Limousin Cattle Society Sale year to a close was the Red Ladies Derby Sale held at Carlisle's Borderway Market on Friday 13th December 2013.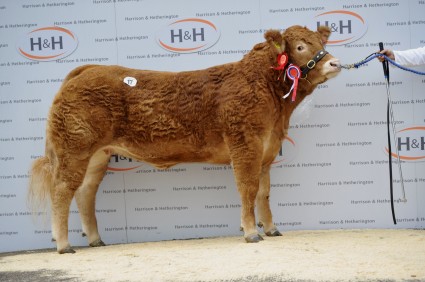 Taking the day's top price at 20,000gns, and the leading price for a Limousin female in 2013, was the classy February 2012-born heifer Ronick Honey from Mr R Dick, Mains of Throsk, Stirling. In the morning's pre-sale show, Ronick Honey had also been crowned as the Overall Supreme Champion by judge for the day Mark Phillips who runs the Newmarque Herd at Mains of Minnydow, Springholm, Castle Douglas.  The Champion animal is by the 17,000gns herd stock bull Rathconville Eugene and is out of the Ronick Shapely-sired Ronick Cute.  Ronick Honey has been shown successfully throughout 2013 winning her class at the Royal Highland as well as several local shows and Interbreeds.  She was also placed as the Best Heifer born in 2012 in the 2013 Scottish Limousin Club Herd Competition.
Combining breeding and performance this heifer carried a Beef Value of LM+38.
Purchasing the top price were GR & SC Brooke for their establishing Romford pedigree herd at Upper Huntly Wood Farm, Earlston, Berwickshire. Having kept track of the heifer's prolific summer show season, this was an opportunity for the purchaser to buy from "the top of the Ronick programme" to establish a small, elite herd of pedigree Limousins. Representing the first animal bought at auction, Ronick Honey will join a number of other females recently purchased privately.
Immediately after the show, the judge Mark Phillips said of his Champion: "This is a tremendous heifer with great presence. She has size and power added to her breed character and femininity.  Beautifully turned out, she's a very correct heifer in every area."
Enjoying a good day all-round, the Dicks also sold Ronick Gleeful, who had taken the first prize ticket in the third class of the day, for 7,000gns. This heifer, got by AI, is by the 50,000gns Wilodge Cerberus and is out of Ronick Delight, whose pedigree combines both Bailea Olympia and Broadmeadows Cannon.  November 2011-born, and with a big Beef Value of LM+43 to boot, this heifer was purchased by Craig Cameron, Greenferns Farm, Bucksburn, Aberdeen for his Greenferns pedigree herd.
In all, two animals made over five figures with seven in total at 5,000gns or more.  31 out of the 39 animals forward sold representing a clearance rate of 79%.  The sale grossed a healthy £143,535 with the 24 maiden heifers averaging over £4,500.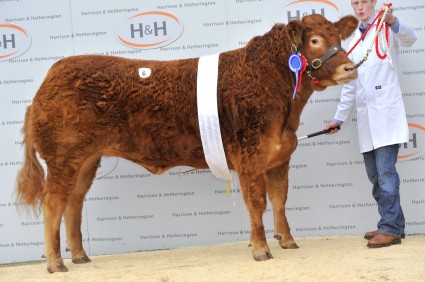 The Overall Reserve Champion, Fairywater Gabriella, from Mr A Ewing, Dumbretton Farm, Annan, made the day's second top price of 15,000gns when bought for export by Michael Phillips, Donn West, Gurteen, Co. Sligo, Republic of Ireland. September 2011-born, this heifer is by the herd's stock bull the 17,000gns Ironstone Diego.  She is out of Pelletstown Catherine, a Mas Du Clo daughter, and was sold with a Beef Value of LM+38.
Dinmore Hottie from Paul Dawes, Kipperknowle Farm, Dinmore Manor, Hereford made 6,500gns. Winning first prize in her class here, Dinmore Hottie had also been a first prize winner and Reserve Junior Champion at the 2013 Royal Welsh Show.  By the AI sire Objat and out of the Wilodge Vantastic-sired Dinmore Caprice, Hottie is maternal sister to Dinmore Foxy and Dinmore Foxtrot who sold for 22,000gns and 14,000gns respectively at the herd's Production Sale in 2012.  Dinmore Hottie was sold with an excellent Beef Value of LM+44 to the Monkeypuzzle herd of W Wight, Whitrighill Farm, Melrose, Roxs.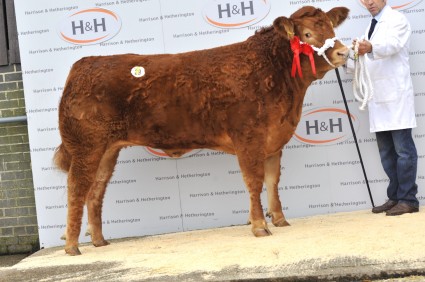 Out of the same cow family as Hottie was Dinmore Heiress, again from Paul Dawes, who sold for 6,000gns.  April 2012-born, Dinmore Heiress is by Hafodlas Cymro who is a son of the noted Cloughhead Umpire.  Full of breeding, she is out of Wilodge Priceless who is the mother of the 50,000gns Wilodge Cerberus and also Dinmore Hannah, the 2013 Royal Welsh Show Junior Champion.  Purchasing Dinmore Heiress was Danny McMullan for his Lyttle herd at 86 Moneysharvin Road, Maghera, Co Derry, N Ireland.  Completing a nice hat-trick of sales for Paul Dawes was the February 2012-born Dinmore Herena at 4,000gns.  Another sired by Hafodlas Cymro, this heifer is out of Wintercott Serena, the mother of the noted Dinmore Athena – a past Female Champion at the Royal Welsh Show.  Purchasing Dinmore Herena were Messrs Seagrave & Stevenson for their Season Herd at Checkerleazes Farm, Copeland Road, West Auckland, Bishop Auckland, Co Durham. Earlier, these three heifers had teamed up to win the Special Regional Club Team Competition in the pre-sale show.
At 5,200gns was Anside Halle from Mr & Mrs Stephen Irvine, Braehead Farm, Drummuir, By Keith, Banffs,  Moray. This heifer is by the herd's 22,000gns stock bull, Derriaghy Enfield, and is out of Lethendry Rebecca.  Derriaghy Enfield's progeny have so far sold up to 18,000gns at sale for the Anside Herd which won the Best Overall Herd award at the 2013 Scottish Limousin Herd Competition.  Purchasing the May 2012 born Anside Halle was AJ MacLean, Haylipol Farm, Isle of Tiree.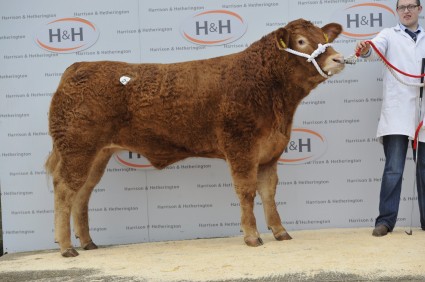 Henry Savage & Sons, Altnamackin, Newry, Northern Ireland secured 5,000gns for the March 2012-born Trueman Holly. This heifer had earlier stood second in her class to the day's Overall Champion. She is another by the 50,000gns Wilodge Cerberus and is out of the Sympa-bred Trueman Encore.  Trueman Holly had featured at this year's Royal Ulster Show where she was part of the winning Pair and Group of Three teams.  Sporting a big beef value of LM+40, Trueman Holly was purchased by HJ & A Francis & Son for their Cain pedigree herd at Penllwyn, Llanfyllin, Powys.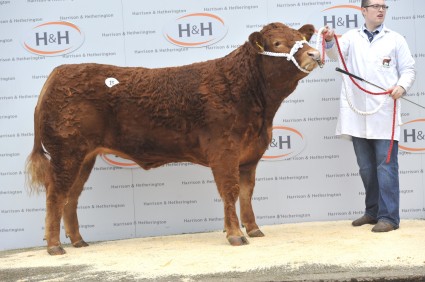 The same vendor and buyer combination saw Trueman Harmonica also sold for 5,000gns to the Cain Herd.  Trueman Harmonica, January 2012-born, is an embryo calf by Objat and is out of Trueman Acoustics.  Acoustics is rated as the best cow in the herd and is the mother of the 38,000gns Trueman Duet – herself a top price at Red Ladies back in 2009.
Also over from Northern Ireland, K&C Knox, Whitehill North, Lisnarick Road, Irvinestown, Co Fermanagh, took a first prize ticket and made 4,800gns with their October 2012-born heifer Beachmount Honey.  Another got by AI, Beachmount Honey is by the Vivaldi son, Ardlea Dan.  Honey's dam is the Sympa daughter Beachmount Ebony whose first calf was also a class winner at the 2012 Red Ladies show and who sold for 5,500gns.  Beachmount Honey goes to the Creoch Herd of Messrs J Sloan & Son, Little Creoch, New Cumnock, Ayrshire.
Also at 4,800gns was Powerhouse Honeybee from Colin & Wendy Phillips, The Batch, Weobley, Herefordshire. Another embryo calf sired by Objat, the May 2012-born Honeybee is a full sister to the bull Powerhouse Elite.  Out of the Rocky daughter Sarkley Eileen, Powerhouse Honeybee was purchased by Mark Whitlock for his Whitbred herd based at Hillfields Farm, Coombefields Road, Ansty, Coventry
Making 4,000gns was Mardoneen Highness from William J Bird, Oldgate Farm, Barkston Ash, Tadcaster, N Yorks.  This embryo calf, bred by Mrs K Phillips, Springholm, Castle Douglas, is by the French sire Bahut and is out of the 8,100gns Baileys Countess.  This February 2012-born heifer was another purchased by Messrs Seagrave & Stevenson.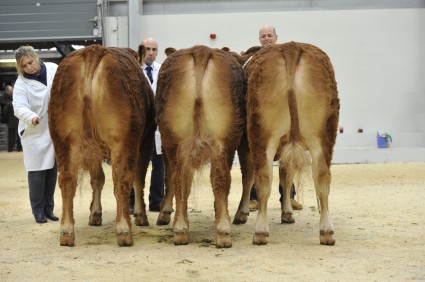 Averages:
2 Cows served and/or suckling           £2,415.00
5 Served Heifers                                 £6,027.00
24 Maiden Heifers                               £4,523.75
To see Red Ladies at Carlisle 2013 click here