Junior & Overall Champion Ruth Hamill
Intermediate & Reserve Overall Winner James Graham
Senior Champion Lin Pidsley
Thursday 12th December 2013 saw the Young Limousin Breeders' Club (YLBC) hold its inaugural Young Handlers' Championship at Borderway Mart, Carlisle on the evening prior to the British Limousin Cattle Society's Red Ladies Derby & Weaned Calf Sale.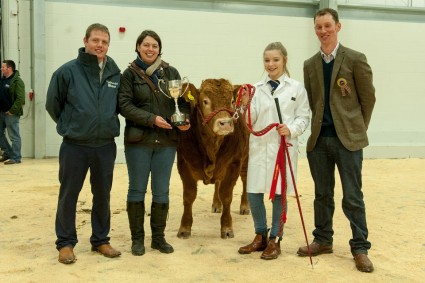 Replacing the Annual Calf Show, the new competition focused on the "Young Handler" rather than the calf with the aim being to encourage more members to participate in events, build their confidence when working with livestock, help them to develop lifelong skills but most importantly expand their knowledge of the Limousin Breed.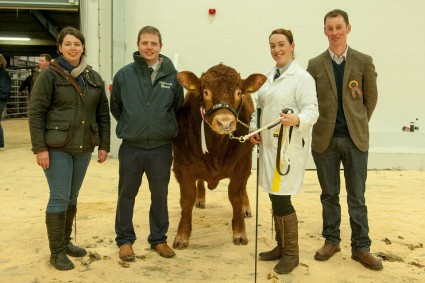 The event was split into two sections: the preparation of the calf for showing followed by presentation of the animal in the show ring itself. Judged respectively by Ashley McInnes of McInnes Show and Ian Sedgwick, Gallaber Farm, Burton in Lonsdale, the competition was preceded by a short talk on nutrition by Tom Stevenson of Natural Stockcare underlining the importance of looking after and feeding animals correctly in preparation for breeding, showing and selling. Ashely McInnes also gave a short demonstration on what he would be looking for while judging the preparation of the animal section, allowing the young breeders to pick up tips for the future to make their animals stand out and catch the eye of a judge or future buyer.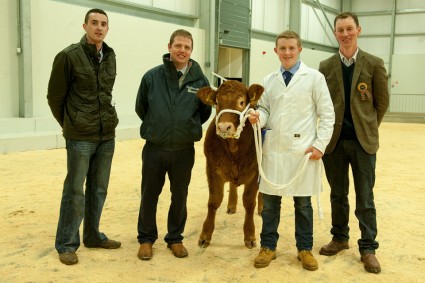 With almost 30 up-and-coming breeders taking on the challenge, classes were split into three different age groups: Junior (8-12 years); Intermediate (13-17) and Senior (18+).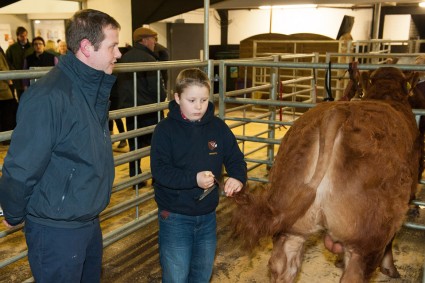 Taking the Overall title was the Junior class winner Ruth Hamill, Dunmurray Lane, Dunmurray, Belfast, N Ireland with the Intermediate class winner James Graham, Mains of Burnbank Farm, Blairdrummond, Stirling in Reserve spot. Winning the Senior section was Lin Pidsley, Upton Ley Farm, Honiton, Devon.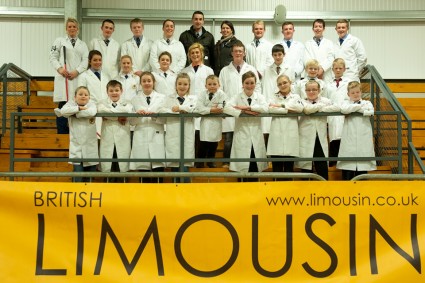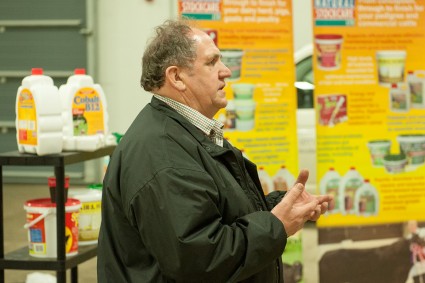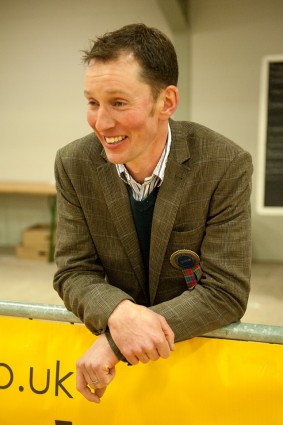 Results
Class 1 Junior Young Handlers
1st Ruth Hamill, Dunmurray Lane, Dunmurray, Belfast
2nd Isla Soutter, Clifton Moor, Clifton, Penrith, Cumbria
3rd Finlay Soutter, Clifton Moor, Clifton, Penrith, Cumbria
4th Andrew Hamill, Dunmurray Lane, Dunmurray, Belfast
Class 2 Intermediate Young Handlers
1st James Graham, Mains of Burnbank farm, Blairdrummond, Stirling
2nd Andrew Nimmo, Bogside Farm, Wishaw, Lanarkshire
3rd Beth Harvey, Buchanan Street, Balfron, Glasgow
4th Amy Lindsay, Kepscaith Farm, Longridge, West Lothian
Class 3 Senior Young Handler s
1st Lin Pidsley, Upton Ley Farm, Upton, Payhembury, Honiton
2nd = Stephanie Dick, Westerton of Cowie, Cowie, Stirling
2nd = John Graham, Mains of Burnbank farm, Blairdrummond, Stirling
4th Richard Priestley, Cracrop Farm, Kirkcambeck, Brampton, Cumbria
Highly Commended
James Scott of Northern Ireland was the winner of the highly commended award in his first Young Handlers Championship for battling on through a tough class
Andrew Weir, Castlecary Mill Farm, Bonnybridge, Stirlingshire also received a Society tie for his struggle with a less than obedient calf…….
Grateful thanks are expressed to all the competitors for taking part, cattle exhibitors, master judges, spectators, stewards and, last but by no means least, the sponsors: Cogent, McInnes Show, Natural Stockcare, Semenstore, British Limousin Cattle Society and Harrison and Hetherington for the use of the Mart. Without you all, the competition would not have been the resounding success it was. Thank you.