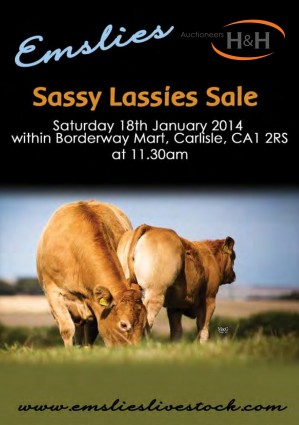 This Saturday, 18th January, sees the Sassy Lassies Production Sale at Carlisle's Borderway Mart of more than 100 head from the Emslies herd of Harry Emslie, Kinknockie, Mintlaw, Peterhead, Aberdeenshire.
The sale kicks off at 11.30am.
Included within the sale is the entire "G" crop of females and the majority of the "H". Also within this catalogue of pedigree and performance is progeny from the 2009 Royal Welsh interbreed champion Ballymoney Veronica, the 20,000gns Wilodge Ritzy and the 20,000gns Ronick Telma. Young progeny are sired by the successful homebred Emslies Colossus (Beef Value of LM+62) and many females will be in calf to the 18,000gns Dinmore Goldcrest and the 37,000gns Emslies Frenchman.
Click here to download the sale catalogue. Emslies Catalogue