R&J Graham, Airthrey Kerse, Bridge of Allan, Stirling secured the top price of the day when they sold their young bull, Graham Humphrey, for a mighty 37,000gns at the British Limousin Cattle Society's February Sale held at Borderway Mart, Carlisle on Saturday 15th February.
Bringing something new to the bloodlines on offer the October 2012 born Humphrey is by the Irish bred sire Baileys Elderado a bull purchased by Robert Graham at the Roscrea Sale in Ireland for 17,000gns.  Elderado is by Queenshead Altea a bull originally purchased for 52,000gns at Carlisle and who features the noted Greensons Gigolo in his breeding.  In 2013 the top priced Limousin female in the year was Grahams Gayla at 17,000gns who is also by Baileys Elderado.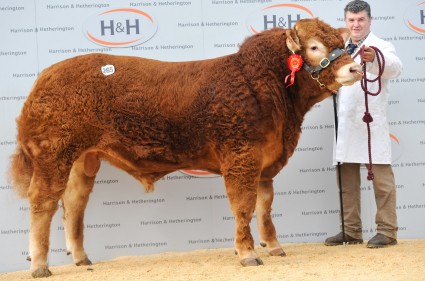 Grahams Humphrey is out of Grahams Coffee a Millington Vascular daughter who is described as 'one of the best cows in the Grahams herd'.  Purchasing the top price was Charlie Boden, Boden & Davies Ltd for the 30 cow Sportsmans pedigree herd at Mellor Hall Farm, Mellor, Stockport.  In the pre-sale show, Grahams Humphrey had secured the red ticket in the second last class of the day from the judge Jonathan Watson of the Tweeddale herd based at Berwick Upon Tweed.
An electric trade for junior bulls saw the sale close with 103 bulls sold in all to average £6417.  Thirty three junior bulls averaged an incredible £7689.  The sale averages were up by £1085 on the year with 103 bulls selling from the 149 forward.  The bull sale grossed £660,951.
In all forty bulls made 5,000gns or over including three at 20,000gns or more and nine at 10,000gns or more.  Full report to follow.
Leading prices:
265  Grahams Humphrey  37,000gns      Boden & Davies Ltd, Mellor Hall Farm, Mellor, Stockport, Cheshire.
244  Fairywater Haig 23,000gns   A & D Proctor, Swarland Old Hall, Swarland, Morpeth, Northumberland.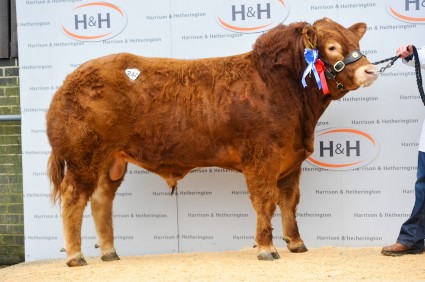 252  Lowerffrydd Husainbolt 20,000gns RS Harker & Son, Grayrigg Hall, Grayrigg, Kendal, Cumbria.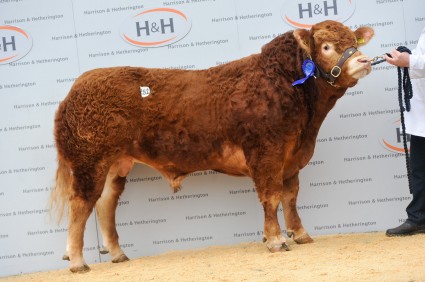 181  Mereside Hallmark 18,000gns          Gascoines Group Ltd, 1 Church Street, Southwell, Notts.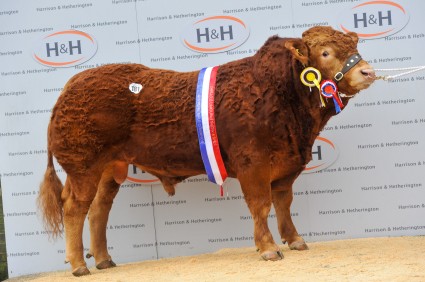 260  Sandhills Herbie 17,000gns GW Lee & Sons, Stockley Burn Farm, Frosterley, Co.Durham.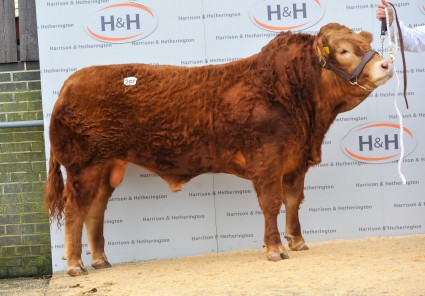 184  Norman Hawk 15,500gns     MillingtonLimousins Ltd, The Grange, Millington, York, N.Yorkshire.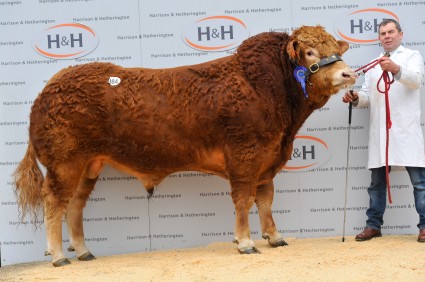 124  Homebyres Hawick 15,000gns        JE Carruthers, Silloans, Rochester, Newcastle upon Tyne.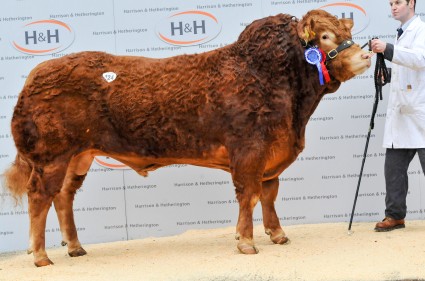 144  Iveagh Harry 14,000gns        HB & LJ Lear, The Manor, Creslow, Aylesbury, Buckinghamshire.
199  Mereside Hannibal 13,000gns         Pitcher Farms Ltd, Sigtoft Farm, Wrangle, Boston, Lincs.
228  Goldies Hurricane 13,000gns          MM Gollop & Sons, Slough Farm, Halberton Road, Willand, Cullompton, Devon.
139  Anside Hulk 12,500gns         Innes Farms, Millbrae, Findhorn, Forres, Morayshire.
275  Roxburgh Homeland 12,000gns     GH Walton & Sons, Greyside Farm, Newbrough, Hexham, Northumberland.
137    Homebyres Houston 9,500gns      M/s Hutchinson, White House Farm, Eastgate, Bishop Auckland, Co.Durham.
220  Sportsmans Hagrid 9,500gns          McKinney Bros, Craigadick Road, Maghera, Co.Londonderry, N.Ireland.
Averages
16 Senior Bulls               £6181.88
54 Intermediate Bulls     £5708.89
33 Junior Bulls               £7689.08
103 Bulls                         £6416.80
 59 Females                     £1851.74