Judging has concluded at the pre-sale show of Limousin bulls at Carlisle and Mereside Hallmark from RM Hazard & Sons, Saltby Heath Farm, Skillington Grantham, Lincolnshire, has secured the Supreme Championship from Judge for the day Jonathan Watson of the Tweeddale Herd.   A June 2012 born calf Mereside Hallmark is by the Objat son Dormeur, and is out of the homebred Mereside Enabel.   In 2013 Mereside Hallmark won the best young bull in the East Midlands Herd Competition. The bull carries a beef value of LM+36.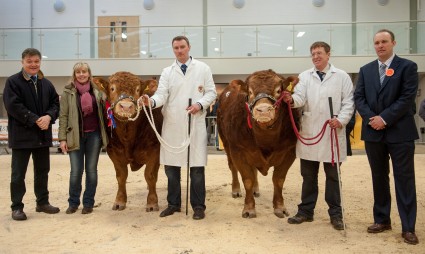 Taking the Reserve place was Goldies Hurricane from Bruce Goldie, Townfoot, Mousewald, Dumfries.  This bull, who was placed as Junior Male Champion, is a son of the prolific Sympa and out of the French bred Rosabelle a cow purchased when the herd reformed in 2001.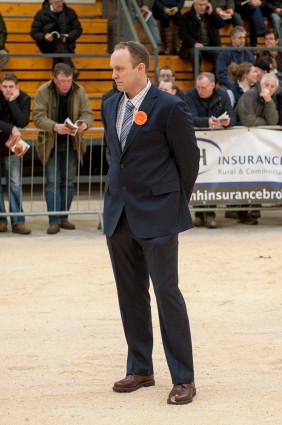 A big crowd were in attendance watching a quality show of bulls, with both a depth of breeding and performance figures.  The sale tomorrow, Saturday 15th February kicks off at 10.30a.m. when there will be 150 Limousin bulls to sell.
The catalogue of bulls can be seen HERE
Full results of the section winners are as follows:-
Overall Champion : Lot 181 Mereside Hammark RM Hazard & sons
Reserve Champion :  Lot 228 Goldies Hurrican Bruce T Goldie
Senior Champion : Lot 102 Millington Hawk Millington Grange Estate
Reserve Senior Champion : Lot 124 Homebyres Hawick Messrs J Logan
Intermediate Champion  : Lot 181Mereside Hallmark RM Hazard & Sons
Reserve Intermediate Champion : Lot 215 Emslies Holeymoley Emslies Livestock Ltd
Junior Champion : Lot 228 Goldies Hurrican Bruce T Goldie
Reserve Junior Champion : Lot  244 Fairywater Haig Andrew Ewing