John Temple of Chase Farm, Roughley, Sutton Coldfield, West Midlands has been appointed as the British Limousin Cattle Society's (BLCS) Honorary President. Serving a two-year term of office, and becoming the Society's twelfth Hon President in all, he takes over the reins from Michael Priestley, Kirkcambreck, Cumbria who stepped down at the Society's AGM in September.
In a long association with the BLCS and the Limousin breed, John Temple was a founding member of the North West Midlands & North Wales Limousin Club, and currently serves as their President.  In 1987 he was elected to the BLCS Council when he served a three-year term under Chairmen Richard Oates and David Dick and was himself Chairman of the Marketing Committee. He has been married to Shirley for 48 years and has a son, Adam, and a daughter, Nina.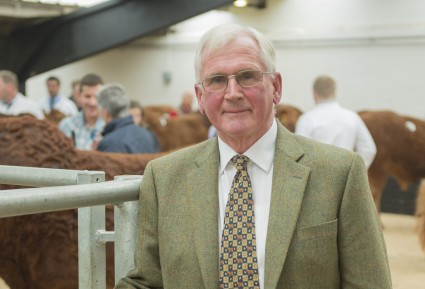 Other positions held have seen Mr Temple serve as a Council Member of the Birmingham Agricultural Exhibition Society for many years. As Chairman he managed the amalgamation of the Birmingham and Stafford Agricultural Societies who now run the English Winter Fair.
Having spent all his working life in the meat trade, John says that the principles upon which the success of Limousins have been built, are as true today as those that attracted him to the breed more than thirty years ago. "Limousin is fundamentally a butcher's animal, has very good meat yield and meets the demands of the market."
A Director of Walter Smith Farms Ltd, a private family firm which has traded for over 100 years, the company used to have 40 shops and a large manufacturing unit based in the Midlands until the Fresh Foods side was sold some 15 years ago.
The Roughley pedigree herd, which currently numbers 25 breeding cows, was established with the purchase of their first pedigree Limousin cattle at the Burton Dispersal in 1980 followed by selected purchases from Carlisle. These included Harvest Orchid who bred Roughley Ultrabright, whose semen was exported to South Africa, Australia and to the noted Wulf family in North America.
Speaking of his appointment John Temple said: "I am both delighted and honoured to take on the role of BLCS President.  I will work hard to continue to highlight the commercial attributes of the Limousin breed to all those I meet. The Society has always been very forward thinking, and has been prepared to take the lead in cross-industry technical initiatives.  As such I am delighted with the recently outlined ten-year Limousin Breed Improvement Plan (BIP).  Within the BIP the ongoing and planned work in such areas as carcase traits, feed conversion efficiency, and maternal traits will add huge forward value and profitability for breeders and commercial beef producers."
Having already attended the Autumn Bull Sales, Borderway Agri Expo, and the English Winter Fair in his new role, John Temple will next be heading to Wales and the Welsh Winter Fair at Builth Wells on 1st and 2nd December.