Overall Champion from Gareth Small
Reserve Overall P&S Sellers 'More of That'
Champion & Reserve Champion Steer both Limousin-sired
Baby Beef Champion Pokerlicious (M&M Alford)
There was a clean sweep of titles for the Limousin breed at the eighth Borderway Agri-Expo held on Friday 31st October 2014 at Harrison & Hetherington's Carlisle Mart. Limousin cattle took the Overall Supreme & Reserve, Heifer Supreme & Reserve, Steer Supreme & Reserve plus the Baby Beef Championship.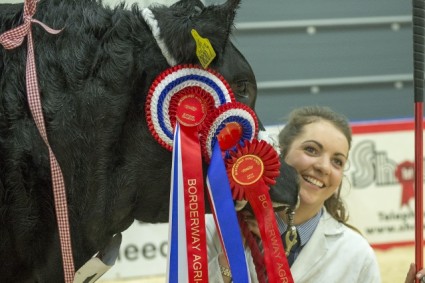 It was very much a Ladies' Day with the two top-placed heifers going on to take the Supreme & Reserve Overall titles. Standing at the top of the line was Khaleesi, an August 2013-born heifer weighing in at 570kg from Gareth Small, Irvington Close, Kilkeel, Co Down, N Ireland. She was bred by James Alexander, Randalstown and is sired by the noted pedigree and commercial calf producer Swarland Eddie, and is out of a Limousin-cross dam. Previous show titles to Khaleesi's name have included the Baby Beef Championship at the May 2014 Beef Expo and Reserve Overall Commercial Champion at the 2014 Balmoral Show. With Stephanie Dick at the halter, she now heads to LiveScot & Smithfield.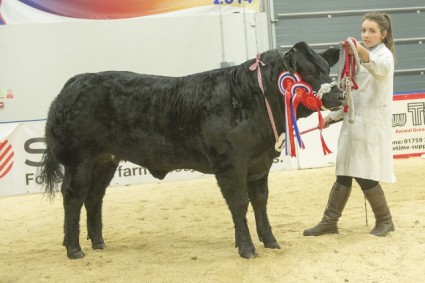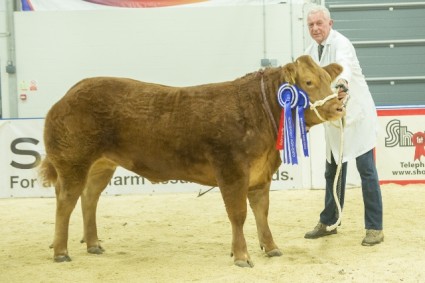 Standing Reserve Overall was the 605kg More of That from Phil & Sharon Sellers, Thorpe Tilney, Lincs with their Limousin-sired heifer which had stood Supreme Champion at Countryside Live earlier in the month. Sired by Fieldson Alfy, she is out of a Limousin-cross cow and was bred by Andrew Harrison and purchased from Carlisle in March.
Judge was noted showman Colin Phillips, The Batch, Sarnesfield, Weobley, Hereford with Anita Padfield, Brambles, Green Lane, Potter Heigham, Great Yarmouth doing the honours in the Baby Beef section.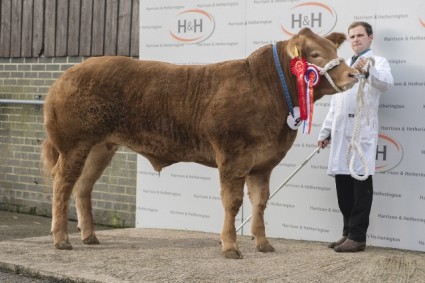 Steer Champion was the July 2013-born bullock Maybe This Time from James Nisbet, Sorn Mains Farm, Sorn, Mauchline. Bred by Willie McAllister, Parkgate Road, Ballymena in Northern Ireland and purchased privately in the spring, this red-coated steer is an AI son of the Limousin bull Conmory Cantana and is out of a Limousin-cross cow. He previously picked up the Reserve Championship at the Highland Show. Standing Reserve was Neil Slack's Stevie Gee, a home-bred bullock born in June last year, by the AI sire Fieldson Alfy and out of a Limousin-cross mother.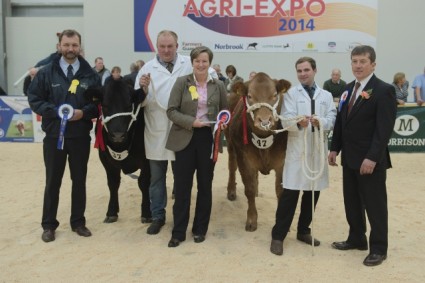 In the Baby Beef classes, taking the Championship sash were Mr & Mrs M&M Alford, Foxhill Farm, Blackborough, Cullompton, Devon with their 316kg Limousin-bred baby heifer Pokerlicious born in February 2014. She was bred by John McAllister, Wester Thomaston, Bonnybridge, Stirling. This Limousin cross is by Easegillhead Exterminate and had stood Reserve Baby Beef Champion at Countryside Live. She is out of a Limousin x British Blue dam and was purchased at Caledonian Marts for £3,200 from Brian Harper.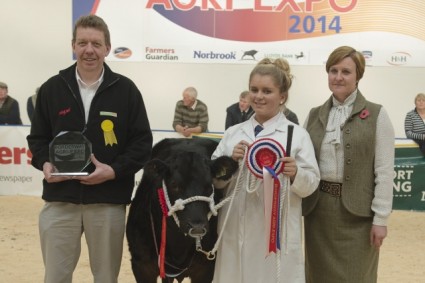 Video footage of the judging can be viewed by clicking HERE.
A busy Limousin stand welcomed breeders and customers with some first-class hospitality provided by the North West Limousin Club. The high-quality commercial and pedigree Limousin cattle on display were kindly provided by Messrs E & E Norman, Neil Slack, Neil Hardisty and Judy & Steadman Dodd respectively. BLCS Development Manager Richard Saunders made a presentation to NW Club Secretaries Helen Horn & Judy Dodd in recognition of their sixteen years of service to the Limousin breed.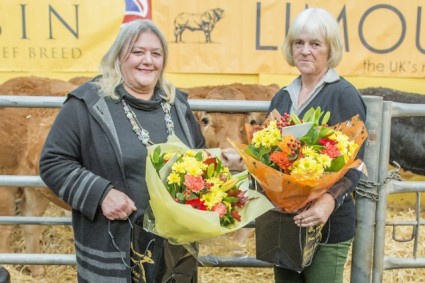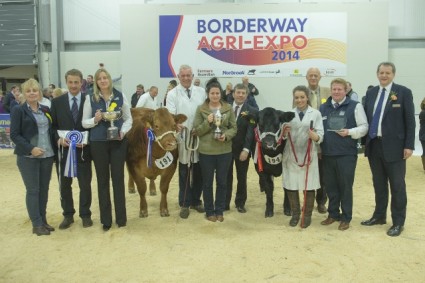 Other Limousin Class Winners
Gwanwyn Rowlands – Gwilliad Coch
P&K Brannen – Moorsley
GOD Commercials – Black Jack
Hyslop & Richardson – Black Diamond
TC Edwards & Sons – Miss Halfpenny
G&E Jones – Eye Candy
G&E Jones – Tabletop
Gilbert Brooke – Too Cool To Fool
TA & LC Lyon – Ira
G&E Jones – Fancy That
S&K O'Kane – Shamrock Queen