Supreme Champion sells for £9,000
Reserve Supreme Champion
Steer Champion
Reserve Steer Champion
Pedigree Champion
Reserve Exhibitor-bred Champion
Reserve Baby Beef Champion
Reserve Duke of Norfolk Trophy
Limousin cattle led the way in the Championships at the East of England Smithfield Festival, Peterborough held Thursday 4th – Friday 5th December 2014, lifting the Supreme Championship and the Reserve Supreme Championship as well as the Steer Championship and Reserve Steer championship in addition to the Purebred Championship title.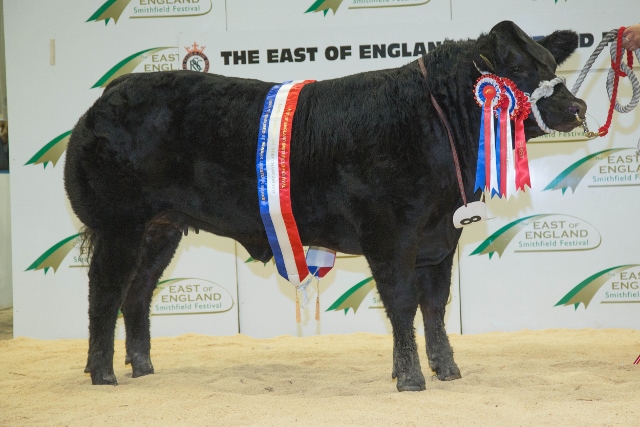 Heading up the roll call of honours was Dermot & Gareth Small's Limousin-cross heifer Khaleesi, representing a historic first Smithfield Overall Championship win for a Northern Irish exhibitor. She later sold back to Northern Ireland for £9,000 to continue her showing career there. Brought out by Stephanie Dick, this heifer is a daughter of the noted crossbred calf breeder Swarland Eddie and was bred by fellow Northern Irishman James Alexander, Randalstown, and has an impressive show record behind her. Previously Supreme Champion at Agri-Expo and Reserve Heifer Champion at LiveScot, she was also Reserve Commercial Champion at Balmoral back in May.
Khaleesi weighed 622kg on show day and was praised by Judge Wendy Morgan for her evenness of fleshing as well as her show ring style and sparkle. "She's an exceptionally well-put-together heifer with a balance of fleshing throughout and a great cover across her loin and her plates."
Following this exceptional heifer through from her class to take the Reserve Crossbred Heifer title, the Reserve Overall Heifer Championship and the Reserve Supreme Championship was Guy Edwards at the halter of the Edwards Family's heifer Miss Halfpenny.
This one is again Limousin-sired, being by a Penygelly bull bred by Bryan Griffiths, Kerry, Newtown, and weighed in at 542kg. She was Reserve Commercial Champion at the Royal Welsh in July as well as being first at Agri-Expo and first at the Welsh Winter Fair the previous week.
Taking the Overall Steer Championship was James Nesbitt's Carmorn Cantona-sired bullock Maybe This Time. Bred by William McAllister, Ballymena, Northern Ireand this one was Steer Champion at Agri-Expo in October as well as being Reserve Champion at the Royal Highland this summer. He was shown weighing 612kg.
Another Limousin-sired bullock then took the Reserve Overall Steer Championship, with this being the purebred Limousin steer Gelliwion Ivor, from Elfed Williams, Sennybridge. Ivor came through from the show's purebred classes, having been tapped out first as Purebred Steer Champion and then as Overall Purebred Champion before collecting the Reserve Steer title. He is sired by Glangwden Charlie and is out of Church Daisy and was bought privately in September at Sennybridge Show. This one was Champion Pure Limousin Steer at the English Winter Fair and the Royal Welsh Winter Fair.
Also faring well for the Limousin breed was Tecwyn Jones' Millgate Fame-sired heifer Candy Crush when she took the Reserve Exhibitor-bred Championship.
Another with a strong show record, she was first at Beef Expo in May and having won a number of red tickets at local shows. She is a maternal sister to Tecwyn's successful show heifer Tequila.
And Milton Keynes-based Mike Dickens & Family had a good day too, taking the Reserve Purebred Continental title with their 626kg Limousin heifer Dinmore Istria, a Hafodlas Cymro daughter and out of the noted dam Fleethill Sal.
Baby Beef 
In the event's Baby Beef classes another of the primestock show season's prolific winners scooped the Reserve Championship honours when Pokerlicious from Devon-based Michael & Melanie Alford took the tickets. This one is by Easegillhead Exterminate and was Reserve Champion at the English Winter Fair, Champion at Agri-Expo and Reserve at Countryside Live.
Pedigree Calf Show 
The Alfords also took top spot in the Limousin classes in the show's pedigree calf classes with their bull calf Foxhillfarm Just the Job scooping the Championship. This Loosebeare Fantastic son is out of the noted Bankdale Alice and had been Reserve Champion at Beef South West and Overall Interbreed Champion at the English National Calf Show.
Standing reserve was his full sister Foxhillfarm Just the One, who had been Champion at Beef South West and Reserve Limousin at the English National Calf Show. In the bull calf class, Just the Job's full brothers Jupiter and Jasper stood second and third to him.
The first of the heifer classes was won by Judy Fountaine's Forestside Imogen, a Forestside Freddie daughter. Second here was Mallaber Partners' Newroddige Ice Queen, a Haltcliffe Underwriter-sired heifer.
Second to Just the One was Newroddige Jubilee from Mallaber Partners, she is also by Haltcliffe Underwriter, while third went to Messrs Jones A'U Gwmni's Trisant Jini, by Wilodge Fastrac. Messrs Dent won the final class of heifers with Beamwham Jo Jo.
The Alfords then went on to stand Reserve in the Duke of Norfolk Interbreed Group of Three with Foxhillfarm Jasper, a Loosebeare Fantastic son and out of Bankdale Alice. He was joined by his full sister Foxhillfarm Just the One and Foxhillfarm Josie, an Objat daughter and out of Bankdale Elizabeth.