91% clearance rate
Averages up on the year by £87
Gross up on the year to £76,000
Ten more lots sold
The first British Limousin Cattle Society (BLCS) Sale of 2015 saw a solid trade at Ballymena Mart on Saturday 10th January for haltered and unhaltered females with a top price of 4,000gns for a cow and calf outfit. Overall, there was a 91% clearance rate with 42 of the 46 lots finding homes, 10 more lots than the corresponding sale last year. Averages were also up resulting in an overall average of £1,663 (+£87) with cow and calf units averaging £2,790 and heifers £1,551. Altogether the sale grossed £75,909, up by £25,453 on the year.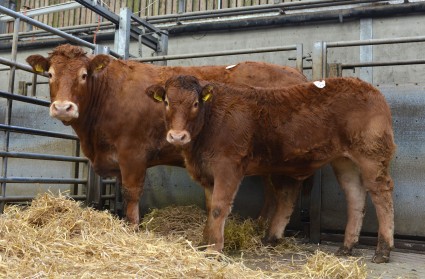 Taking the top price of 4,000gns for Mr R Coleman, Dunminning Road, Glarryford, Ballymena was the 2009-born cow Glarryford Egnima, sired by Goldies Astrix (a Domino son) and out of the dam Milbrook Titanya, who sold with her July 2014-born heifer calf at foot Glarryford Jersy, a daughter of the herd's stock bull Teeshan Elmo, a Wilodge Vantastic son. The mother-and-daughter duo now head to Hugh Quinn, Woodhouse Road, Killycolpy, Dungannon who also purchased a further two lots at the sale including the 1,700gns maiden heifer Glarryford Honeypottwo together with Rahoney Isabel for 2,100gns from H&D McFarland, Trillick.
Mr Coleman also sold two more cow and calf outfits for 2,600gns, the first being Glarryford Dannie, sired by Goldies Astrix  and out of the homebred Glarryford Amy together with her July 2014-born calf by Teeshan Elmo who now heads to Mike Frazier, Templepatrick. This was followed by Glarryford Edith, sired by Hafodlas Llion, a Broadmeadows Cannon son, and out of the dam Glarryford Blossom, a Milbrook Tanko daughter, who went under the hammer with her heifer calf Glarryford Jen – again sired by Teeshan Elmo. This pairing was sold to TA & P Paul, Dunloy. The next leading price of 2,400gns also went for another cow and calf unit bred by Mr R Coleman in the shape of Glarryford Crystal and her bull calf Glarryford Jackpot when snapped up by pedigree breeder Geoffrey Rodgers, Dromara.
Top maiden heifer price and second top price of the day at 2,800gns went to L & R Allison, Limavady for Scotchtown Ivory. This stylish September 2013-born heifer is sired by Ampertaine Elgin and is out of the homebred dam Scotchtown Velvet, a Nenuphar daughter, and now heads to the pedigree Clydevalley Herd of Tom Clyde, Antrim. Mr Clyde purchased a further 7 lots with bloodlines including Guards Boomer, Swarland Eddie, Plumtree Deus, Limo Esso, Ronick Hawk, Sauvignon and Loosebeare Fantastic. These included the second best price for a maiden heifer at 2,500gns for Knocknacloy Iggy bred by Bartley Finnegan, Dungannon. This August 2013 born heifer is sired by Sauvignon is out of the dam Bodearg Dove which carries Nenuphar bloodlines.
Third best price for a maiden heifer came in the form of the 2,250gns Scotchtown Ibis, another from Messrs Allison, being an August 2013-born heifer sired by Haltcliffe Dancer and out of Scotchtown Fidget (by Wilodge Vantastic). New owner is RJ Mowbray, Newtownstewart.
Averages:
7 Cows & Calves     £2,789.85
35 Heifers               £1,551.15
Auctioneers JA McClelland & Sons
Sponsor Connon General Merchants, Ballymena