The winter issue of the Limousin magazine is now out and has been posted to all Society members today.  If you are not a member of the BLCS but would like to have a copy of the magazine posted to you then please leave a message at the foot of the page or email info@limousin.co.uk with your details.
Another bumper edition, this issue is 84 pages of high quality colour pages packed with content.  Included within is a full round-up from the 2014 Winter Fairs where the Limousin breed won a 'super six' major titles; there's twelve pages of technical news including the announcement of a major feed efficiency project, a question and answer with ABP's Stuart Roberts, an update on genetic trends, and an article on the importance of improving maternal performance;  there's a report from the 21st Limousin Congress in Argentina; all the latest news from the Young Breeders; and a sales section reporting from all of the most recent Limousin sales.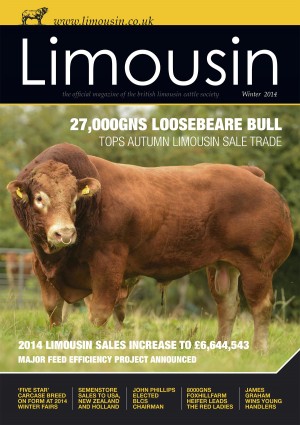 A further ten pages of Limousin flavoured news and views, a Semenstore report, and four on farm features, all adds up to a cracking issue not to be missed.  Limousin – it's the business!
A Digital version of the Magazine can be viewed and downloaded HERE.