Goldies offering tops at 8000gns twice
Fifteen heifers make 4000gns or more
Sale grosses £203,070 for 53 lots
The first heifer in the sale ring, Ampertaine Isadora, made 12,500gns and topped the sale from the Ampertaine, Haltcliffe, and Goldies Limousin herds held on Saturday 30th May at Carlisle's Borderway Mart.  The Goldies consignment was topped at 8000gns with two animals making this price.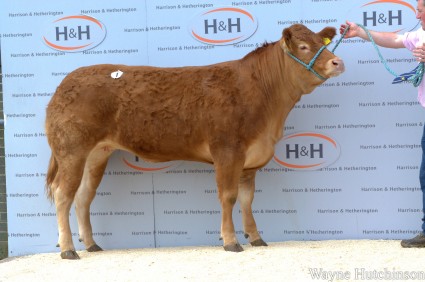 The sale, of predominantly maiden and served heifers, saw 53 lots sell to gross £203,070.
Ampertaine Isadora, from the first production sale held by Messrs WJ& James McKay, 88 Kilrea Road, Upperlands, Maghera, Co Derry, is an October 2013 born maiden heifer sired by the 32,000gns  Ampertaine Elgin and is out of Ampertaine Anastasia who is a full sister to the 29,000gns Ampertaine Abracadabra.  The breeding family behind this heifer attracted strong interest and resulted in Ampertaine Isadora being purchased by Mulholland Bros, Craigavon, Armagh to join their Deerpark herd.
Enjoying a strong sale 21 heifers from the Ampertaine herd averaged £4195.  At 6000gns was the September 2013 born Ampertaine Ikea.  Again full of breeding this heifer is by the Wilodge Cerberus son Ampertaine Foreman and is out of Ampertaine Vicky.  Ampertaine Ikea is out of the Kype Sharon family which has seen a number of five figure bulls sell for the herd. This heifer was knocked down to the partnership of John O'Kane and Declan O'Kane both from Co.Derry, N.Ireland.
At 5500gns was another Ampertaine Elgin daughter Ampertaine Inky.  This heifer is out of Ampertaine Eclipse who is by Sympa and out of the Cloughhead Lord sired Kype Signet.  Purchasing this October 2013 born heifer was the Ladybowers herd of Mr LJ White, Two Thorn Fields Farm, Snake Road, Bamford, Hopevalley.
The May 2013 born Ampertaine Iris made 4800gns when selling to the Raysonhall herd of Mr & Mrs D White, Whitewall, Great Asby, Appleby, Cumbria.  Featuring related breeding to the day's top price, this heifer is by the Wilodge Vantastic sired Loosebeare Fantastic and is out of Ampertaine Dancer who is by Salomon and out of Ampertaine Anastasia.
Another Ampertaine Elgin daughter, Ampertaine Imeria made 4500gns when selling to Mr RAG Savage for his Aghadolgan herd at Drumahoe, Co. Londonderry. The second animal in the ring, Imeria is out of the Wilodge Vantastic sired Ampertaine Florence. Also at 4500gns was the July 2013 born Ampertaine Ingrid.  By Ampertaine Foreman, Ingrid is out of the Ampertaine Abracadabra daughter Ampertaine Cream.  Purchasing this heifer was Mr M Diamond for his Pointhouse herd at Garvagh, Co. Londonderry.
The Goldies herd consignment, from Bruce T Goldie, Townfoot, Mouswald, Dumfries, reached 8,000gns twice. The first to achieve this mark was the served heifer Goldies Heaven, a daughter of the 22,000gns Hartlaw Excaliber and out of one of the highly noted Goldies Vitality who is the mother of the famous Goldies Comet.  Goldies Vitality has had five progeny selling for £20,000 or more.  Purchasing the September 2012 born Goldies Heaven, who was served by Haltcliffe Doctor, was bought by Messrs AE Neachell & Son for their Shrubbery herd at Shrubbery Farm, Daniels Lane, Aldridge, West Midlands.  This was one of seven purchases made by Messrs Neachell on the day across the three herds and at 3000gns or more.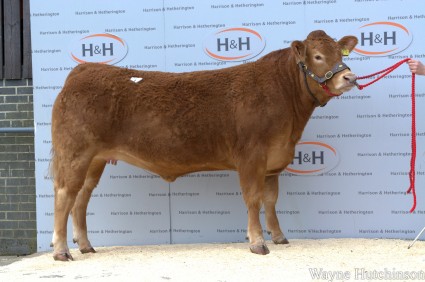 Also selling for 8,000gns was the stock bull on offer from the Goldies herd, Kaprico Germander. A son of Sympa and out of Kaprico Erica, he was sold to join the Meadowrig herd for Messrs Renton & Redden, Shieldfield, Tweedmouth.  The Germander female line includes Kaprico Tansy who was the Intermediate Champion at the 2004ILC Show and who is also the full sister to Kaprico Ultimate a previous Supreme Champion at the Royal Show.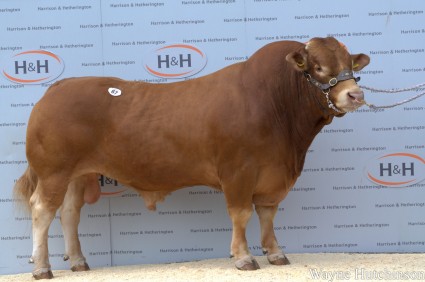 Another Hartlaw Excaliber sired heifer, Goldies Halo, made 4400gns and was a further purchase of Messrs Neachell.  December 2012 born this heifer is out of the Vantastic sired Goldies Favourite a full sister to the 22,000gns Goldies Fandango.  Again she was sold served by Haltcliffe Doctor.
The Haltcliffe Doctor sired Goldies Ice made 4200gns.  This July 2013 born heifer is out of the Goldies Tony sired Goldies Victoria and was sold scanned in calf to Kaprico Germander.  Purchasing Goldies Ice was TW Oliver for the Cawfields pedigree herd at Cawfields Farm, Haltwhistle, Northumberland. The black coated Goldies Jessie also made 4200gns when selling to the Raffertys herd of Mr Joe Rafferty, 27 Scaffog Avenue, Enniskillen, Co Fermanagh.  Another sired by Haltcliffe Doctor, Goldies Jessie is out of Knock Fairlady.
Leading the Haltcliffe consignment from Haltcliffe, Hesket New Market, Wigton, Cumbria at 4,500gns was the April 2013 born Haltcliffe Inlet.  A daughter of the noted sire Cloughhead Umpire, this heifer is out of Haltcliffe Amazon whose mother Haltcliffe Upperity won the Junior Female Champion at the ILC 2004 Show. Haltcliffe Inlet is full sister to Haltcliffe Fyne who sold for 10,000gns. Purchasing this heifer was local breeder Stephen Wilson who runs the Impulsive herd at Corby Hill, Carlisle.
The first Haltcliffe heifer in the ring, Haltcliffe Impulse, made 3200gns.  This January 2013 born heifer is another by Ampertaine Elgin and is out of the Sympa sired Haltcliffe Emblem.  Impulse's grand dam Haltcliffe Virginia is a full sister to the 100,000gns Haltcliffe Vermount.  Purchasing this heifer, pd'd in calf to Haltcliffe Gains, was the Leeschampsdor herd of Anthony Smith, Three Willows Farm, Long Lane, Dalbury Lees, Ashbourne, Derbyshire.
AVERAGES:
Ampertaine Herd
21 maiden heifers                                              £4195.00
Haltcliffe Herd
8 served heifers                                                               £3320.63
5 maiden heifers                                              £3003.00
Goldies Herd
12 served heifers                                             £3990.00
5 maiden heifers                                              £2793.00
1 stock bull                                                          £8400.00
1 young bull                                                        £3150.00
Auctioneers:  Harrison &