Congratulations goes to Neil Slack from Cumbria with his Limousin sired commercial heifer by Volcano for winning the Northern Limousin Extravaganza 2015! Which was kindly judged by Peter Kirton from Bewdley, Worcestershire.
The reserve champion went to the Pedigree Limousin bull from the Priestley family from Brampton, Cumbria. Full class results included and report can be seen on the North East section of the Limousin website or Craven Cattle Marts.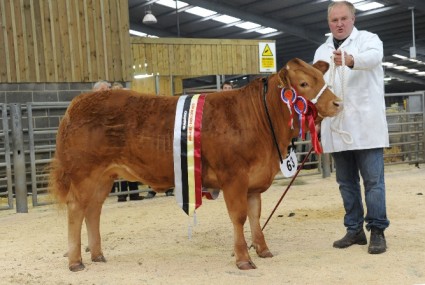 The following day was the Skipton Limousin sale, where James and Sarah Cooper took the top price of 5,400gns. This pedigree bull was by Kaprico Eravelle and was originally owned by James and Sarah Coopers daughter Laura. The Lewis's took the champion on the day with Redland Illinois, a bull that sold for 4,400gns. The Oddacres herd of John and Claire Mason had the top price cow and calf at 2,800gns and also the top price maiden heifer at 1700gns.
Chief prices and averages were: Senior Bulls to 5,400gns (av £3,478), Intermediate Bulls to 4,400gns (av £3,015), Junior Bulls to 4,500gns (av £2,378), Maiden Heifers to 1,700gns (av £1,627), Cows In-calf to 2,500gns (av £2,126), Cows with Calves to 2,800gns (av £2,422).
Full report can be seen on the North East section of the Limousin website or Craven Cattle Marts.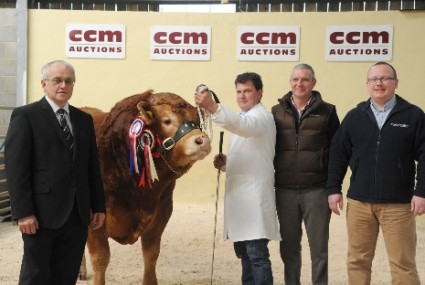 A stock judging competition was held at the Northern Limousin Extravaganza with the winners as follows –
Over 18s                                                                Under 18s
1st Steven Lunn                                                      1st Nicholas Hughes
2nd Elsa Priestley                                                   2nd Mya Priestley
3rd John Varley                                                      3rd Tom Bradley
The club had a stand at the National Beef Association Beef Expo held at York auction on 21st May, which was a busy event. A huge thank you goes to Phyllis and everyone who helped out on the stand and provided cakes and biscuits and everyone who provided stock on the stand.
Great Yorkshire Show 14th – 16th July
Once again we will be having a stand on all three days at the Yorkshire show. All donations of cakes and biscuits would be greatly appreciated or if you could give up an hour of your time to help Phyllis and the team on the stand. All of your hard work is appreciated! We will also once again be holding a BBQ on Tuesday evening, with tickets to be purchased on the day.
Herd Competition
Please find below a copy of the entry form for the 2015 herd competition. This is going to be judged by Stephen Illingworth of the Glenrock herd at the end of July. Please get your entries in by Thursday 16th July either by post or bringing your entry to the stand at Great Yorkshire show.
Northern Limousin Extravaganza Results 2015
Class 1A – Pedigree Limousin Heifer
1st Thor Atkinson – Saunders Japonica
2nd JM & SM Priestley – Brontemoor Justdance
3rd P Summers – Highburks Julia
Class 1B – Pedigree Limousin heifer
1st K Sutcliffe – Burnbank Jule
2nd JM & SP Cooper – Tomschoice Jessy J
3rd A & A Clark – Mayfields Jubilee
Class 1C – Pedigree Limousin Heifer
1st J Turner – Broadhead Jesse
2nd J Turner – Broadhead Jandango
3rd CW & JE Johnston – Crajan Jess
Class 2A – Pedigree Limousin Bull
1st Thor Atkinson – Melbreak Jester
2nd JM & SP Cooper – Tomshoice Judge
3rd CW & JE Johnston – Crajan Jester
Class 2B – Pedigree Limousin Bull
1st JM & SM Priestley – Brontemoor Junglebook
2nd Barker Farming Partnership – Tancredgrange Jericho
3rd AJ Mason – Oddacres Jetset
Class 2C – Pedigree Limousin Bull
1st DS Townend – Millstone Jaffa
2nd JM & SP Cooper – Tomschoice Jasper
3rd S Littlewood – Hollingreave James
Class 3 – Pair of Pedigree animals
1st T & E Priestley
2nd JM & SP Cooper
3rd WI Suddes & Sons
Class 4A – Limousin sired commercial heifer
1st M Harrymand & S Warriner – Red Hot Honey
2nd DS Townend – Miss Mac
3rd JL Marks – Skippy
Class 4B – Limousin sired commercial heifer
1st NE Slack – Elsa
2nd JL Marks – Annie Power
3rd M Harrymand & S Warriner – Miss Style
Class 5 – Limousin sired commercial bullock
1st NE Slack – The Real McCoy
2nd G Rice
Pedigree Heifer Champion – Saunders Japonica, reserve Burnbank Jule
Pedigree Bull Champion – Brontemoor Junglebook, reserve Tancredgrange Jericho
Overall Champion pedigree – Brontemoor Junglebook
Commercial champion – Elsa, reserve Red Hot Honey
Overall Champion was NE Slacks commercial heifer Elsa
Overall Reserve Champion was JM & SM Priestley with Brontemoor Junglebook