Supreme champion
Reserve Supreme Champion
Baby Beef Champion
Heifer Champion and Reserve Heifer Champion
Steer Champion
Limousin sired cattle enjoyed a clean sweep of the top awards at Borderway Agri-Expo on Friday 30 October, taking both the supreme and reserve supreme prime stock cattle championship titles, as well as the heifer championship and reserve heifer championship, the overall steer championship and the baby beef championship too.
Backing up the breed's dominance as the complete beef breed was the presence of an excellent display of Limousin pedigree and crossbred cattle on the Society's trade stand which drew a strong crowd of visitors throughout the day.
Leading the charge for the Limousin crosses in the prime stock ring under judge Glyn Howatson, Denbig, Clywd, was first time exhibitor, Corwen-based Tudor Edwards and his family, with their lightweight Limousin cross heifer Biwt.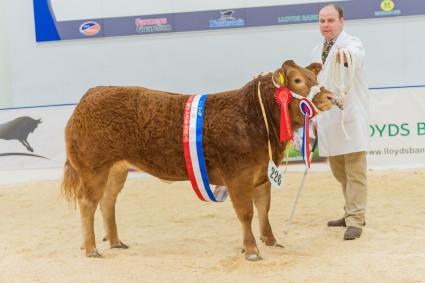 This 470kg entry was on her first outing of the winter circuit having been baby beef champion and overall commercial cattle champion at the Royal Welsh Show in July. She is sired by an unregistered Limousin bull which is in turn by Sablier and is out of a Limousin cross dam which was bought as a heifer with a calf at foot from Mark Towers, Colt Park.
Biwt is homebred and was described by judge Mr Howatson as a great butcher's beast. "She'll be a superb butcher's beast for the Christmas market and has that extra bit of sparkle for the show ring, with great presence and style. She was clean all the way through and came through from an exceptional show of cattle with quality in every class," he explained.
"I wasn't necessarily looking for top flesh today, but found great cattle throughout the show and this was without doubt one of the best line ups of show cattle you'll find anywhere in the country."
Biwt now heads to the Royal Welsh Winter Fair, with no other outings planned for her before then. Mr Edwards said winning Agri-Expo at his first attempt had been a dream come true. "To do it with a homebred beast just makes it all the more special and it's certainly a day we'll remember for a long-time to come. She's always been a special heifer and one that has stood out from the moment she was born."
Taking the reserve overall title was the steer champion from local exhibitor Neil Slack and his six year old nephew Bradley Haughan. This was The Real McCoy, a homebred son of Melbreak Hero and out of a British Blue cross dam. He had been reserve steer champion at Countryside Live earlier in the month, having been champion at Westmorland County Show and champion male calf at Skipton's Limousin Extravaganza in May.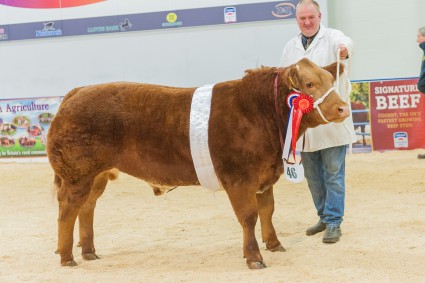 Mr Howatson said this bullock edged it over the reserve champion heifer for having that extra bit of flesh through the second thigh. "He's a similar type of beast to the heifer champion and is a good clean steer, with a good top and clean lines with little waste."
Picking up the reserve heifer championship was Glyn Williams' heifer Lavish Alice. This heifer was bred by the Nixon family at Hunters Hall and bought privately in February. Another Welsh entry this one hails from Blaneau Ffestiniog and is sired by Mr Nixon's stock bull Troy and is out of a Limousin cross dam.
She has been through the summer, standing reserve champion at six local shows for Mr Williams. "She's always been knocking on the door and has continued that theme today," he added.
Mr Howatson said this heifer was another great Limousin sired beast, with great flesh throughout and plenty of show ring class and style. "She just came up against better beasts today which pipped her to the top title."
In the baby beef section it was the turn of Girvan-based Jennifer Hyslop to take the top spot with her homebred heifer calf Black Beauty. Extending the influence of the Nixon family, this one is by the pedigree Limousin sire Huntershall Gladiator bred by the Nixons and is out of a Limousin cross homebred dam.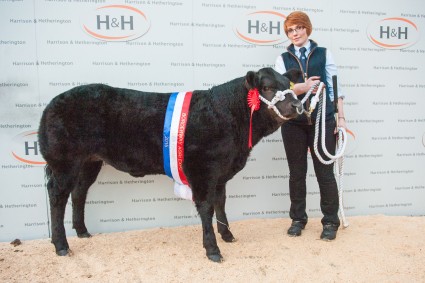 Weighing in at 310kg this heifer was on her second outing of the season having stood reserve baby beef champion at Countryside Live earlier in the month. She now heads on to the East of England Smithfield Festival at Peterborough and is likely to be retained for next year's show team after that.
A Video of the judging highlights can be viewed HERE – many thanks to Robert Smith
Judge David MacArthur, Nairn, said his champion heifer was a beast with great potential, being correct, with even, well balanced flesh and the sparkle he looked for in a calf. "She's one to watch for sure and was up against some stiff competition today, with a great show of baby beef calves in front of me."