Limousin sired cattle win:
Supreme Champion & Reserve
Champion Heifer & Reserve
Champion Steer & Reserve
Champion Lightweight Heifer & Steer
Champion Pure Bred
Butcher's Champion
Housewives Choice Champion
Baby Beef Champion & Reserve
Champion sells for £6800
Limousin sired cattle were in sparkling form at the 2015 LiveScot, held on Saturday (November 28, 2015) at Lanark Agricultural Centre by the Scottish National Fatstock Club.  The Supreme Champion and Overall Reserve were heavyweight Limousins, with the supreme ticket going to Donald MacPherson and Jock Currie's 628kg yearling heifer, Price Tag.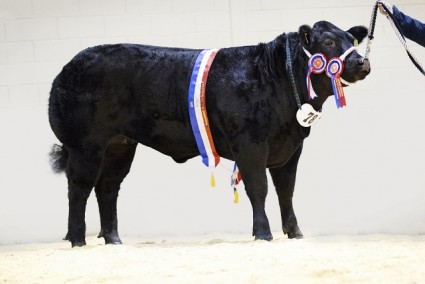 This Limousin cross heifer from them – Donald lives in Berwick-on-Tweed and Jock in Kilmaurs, Aryshire – was bought privately in Ireland from Keith and Stephen Williamson, Benburb. She is by Elite Forever Brill and out of a Limousin cross dam and was picked out at the NI club show, in August, at Balmoral. At the sale held after the show, the Supreme Champion sold for £6800 to B and T Kitson, butchers, from Yorkshire.
The Reserve Champion, Pocohontas, another black heavyweight Limousin cross shown by Stephanie Dick, from Stirling, for Dermot and Gareth Small, Northern Ireland, followed the Champion all the way through. This 672kg home-bred heifer is by Swarland Eddie and out of a pure-bred British Blue dam. The June, 2014-born beast was Reserve Champion at the NI commercial show in August and first at the recent Borderway AgriExpo, at Carlisle, where she beat Price Tag in her class.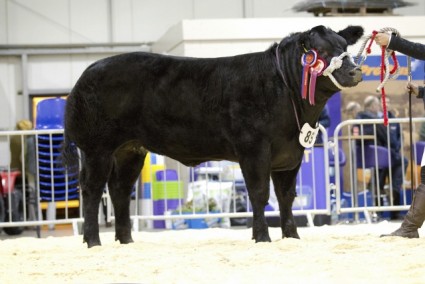 The revamped LiveScot event (formerly the Scottish Winter Fair) saw a great turnout of around 3000 people watch a high quality show of cattle dominated by Limousin breeding.  Limousin sired cattle took a host of titles including:  the Supreme Champion & Reserve; Champion Heifer & Reserve; Champion Steer & Reserve; Lightweight Heifer & Steer Champion; Champion Pure Bred; Baby Beef Champion & Reserve; Butcher's Champion; and the Housewives Choice Champion.
The Supreme Steer was Wilson Peters' Hellava Stoat, from Monzie, Crieff. Another home-bred effort, this one is by Kype Elliot, a Limousin sire which cost 3500gns when bought at Carlisle and which  bred a £6600 heifer sold earlier this year by Mr Peters, at Caledonian Marts' show calf sale in Stirling. The 762kg steer made 270p per kg (£2057) to David Comrie and Son, butchers in Crieff.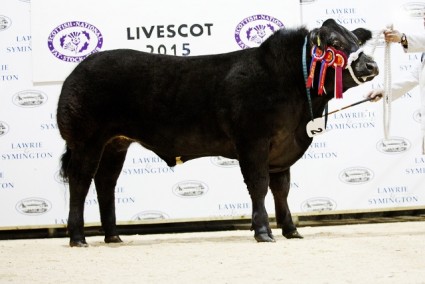 He beat another big black Limousin cross bullock, The Gambler, from Ian Lammie, Longhouse, Cumnock. This Noble Freddie son had been bought from the Harrisons of Grange Hall, Asby, for £1350 in the spring. Later the 772kg steer sold for 245p per kg (£1891) to WR Lawson.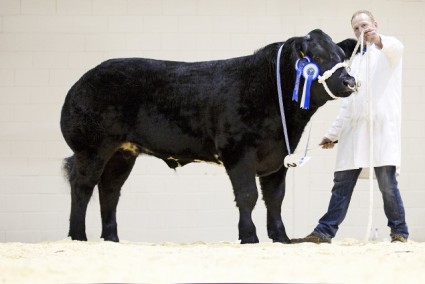 Mr Lammie also had the Light Steer winner, Split Decision, a home-bred son of the 35,000gns Limousin sire, Plumtree Deus. The dam was a British Blue cross dam and this was his show debut.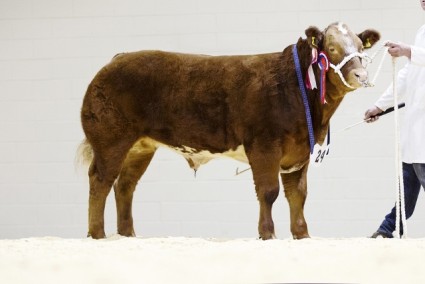 Leading Light Heifer was Stewart Bett and Lynsey McKay's pure Limousin heifer, Randerston Jasmine, from Castleton, Airth, which was also the best pure-bred in the show. Bought privately in May, this 530kg daughter of Emslies Galileo out of Randerston Gilly, a Kype Denver daughter,  was Champion at Kinross during the summer and third at AgriExpo.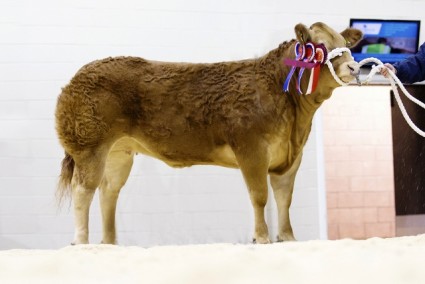 The Reserve Light Steer was Miss Jean MacKay's Vengaboy, from Harelaw, Barrhead. Bought for £1310 at Carlisle from Grange Hall, Cumbria, this September, 2014-born three-quarter Limousin son of Netherhall Buster left Lanark to head to the Welsh Winter.
Top of the 'baby' calves was the leading heifer, Rumpy Pumpy, from Gavin Scott, Gateside, Linlithgow. This March-born calf is by Melbreak Hero, a 9000gns purchase from the weaned calf sale that is held alongside the Red Ladies Day at Carlisle and which is shared with the Richardsons, of Ghyll House, in Cumbria. That sire also bred the champion steer at the recent Borderway AgriExpo.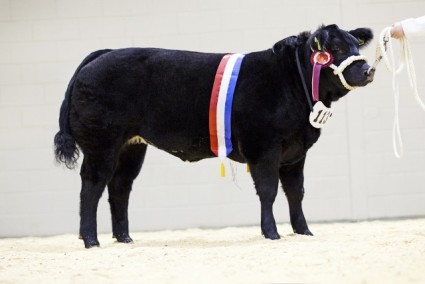 Donald Morrison was Reserve calf with Black Rock, a March-born steer by Easegillhead Exterminator. He was bought for £2400 from John McAlister, Wester Thomaston, Banknock, at Stirling.
Lim crosses also dominated the Butcher's section also with one from Wilson Peters, bred at Coilavoulin, Pitlochry, taking the championship and the Housewives Choice winner, Darren Davidson's Top Totty, from Netherton, Keith, was also a Limousin cross, this time by Hudscales Argonaut.