Cows and calves lead Newark Limousin trade
It was ladies day at the Autumn Limousin Day sale at Newark on Saturday (8 October), held on behalf of the East Midlands Limousin Club, with the pick of the prices paid for cows and calves from noted local herds.
Auctioneer Paul Gentry said trade was strong for well bred, correct cows with calves at foot and back in calf again. "There was a real demand for the quality outfits on offer, with the ability to buy three lives in one package once again tempting buyers to bid well.
"Vendors are to be congratulated on putting forward some quality cattle to tempt buyers and for turning them out to the usual exceptional standard. Bull trade was steadier, with the general shift towards more spring calving clearly limiting the demand for bulls at the back end of the year."
Topping the prices at 6000gns was a fourth calver from the Hazard family's Mereside herd, Grantham. This was Mereside Fumoselle, a daughter of the imported sire Cidre and out of Mereside Umoselle, a Malibu daughter. She sold with a bull calf, Mereside Lennox, at foot by Honeymoor Favourite and was the choice of Andrew Bishop, Eldersfield, Gloucestershire. She has been AI'd to the British Blue sire Attribut De Fond De Bois.
Second best of the day at 4400gns was another from the same home and again a cow and calf outfit. This time it was an imported cow, Daneuse, which caught the ringside's attention. Sired by Uniprix, this French bred cow is out of Tendre, a Gabin daughter and sold with her fifth calf at foot, a crossbred bull calf by the Blue sire Embleme Du Pone De Messe, and having being AI to another Blue sire, Toscan Vd Ijzzer. She was knocked down to the Bowring family, Chesterfield, Derbyshire.
Then at 4200gns was the next in the ring, Mereside Dawn. This fifth calver from the Hazards is by Nimbus and out of the Obus daughter, Mereside Bracken. She sold with a bull calf at foot by Honeymoor Favourite, Mereside Marshall and having run with the same sire again and was bought by Richard and Judy Fountaine, Milton Keynes.
Following her at 4000gns was Burnbank Ida, a Burnbank Frank daughter bred by Douglas and Lynda Graham and sold by Les Wilson. She's out of Burnbank Britney, a Redstone United daughter and sold with her heifer calf at foot by Dinmore Inky, Wilson Mischief. Buying her were Chris and Laura Beck, Halesworth, Suffolk.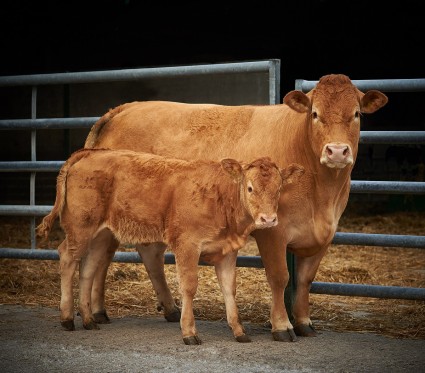 Two cow and calf outfits then sold at 3500gns, with the first being Ironstone Frances from Smiths of Bloxham. This fourth calver is by Nebo Viking and out of Parkhouse Vigour, an Ontario daughter and sold with a bull calf at foot by Ironstone Gandi and having run with the same sire again. She was bought by Ian Wilson, Overstone, Cumbria.
Another from the Hazard family then sold at 3500gns with this being Mereside Emmajane, a fifth calver sold with calf at foot. She's by Vagabond and out of Mereside Beau, an Obus daughter. She sold with a heifer calf, Mereside Maryjane, at foot by Honeymoor Favourite and having been AI'd to Netherhall Jackpot. Buying her was R L Ritchie, St Mary, Skegness.
The best price in the bulls on offer was a brace of 3800gns calls, with the first coming for Calverton Lad from Richard and Judy Fountaine.  This Etudiant son, which was overall champion in the pre-sale show under judge Stephanie Dick, is out of Withersdale Dido, a Salomon daughter and sold to Ashley Smith, Cullump St Mary, Diss.
Then making the same money was Trisant Loosecannon from G and E Jones. This Swarland Eddie son is out of Trisant Ffiffi, a Ronick Hawk daughter and sold to Anita Padfield, Potter Heigham, Great Yarmouth.
Following those at 3500gns was Ewdenvale Lazio from Stuart Wilde. This son of the homebred Ewdenvale Everest is out of Ewdenvale Gemma, an Ampertaine Abracadabra daughter and sold with a beef value of +46 to J G Green and Son, Messingham, Scunthorpe.
And selling at 3000gns was Brockhurst Lincoln from Dougie Mash and family. This one is by Hafodlas Domino and out of Fenrose Bracken, a Mynach Scott daughter. He was taken by Armett Bros, West Leake, Loughborough.
Just shy of that at 2800gns was Mereside Lancelot from M D Copley. Bred by the Hazard family this one is by Culnagechan Egbert and out of Mereside Celine, a Vagabond daughter. He found a new home with J B Dobbs, Grayby, Sleaford.
There was a good demand for maiden heifers too, with these peaking at 2100gns twice. The first to reach this level was Confluence Lucinda from the Ogg family, Scunthorpe. She's by Lodge Hamlet and out of Confluence Henrietta, a Greenwell Charttopper daughter and sold to H D and P J Cranfield, Edenham, Lincolnshire.
The other to sell at this mark was Blackfriar Limelia from Mike and Will Morton, Lincoln. This Wilodge Goldcard sired heifer is out of Blackfriar Emelia, a Cloughhead Umpire daughter and was knocked down to G and G W Green, Wessington, Debryshire.
The best of the trade in the commercial cattle on offer came for a Limousin cross bulling heifer from Frank Page, Elkington Northamptonshire. This Pembridge Delboy daughter had been shown successfully through the summer and was bought by R A O Johnson, Breadsall, Derby at £2600.
Then selling for £2400gns was a cow and calf outfit, with Nigel Pritchard, Norton Cannon, Herefordshire, selling a Limousin x British Blue cow with a Limousin sired bull calf to Andrew Bishop, Eldersfield.
Averages; 20 bulls £2972.86, 51 cows with calves £2178.92, nine in-calf heifers £1967.82, 36 maiden heifers £1284.21, 34 dry cows £1161.79, 20 empty cows £903.62, 12 crossbred cows and calves £1627.94, 78 crossbred in-calf cows £962.81 (Newark Livestock Sales).