Saturday 5th of August saw the Dumfries show act as host for the final of the Young Limousin Breeders Anglo Irish Stock Judging contest. The event is the highlight of the Young Limousin Breeders Club (YLBC) calendar which sees Scotland, England, Wales, Northern Ireland and Ireland battle it out in ringcraft and stock judging events to see who will be crowned champions. Team and individual competitions take place with the competitors being given an animal they have never met before to show, before then judging two classes of Limousin cattle, on which they are required to present a set of reasons to the panel of judges.
The Dumfries Show was also hosting the Scottish Limousin Grandprix, so there was a fine spectacle of Limousin cattle on the showground. Despite the very wet start to the competition, which gave the competitors a soaking in the ringcraft judging, the sun did come out just as the competition started to heat up. The panel of judges, made up of Bruce Goldie (Goldies Herd), Jonathan Watson (Tweeddale Herd) and Tom Hickey from Ireland had their work cut out with the high standard presented to them. The young breeders have trained all year and having qualified to be at the finals were all striving for success. They breezed through the ringcraft judging at which spectators remarked that the standard was 'outstanding' and moved onto judging a class of bulls. Next up was the heifer judging, a reasons class, so more challenging for the competitors. However, the participants all scored very highly in the judging before the time came to explain the reasons for their decisions. They had two minutes to give their reasons to the panel of judges, before finally being able to relax….until it came to the results!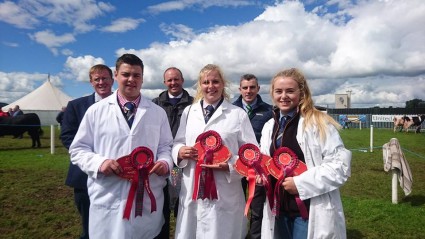 It proved to be a great day for the English team, with all three top honours being lifted by a member of the England team. The results are as follows:
Senior Individual:
1st – Anabell Mason – England – 267
2nd – Orla Curtain – Ireland – 257
3rd – Amy Lindsay – Scotland – 251
Junior Individual:
1st – Isy Mackley – England – 245
2nd – Jane Lindsay – Scotland – 236
3rd – John Smyth – Ireland – 230
Teams:
1st – England 737
2nd – Ireland 726
3rd – Scotland 709
The YLBC would like to thank all of the competitors for coming to the event and taking part in such fantastic style, some travelled a long way, and the club greatly appreciates the support. Particular thanks must go to all the parents, who make time to bring the young breeders to events of this kind. The club also extends its gratitude to the exhibitors who loan their cattle and to the judges, without any of these there would be no competition.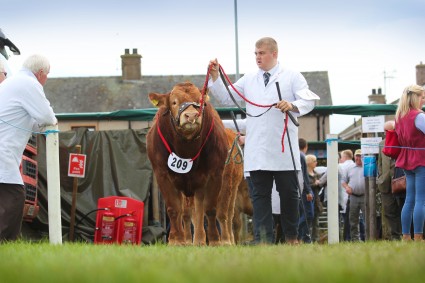 It was also great that the recently elected YLBC Honorary President James Callion travelled to the event from his home in County Tyrone. All the competitors enjoyed having him there and look forward to seeing him future events.