N.I. Young Limousin breeder Kile Diamond, Garvagh, Coleraine out shone the opposition and won Champion Young Beef Handler 2017 at the Gt Yorkshire Show, Harrogate.
38 young handlers were taking part in the competition, in different age groups, from England, Scotland, Wales and Northern Ireland.  Kile was entered in the 12 to 13-year-old class and was competing against 7 other young handlers including his N.I. team mate Andrew Hamill.
Kile and Andrew had to prepare and groom their animal for showing.  They then had to present and show their animal, on the green, to the judge Ms J Millican, Appleby, Cumbria who asked each young handler questions about the preparations they had undertaken for the class.   Kile and Andrew secured 1st and 2nd places respectively and it was then onto the final for Kile against four other young handlers from the other classes and age groups.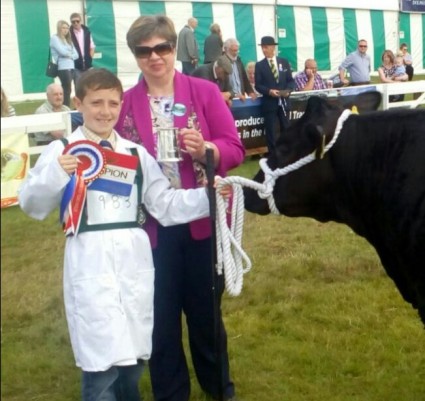 Kile was victorious and along with his rosettes and certificates won a silver tankard and title Champion Young Beef Handler 2017.  Asked how he felt about his success Kile commented "I am delighted to win this major show title and I love nothing better than being on the green on the end of a halter"
Kile had travelled to the Gt Yorkshire show with the N.I. Young Limousin Breeders team of Adam McGookin, Louise Clark, Andrew Hamill and Serena Murphy to take part in the Limousin stockjudging competition on 12 July.  Congratulations to the Junior team of Andrew & Kile who were placed 3rd in this competition and the senior team of Adam & Louise who were placed 5th.  Adam, Kile and Louise  will now travel to Dumfries Show to represent Northern Ireland in the Anglo-Irish Young Limousin Breeders stock judging event on Saturday 5 August.  Good luck to all!