The North West Midlands and North Wales Limousin Club held a marvelous open day on Sunday 13 August. On what turned out to be a beautiful sunny day the Lewis family, Colin, Elaine, Graham, Terry and Kim welcomed around 140 people to take a look at their successful Garyvaughan herd.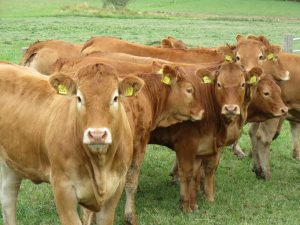 The family first entered the NWM & NW herd competition in 2008 when they won the Best New Entrant award. They went onto be runners up in 2010 and 2011 before embarking on a run which has seen them be victorious in four out of the past five years. In addition the herd has won the Best Young Stock competition in six out of the past seven years.
The herd consists of 296 animals of which 180 are currently in-calf. Over half of the herds breeding females are sired by the noted Plumtree Deus who Colin and Elaine bought in 2010 for 35,000gns. He has an enviable record with his first twenty seven sons selling to an average 8,727gns. While his highest price son Mereside Godolphin sold for a very respectable 40,000gns, it is his grandson Ampertaine Mozart who made the headlines when he became the fourth Limousin bull to sell for 100,000gns or more in May this year.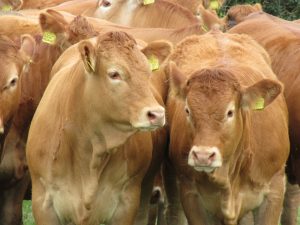 Garnedd Gower was purchased in 2012 as a junior stock bull for 30,000gns and recently the family has added Foxhill Manhattan to the herd.
On arrival guests were greeted with tea and cake before boarding the trailers and 4×4's for the tour of the farm given by Colin and his sons Graham and Terry before rounding the afternoon off with a fabulous barbeque back at the yard. In a real demonstration of goodwill Colin and Elaine's daughter Kim was able to raise £300 for a worthy charity she is supporting. Accompanied by the farm vet Fleur and a couple of friends she is taking on the challenge of completing Glyndwrs Way [135 miles] in four consecutive days in September on behalf of Bowel and Cancer Research .
A huge thank you is extended to 'Team Lewis' for their outstanding hospitality and hard work which delivered a fantastic day for everyone that attended.