The 2017 Young Limousin Breeders Club Young Handlers Competition took place at Borderway Mart, Carlisle on Thursday 7 December on the eve of the British Limousin Cattle Society's Red Ladies Derby and Weaned Calf Show and Sale. Having been hosted at the Stars of the Future event at Stirling in 2016 the competition returned to Carlisle this year because of the larger selection of calves and the opportunity to stage a preparation section alongside the handling segment.
Judges were Kevin Bates and Sarah Priestley who had the hard task of judging the young breeders on both their handling and preparation skills. The competition, which is split into three sections, junior, intermediate and senior, saw a great turnout of participants who all delivered a fantastic show of stockmanship ability and potential for the future. A total of 17 young breeders took part which included an impressive eight new entrants.
As usual the competition was very stiff, particularly in the senior class, however winning the Overall Championship was the junior class winner 12-year old Kile Diamond of the Pointhouse Herd. Kile, who had travelled over from Northern Ireland, took home the BLCS Salver YLBC Championship Cup along with a bag of goodies.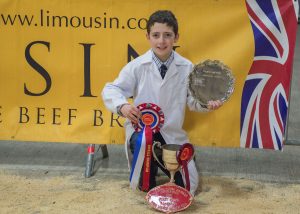 Sophie Harvey, winner of the senior class was a very worthy Reserve Overall Champion. Sophie takes home the Beeches Salver and a selection of other prizes. First place in the intermediate class was Brooks Carey, a fantastic reward for Brooks who had made the long trip up to Carlisle from Bristol. Brooks improved on his performance of last year, moving from runner up in the class to winner.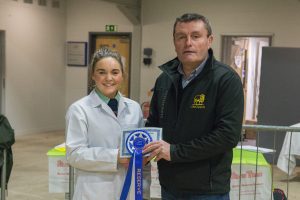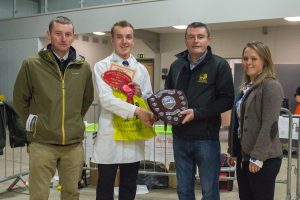 The best newcomer, and the recipient of the Les Wilson Trophy, was Philippa Dale-Sunley of the Rossbay Herd near Dumfries. This result is extra special for Philippa, who competed in the junior section, as she was making her debut in the show ring.
The YLBC extend their thanks to Harrison and Hetherington for their help and support in staging the competition at Borderway amid what was a very busy schedule, and to the British Limousin Cattle Society for their sponsorship of prizes. Gratitude also goes to Kevin Bates and Sarah Priestley who adjudicated the competition brilliantly.
Most importantly the club extends its thanks to the exhibitors from the weaned calf show who loaned their cattle to some competitors. Without such kindness the event just couldn't take place, so on behalf of the YLBC, THANK YOU!
BLCS Chief Executive Iain Kerr said "The standard of the participants at this event rises every year. The expertise and knowledge of these young stock enthusiasts is to be commended, it is particularly encouraging for the future of the Limousin breed "
Full results are as follows
Juniors (up to age 14)
Kile Diamond
Thomas Callion
Phillipa Dale-Sunley
Intermediate (age 15 to 18)
Brooks Carey
Kyle Cruickshank
Stephen Dale-Sunley
Seniors (age 19 to 28)
Sophie Harvey
Louise Allan
Amy Lindsay & Andrew Weir (joint)