Here we feature the Glencross Pedigree herd of Mark and Catherine Davies at Glanyfer, Crosswell, Pembrokeshire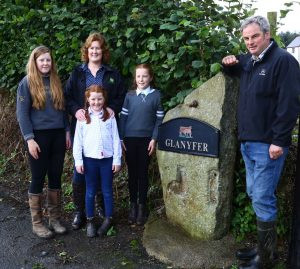 Two years after they married, Mark and Catherine Davies were fortunate to begin farming in their own rights. Glanyfer, a 19ha (47 acres) holding at Crosswell, near Eglwyswrw, in the shadow of Pembrokeshire's Preseli Hills not far from where they were living, came on to the market in 2003. They put in an offer and bought it.
A one-time dairy farm, given the cost of modernising the facilities and going into milk production was financially out of the question, rearing beef cattle and sheep was the only real viable option.
For Mark, deciding on what breed of cattle to keep, however, was easy – Limousins had been part of Mark's life while growing up farming with his father and uncle, who had founded the family's Eisteddfa herd back in the early 1990s.
"My family had kept pedigree Welsh Blacks which they started crossing to a Charolais bull, but calving difficulties led to the introduction of a Limousin from Yorkshire called Middledale James," says Mark. He added "Given that background there was no other breed for me when we started farming on our own. To start with we concentrated on rearing commercial cattle, mostly carrying Limousin blood though not registered and selling the calves as stores."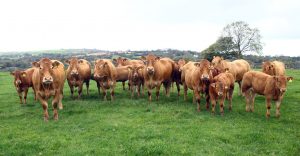 Buying a further 21ha (54 acres) in 2006 gave Mark and Catherine the scope to widen their farming activities. Three years later the decision was taken to go into the pedigree side of the industry and so the Glencross herd was born. The prefix comes from Catherine's maiden name and is not a joined up version of Glanyfer and Crosswell as many believe.
"We bought foundation stock from several leading herds, including Hafodlas, Dinmore, Ardbrack, Cowin, Eisteddfa and Dyfri, mostly at Carlisle breed society sales," says Mark. "The first bull we used was the Northern Ireland-bred Craigatoke Barty, who has left his mark on the herd, while other bulls used have included Glencross Ifan by Ironstone Brandy out of Dyfri Fennena.
"Our present stock bull is the November 2011 born Glencross Ioncalo, out of a Fieldson Alfy cross cow Baltracey Gaga by Mas Du Clo who's first calves look very promising. Our junior sire is Dyke Mozart, who we bought as a 10-month-old at the Dyke herd's production sale in August 2017 at Carlisle.
"Another home bred bull that has been shown extensively over recent months is the March 2016-born Glencross McMaster, who is by Glencross Incredibull out of Glencross Furious, a Dinmore Ditty daughter." Outings this year have included the Royal Welsh, Pembrokeshire County and Cardigan Shows, along with the supreme championship at Fishguard Show. He was entered for the society's November 2017 Brecon show and sale, making  5100gns he went home with  DB Davies, Eisteddfa Fawr, Brynberian, Crymych, Pembs.
"By the spring of 2012 we were up to 60 cows and heifers, again concentrating on the production of quality pure Limousin store cattle rather than the pedigree market, though this side of the business has grown and continues to grow," says Mark, a former Welsh Agricultural College, Aberystwyth, student. The system revolves around block calving in April and May, with the cows and calves grazing on grass through the summer and the calves being sold the following January at ages ranging from eight months to 10 months. He went on: "At last January's Brecon store sale a heifer calf by Glencross Ioncalo made £1,250, weighing 270 kg at only five months old this worked out at 474p per kg."
Talking about developments in the herd mark says "Recent times have seen us retaining more heifer calves as replacements, which enables us to sell older cows with calves. We still have lines dating back to our early purchases. In fact, there were two cows here last year that were 2001 born and had had a calf every year since 2003. Unfortunately cows do not go on for ever, but it does mean that we now have quite a young herd."
All the cattle are normally housed by early November, with the cows getting nothing but big baled grass silage, contractor-made in two cuts from the end of June onwards, fed in ring feeders and from behind a passageway barrier. Fertiliser use has been cut back, with muck from the loose housing and sand-cubicles going on the silage ground. Because of the high stocking rate and mixed grazing calves have access to a creep feed from July onwards.
"In my book the Limousin cattle can supply exactly what the market wants and are capable of achieving excellent prices at a young age, coupled with their easy calving and good growth rates they are exactly what we are after. In addition, in our experience they are of a good temperament," says Mark.
"Our system is all about producing quality calves and allowing others to finish them at a profit. It also means that with our limited acreage we can keep more livestock. If we were to start finishing cattle we would need to double up on our buildings and on top of that there is the labour element. As it stands I am able to manage on my own with help from the family."
That fits in neatly with Catherine's away-from-the-farm position as a departmental head at Ysgol y Preseli, a comprehensive school a few miles away at Crymych, though she would love to be able to spend more time on the farm. Which is a view shared by the follow-on generation, daughters Caryl, who is 14 years old, Sara, 11, and Lowri, eight, all play a part in developing the herd, especially by way of the show ring.
Alongside the cattle the farm carries a flock of 750 outdoor lambing ewes which utilise 26ha (65 acres) of ground which is also used for silage a mile away. Some 250 improved Tregaron-type Welsh Mountain ewes provide a nucleus for producing breeding rams.
Any not matching up to the high quality specifications Mark self imposes go to Aberfield tups to produce crossbred lambs. Those not needed for flock replacements are sold from May and June onwards, either deadweight or live according to market price levels at the time. Some ewe lambs go off as breeding stock.
"We could go down the route of using a terminal sire but that would mean switching from outdoor lambing and investing in a lambing shed," adds Mark.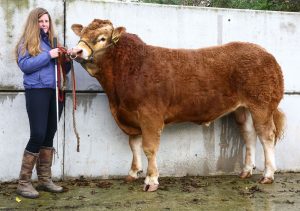 The farm is all grass, apart from a few acres of root crops, such as kale or swedes grown for the sheep, with the aim being to re-seed around 15 to 20 acres a year. The installation of a sophisticated closed circuit coloured monitoring system with zoom-in and panning facilities some three years ago is also seen as having been a well worthwhile investment, minimising the risk of losing a calf.
"With lambing coinciding with calving life can get pretty hectic in the spring but the investment have been worth every penny," says Mark.
As well as the redundant dairy buildings the farm came with a mixture of both loose and cubicle housing, hay shed and a modern farmhouse.
Next door was the original dwelling and last year that came onto the market for sale. It was promptly snapped up by the family, a move which has seen the emergence of a diversification venture by way of self-catering holiday accommodation. Now fitted out to an exceptional standard the five-bedroomed main house, complete with hot tub, will sleep 12 and an adjoining cottage which caters for two. On the cards, too, is a third unit.
"With the help of a Facebook page and a marketing company first year interest in the Ty Llwyd  and Y Cartws holiday accommodation has been far greater than we anticipated with solid bookings during the summer and through to Christmas," says Mark.
"As to the future we really need more ground and ideally a bigger farm, but land in this area rarely comes on to the market and when it does there is a hefty price tag at around £12,000 per acre plus"
"We could reduce sheep numbers, but I am reluctant to do that. They fit in nicely with the grazing rotation and by using a mobile handling system are much easier to manage single-handed"
"They are also a valuable asset to have given the prevalence of bovine TB. Should you have a breakdown and unable to sell stock then sheep can help pay the bills. What's more you can go in and out of sheep fairly swiftly but with cattle it is a much longer-term business"
"What is for certain as far as the cattle are concerned is that there will not be a change in breed," adds Mark.
"In order to make a success of farming with cattle these days you have to have a sound breed, good genetics, the best silage you can make and first-class management", he adds. "Whether you are catering for the commercial or pedigree market as far as we are concerned Limousins tick all the right boxes."