A classy black coated Limousin heifer from Garrowby Estate Farm, York, set a new centre record at the Leyburn Spring Spectacular for show potential cattle held on Saturday 10th March.
Judge Donald Morrison of Sutherland bid £8,000 for the 10 month old heifer, who is by Gunnerfleet Hicks and out of a Glenrock Ventura cross cow. He had tapped her out as his Supreme Champion in the pre-show sale earlier in the day.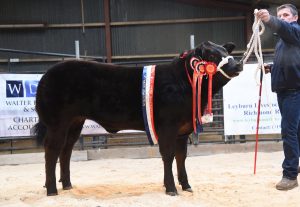 The annual show and sale at Leyburn had been postponed for a week due to the challenging weather, however an almost full catalogue was present and there was no shortage of buyers and onlookers.
Garrowby Estates also took the second highest price of the day when another smart heifer was knocked down for £3,200. This heifer, a little older than the Champion at 11 months of age, is by Lodge Hydro out of a Garrowby Gizmo cross cow.
Speaking after the sale Garrowby Estate Farm Manager Clive Rowland said "Today has been the best day we have ever had, while I knew the heifer was a classy calf I never expected she would go onto make such a fantastic price, it's a result we have only ever dreamt of". He added "I have no doubt that she will go onto make a fantastic cow in the future, she has some serious breeding behind her. The female line she comes from has done a brilliant job for the Garrowby Herd over the years".