Under the watchfull eye of Judge Mr Robert Adam, Forfar, Grahams Niaomi took the Overall Limouisn Championship at the 2018 Royal Highland Show at Ingliston on Thursday 21 June.
The stylish heifer had come through the classes to be tapped out as Champion Junior Female before taking the top spot. Bred by Mr & Mrs R & J Graham, Bridge of Allan, Stirling, the January 2017 born heifer is by Claragh Franco and out of Grahams Coffee.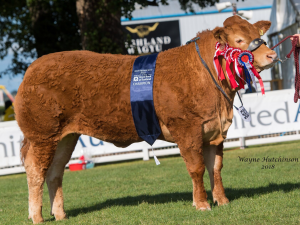 The blue rosette went to another heifer, this time in the shape of Foxhillfarm Minesagin from Mike and Melanie Alford, Cullompton, Devon. This September 2016 born Trueman Jagger daughter is out of Foxhillfarm Justtheone.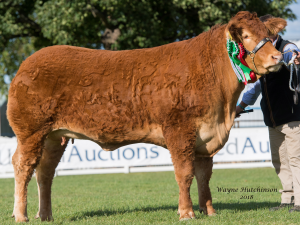 Limousin Results as follows.
Female born after 1 April 2017
1. Foxhillfarm Naomi
2. Foxhillfarm Nigella
3. Tweeddale Natalie
Female born 1 January – 31 March 2017
1. Grahams Niaomi
2. Foxhillfarm Natasha
3. Whinfellpark Nerissa
Female in calf/maiden born 1 July – 31 December 2016
1. Foxhillfarm Minesagin
2. Foxhillfarm Madonna
3. Burnbank Martini
Female in calf/maiden born 1 August 2015 – 30th June 2016
1. Grahams Melody
2. Stephick Mistique
3. Whinfellpark Marilyn
Female in milk with calf at foot born after 1 January 2015
1. Brockhurst Lucy
2. Strawfrank Lucy
Female in milk with calf at foot born before 31 December 2014
1. Burnbank Jojo
2. Brockhurst Jade
3. Ronick Gainsi
Female in calf – any age
1. Lisette
2. Grahams Lilly
Bull born on or after 1 June 2017
1. Mystyle Nocomotion
2. Ritchie's Neryl
3. Ronick Network
Bull born 1April – 31 May 2017
1. Redpaths Nobleman
2. Foxhillfarm Napoleon
3. Whinfellpark Nevis
Bull born 1 January – 31 March 2017
1. Strawfrank Nevada
2. Maraiscote Napoleon
3. Tallyrock Nick
Bull born 1 July – 31 December 2016
1. Gunnerfleet Mongo
2. Emslies Mitsubishi
Bull born 1 July 2015 – 30 June 2016
1. Monleypuzzle Monolito
Bull born before 1 July 2015
1. Foxhillfarm Jasper
2. Rahoney Isaac
3. Dinmore Jollygood
CHAMPION FEMALE & CHAMPION JUNIOR FEMALE
GRAHAMS NIAOMI
RESERVE CHAMPION FEMALE & RESERVE JUNIOR FEMALE
FOXHILLFARM MINESAGIN
BEST COW – BURNBANK JOJO
CHAMPION BULL – FOXHILLFARM JASPER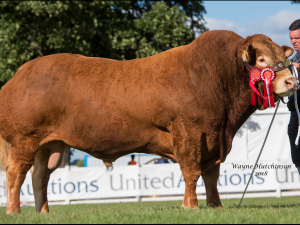 RESERVE CHAMPION BULL – RAHONEY ISAAC
CHAMPION JUNIOR BULL – REDPATHS NOBLEMAN
RESERVE JUNIOR BULL – FOXHILLFARM NAPOLEON
Mor results and photos to follow