108 bulls sell, up by four on the year, to average £6372
76% clearance as 108 bulls sell from 142 forward
Intermediate bulls average £7119, up £199 on the year
15 bulls sell for five-figure prices
52 bulls make 5000gns or more
180 bulls and females gross £846,240.
More bulls changed hands compared to last year at the British Limousin Cattle Society's early spring sale held at Harrison and Hetherington's Borderway Mart, Carlisle, on Saturday, 16th February, 2019, indicating producers' continued confidence in the breed. With a larger selection of 142 bulls forward for sale, a total of 108 bulls sold to new homes.  A marked increase in the intermediate section saw an average of £7119, a rise of £199 on the year, whilst 32 junior bulls sold to average £7514.
With many of the top prices bulls selling to pedigree breeders and a resounding commercial demand, producers were keen to invest in bulls with tops, width and length and paid close attention to the performance figures available, including Estimated Breeding Values and myostatin genes.
The runaway leader at 50,000gns was Cloughhead Neville from farming brothers, Tom and Phil Hutton, who run 80 cows in their pedigree herd at Setmabanning, Threlkeld, Keswick. Making this new best price to date for the herd all the sweeter was the fact that Neville was always a favourite of their late father and legend of the breed, George, who regularly travelled to France to select new stock sires to put to work in the Cloughhead herd. With this in mind, Neville's pedigree features French breeding, being a naturally-bred son of Gultime, a bull imported back in 2012 that also produced the 18,000gns Cloughhead Jerry, sold three years ago, as well as a number of the herd's top heifers sold at the female sale the previous evening.  Born in June 2017, Neville's dam line is a strong one too as Cloughhead Hogmanay, a Wilodge Cerberus daughter, goes back to Cloughhead Stella, a full sister to the herd's previous top price bull sold in 2005, the noted 42,000gns Cloughhead Umpire.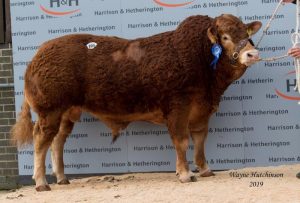 With the bidding swiftly rising to 50,000gns, the second prize winner and double carrier of the F94L 'profit' gene sold over the telephone to Paul and Christine Tippetts for use on the 40 cows in their Wilodge and Hackney herds at Lodge Hill Farm, Park Lane, Shifnal, Shropshire.
"Neville is going to grow in to a big, powerful bull and offers different breeding to what we've got at home, but he's still got the back breeding there and is from the same family as the noted Cloughhead Umpire," said Paul Tippetts.
Ian Handley was another with plenty to celebrate when he welcomed the second highest price of 17,000gns with further five-figure sales at 12,000gns and 11,000gns. Leading from the 55-strong herd near Chapel le Dale, Ingleton, Lancashire, was the Junior Champion, Gunnerfleet Next, a naturally-born son of the 24,000gns Ballinloan Jaegerbomb, a bull that is proving to be an outstanding breeder and whose first five sons born sold to average around £11,500. Born in August 2017 and bred from a good female line, being out of Gunnerfleet Jelomie, herself a daughter of the 24,000gns Gunnerfleet Eros of which Ian bought a half share back, Gunnerfleet Next heads to work in the Dyke herd belonging to Jimmy and Donald MacGregor near Milton of Campsie, Glasgow.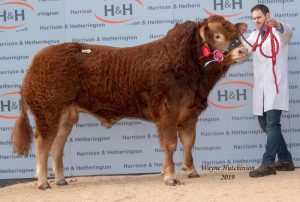 Judging the pre-sale show of 17 classes of bulls on Friday was James Callion, who runs the Melbreak herd in Dromore, County Tyrone, which has produced bulls to 14,000gns and heifers to 9000gns.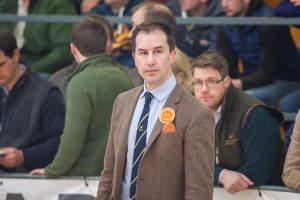 "I was looking for bulls with plenty of style, with good shape and good locomotion," said Mr Callion of his judging stint. "On the whole I felt I could pick out two or three in each class quite easily, and a lot of the first and second prize winners were reflected by high prices in the sale."
Next in the trade stakes for Ian Handley at 12,000gns was Gunnerfleet National which is this time by what Ian considers the best stock bull he's ever had, Plumtree Fantastic, a bull bought privately for £40,000 and who has since bred sons to 17,000gns for Gunnerfleet as well as 28,000gns for other herds.  Gunnerfleet National, a September 2017 naturally-born bull out of the Dolcorsllwyn Brynmor-sired Gunnerfleet Genny, dam of a 12,000gns bull, heads to the commercial herd of Messrs Richardson, Low Garth, Cockermouth.
Not far behind at 11,000gns when snapped up by Columbjohn Farm Ltd, Exeter, was another naturally-bred Ballinloan Jaegerbomb son, Gunnerfleet Navigator, which also boasts double copies of the F94L gene. He was also born in August 2017 and is out of a heifer by the home-bred Eros in the shape of Gunnerfleet Lanne.   The strong bull sale for Gunnerfleet followed on from the female sale the previous evening where the herd sold hefiers to 6000gns and took four of the top five sale prices.
It was also another good day for Bruce Goldie when he sold four bulls from his Goldies herd at Townfoot, Mouswald, Dumfries, to average £13,388, thanks to a brace of bulls at 16,000gns. First to sell when knocked down to Neil and Stuart Barclay for their Harestone herd near Crathes, Banchory, to join the heifers bought the previous evening, was the Reserve Intermediate and Reserve Supreme Champion, Goldies Novelty. Boasting outstanding growth figures and a Beef Value in the Top 1% of the breed, this ET-bred bull  is by Ampertaine Gigolo, sire of the record-holding 140,000gns Trueman Jagger, and was born in September 2017 out of the Wilodge Cerberus-sired Goldies Goldilocks, which is in turn out of the reknowned Goldies Vitality.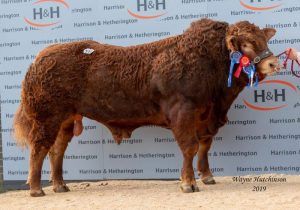 Matching that when sold to Messrs Lear from Creslow, Aylesbury, Buckinghamshire, was another red ticket winner, Goldies Nelson, a naturally-bred bull which features similar breeding being by the Gigolo-sired Goldies Juggler and born a month later out of a Vitality granddaughter, the Ampertaine Commander-sired Goldies Iona. Nelson's EBVs feature a Top 1% Calving Value  which he combines with a double copy of the F94L gene.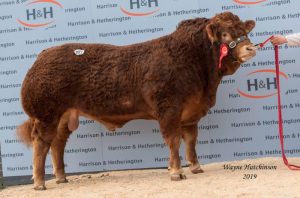 Bruce welcomed a third five-figure price when Messrs Humphreys and Son paid 10,000gns to take Goldies Nevelle home to Chart Sutton, Maidstone, Kent. Another double carrier of  F94L, this son of the AI sire Kaprico Eravelle is a heifer's calf out of the Foxhillfarm Irishlad-sired, Goldies Lucy, which also goes back to Vitality.
Two September 2017-born embryo brothers that secured the top two tickets in their class for Jim and Andrew Gammie's 25-cow Westpit herd at Drumforber, Laurencekirk, Kincardineshire, followed on at 14,000gns and 13,000gns. Leading these was the second prize winner, Westpit Nevada, which sold to J Thompson's Hartsidenew pedigree herd at Townfoot, Melmerby, Penrith. The Reserve Junior Champion, Westpit Nashville, which also stood Senior Champion at the Stars of the Future Calf Show, sold to the Redpath pedigree herd of Redpath Farms, Heiton, Kelso. Their pedigree features Dinmore Immense, a bull the father and son duo recently bought privately, on to the Wilodge Vantastic daughter, Brockhurst Holy, making this pair full brothers to Westpit Nando which sold privately to the Ronick herd at just 14 months old following a successful season on the North-east of Scotland show circuit.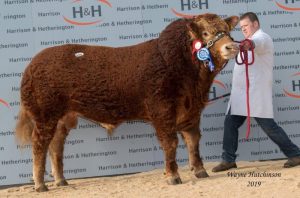 Just behind, on a final bid of 12,500gns, was another by the popular Ballinloan Jaegerbomb in the shape of the August 2017-born Huntershall Nando from Stephen Nixon, from Southerfield, Wigton. Selling to Messrs Forster and Son, near Hexham, Nando is out of the Requin-sired Huntershall Jiffy, a full sister to the 22,000gns Huntershall Geronimo.
Pedigree breeder Paul Cairns paid 12,000gns for the September 2017-born Lenagh Nitro to join his Plumtree herd near Tollerton, Nottingham. Consigned from the small herd of six cows run by Mark Stewart on Lenagh Road, Randalstown, County Antrim, Nitro is the first son offered from the Lenagh herd by the AI sire Cloughhead Tommy, while his dam is a Vantastic daughter in the shape of Lenagh Herewecome, which is in turn out of a full sister to the dam of the 28,000gns Lenagh Morpheus.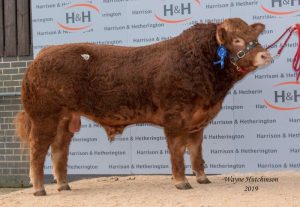 With three bulls attracting sale prices of 11,000gns, the first to do so was Trueman Neptune from the Savage family, from Skerriff Road, Altnamackin, Newry, County Down. His dam, the Vantastic-sired Trueman Euphonium, needs little introduction as the 40th Anniversary National Show champion also produced the inter-breed champion at last year's Balmoral Show, Trueman Noreen. Born in June 2017, this ET-bred son of Mereside Lorenzo, and first prize in class eight, heads to a new home in the Tradwell herd at Shrubbery Farm, Walsall, West Midlands, with AE Neachall and Son.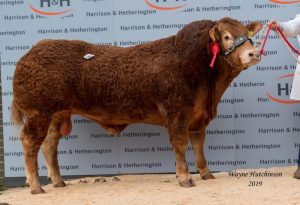 Another first prize winner matched that 11,000gns when the ET-bred Grahams Nathan from Robert and Jean Graham, from Airthrey Kerse, Bridge of Allan, Stirling, sold to Matt and Craig Ridley for their Haltcliffe herd near Hesket Newmarket, Wigton. Born in October 2017 out of the French-bred Cousine, he is by the Claragh Franco bull that has bred exceptionally for the Grahams herd, making Nathan a full brother to Grahams Murphy which sold for 9000gns at just nine months old.
Early on in the sale, Steven Wilson welcomed his highest price to date of 10,500gns for his March 2017-born Impulsive Niall from the herd of 15 pedigrees at Corby Hill, Carlisle. This naturally bred lad's pedigree features Loosebeare Justin on to the Cloughhead Umpire-sired Haltcliffe Inlet. He caught the eye of Messrs Richardson and heads to Huttonfields, Hutton Magna, Richmond.
Matching that 10,500gns bid was Homebyres Nisbet, a May 2017-born bull from father and son duo, John and John Logan, from near Kelso, which sold to Greystoke Castle Farm Ltd, Penrith. Got by AI, Nisbet is by Lowerfrydd Empire while his dam is Homebyres Jaybeth, a  heifer daughter of the 15,000gns Homebyres Hawick.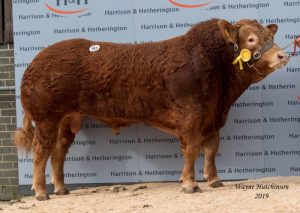 Mr Callion made Gareth Small's debut bull sale one to remember when he awarded Strathearnred Nidge the intermediate championship before tapping him out as supreme champion. From just two cows owned by Gareth, of Irvington Close, Kilkeel, County Down, and the very first calf registered in the Strathearnred herd, the ET-bred Nidge was born in July 2017 out of Bellingham Jewel, an Ampertaine Elgin daughter, while his sire is Ampertaine Jamboree, which has bred show calves to £4000 for Gareth. Come sale time, Nidge was knocked down for 7000gns to Welsh pedigree breeders, Colin and Terry Lewis, who will use him on their Garyvaughan herd near Buttington, Welshpool.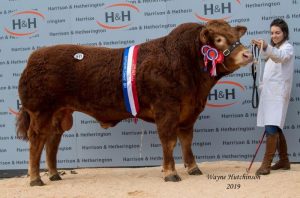 "The champion was a very correct and very stylish bull with a good topline and great strength in his backend without being too extreme. He was a great walker with superb presence in the show ring," said Mr Callion.
In conclusion of the sale, Iain Kerr, Chief Executive of the British Limousin Cattle Society commented "Over this last fortnight we have seen just under 170 Limousin bulls change hands achieving a very solid trade and at a time when the wider environment remains uncertain and with some caution. The demand for the breed has been very strong. Limousin is all about providing market-ready genetics that will enable producers to respond quickly to economic demands, and this trade shows that buyers are seeking this out.   The sale of heifers the afternoon before these bulls, achieving 100% clearance in a catalogue 72 females forward, further underlines the demand the market place has.   To come in this early part of the spring are a further five Limousin Society Sales up and down the length and breadth of the country at Dungannon, Thainstone, Brecon, Melton Mowbray and Holsworthy; it is the widest offering of beef genetics in the business"
AVERAGES:
40 Senior Bulls                        £4786.88
36 Intermediate Bulls             £7119.17
32 Junior Bulls                         £7514.06
108 Bulls Overall                    £6372.36
Other Leading prices:
9000gns Lot 110  Calogale Ninja  to Messrs Cruickshank, Longmorn, Elgin, Morayshire
1st prize class 1 & Senior Champion
9000gns Lot 130 Fieldson Neutron to Messrs Peacock, Deopham, Norfolk
1st prize class 3
9000gns Lot 161 Seisiog Ned to Messrs Jones & Son, Montgomery, Powys
2nd prize class 5
9000gns Lot 225 Goldies Norseman to Messrs Gibbons & Son, Holyhead, Anglesey
2nd prize class 10
9000gns Lot 229 Huntershall Neutron to Messrs Thompson & Sons, Tow Law, Bishop Auckland, Co.Durham
5th prize class 11
9000gns Lot 241 Wanthwaite Nimrod to Messrs Hewetson, Allonby, Maryport, Cumbria
5th prize class 12
9000gns Lot 272 Gunnerfleet Notabull to Messrs Cameron, Acharrade, Argyll
4th prize class 14
8000gns Lot 166 Homebyres Norfolk to Messrs Blair & Son, Balmerino, Newport-On-Tay, Fife
1st prize class 6
8000gns Lot 187 Wanthwaite Nova to Messrs Sisson & Son, Catterlen, Penrith, Cumbria
3rd prize class 7
8000gns Lot 227 Wanthwaite Nobby to Messrs Reed, Westgate, Bishop Auckland, Durham
4th prize class 10
8000gns Lot 294 Clury Novak to Messrs Rutter, Burradon, Morpeth, Northumberland
2nd prize class 16