Total of 103 bulls cash in to average £6349
Sale sets 81% clearance from 127 bulls forward
Intermediate bulls in demand as 36 level at £7433
14 bulls sell at or above 10,000gns
Females sought after and reach 14,000gns
The British Limousin Cattle Society's Spring Sale of bulls and females at Harrison and Hetherington's Borderway Centre on Saturday, 4th May, met a strong demand as pedigree breeders and commercial producers competed for their choice of bulls. Continuing recent Limousin sale trends, there was an emphasis on easy calving, easy fleshing bulls with good all-round performance figures, and commercial beef producers were again keying in on the breed's natural traits of easy calving, efficiency and superior carcase qualities.
The pre-sale show was judged Mr Ken Jones of the 180-cow Garnedd herd near Conwy, Gwynedd, who was looking for bulls with power, width and a correctness of leg that could also move freely. His placings were reflected in the top priced bulls as 10 of the 14 bulls at 10,000gns or above had secured a red rosette during judging with the remaining four in the top three spots.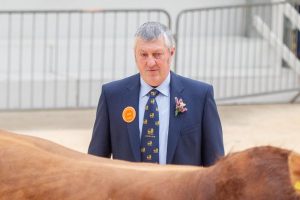 One such winning bull was Allanfauld Nemesis from father and son duo, Archie and John MacGregor, who run just three Limousin cows in their herd near Kilsyth, Glasgow, following their major reduction sale at Borderway in the autumn of 2016. The November 2017-born intermediate bull, which combined tremendous power with superb conformation, is by the AI sire Loosebeare Fantastic and carries one copy of the F94L 'profit' gene as well as the Q204X gene. His dam, Allanfauld Elegance, is from a very good female line that also produced the family's previous top priced bull, the 15,000gns Allanfauld Romeo, and is backed by home genetics being by the Drumeel Viking-sired Allanfauld Cracker. Nemesis caught the eye of Albert Howie who will take him north to Aberdeenshire to work on his pedigree Knock herd near Stuartfield, Peterhead.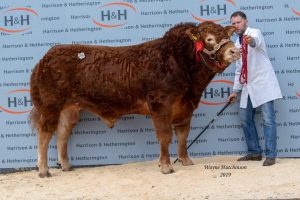 The Goldies herd belonging to Bruce Goldie followed close behind on 25,000gns for the reserve intermediate champion having welcomed the top female price of 14,000gns the previous evening for the herd at Mouswald, Dumfries. Of a similar age to the sale leader and again combining the F94L and Q204X genes, the ET-bred Goldies Neymar combines easy calving and exception growth figures with great shape. His dam is Goldies Fragrance, a Wilodge Vantastic-sired cow bred from the prolific Goldies Vitality which had previously bred sons to 10,000gns, while his sire is the 45,000gns Ampertaine Jamboree. Neymar is one of several bulls to travel down to Wales as he sold to Bryn Owen who runs the Hafesp herd at Red House Farm, Aberhafesp, Newtown, Powys.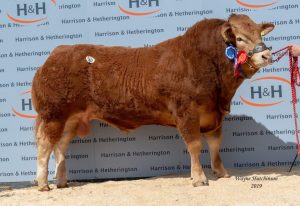 The Goldies stable also secured the third highest price of 16,000gns when Goldies Ohboy sold to JH Neale and Son for their Nealford herd at Wilkie Down, Boyton, Launceston, Cornwall. Another to combine the F94L and Q204X genes, this January 2018-born bull was bred by ET and is of similar breeding to the 50,000gns Millington Highlight, being by Wilodge Vantastic and out of the Mas du Clo daughter, Millington Gorgeous, a former junior female champion at the Royal Welsh Show.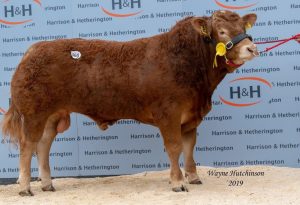 Haltcliffe bulls from Craig Ridley's herd at Hesket Newmarket, Wigton, were in demand with sales at 15,000gns and 10,000gns when brought out by Kevin Bates. Dearest of these at 15,000gns when knocked down to H Harvey and Son, Waxham Hall, Waxham, Norwich, was Haltcliffe Navigator, another red ticket holder this time born in December 2017. Sired by the noted Sympa and carrying a double copy of the F94L gene, he is out of Haltcliffe Isla, a Larkhill Firmount daughter.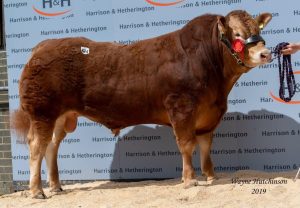 There were some different genetics behind the 10,000gns Haltcliffe Orator as his pedigree combines Ballyrobin Joop on to Haltcliffe Joan, a Haltcliffe Gains-sired cow from an easy calving line. The youngest in the catalogue to break the five-figure barrier, this 15-month-old sold to Gary Swindlehurst buying for the Procters herd at Woodhouse Lane, Slaidburn, Lancashire.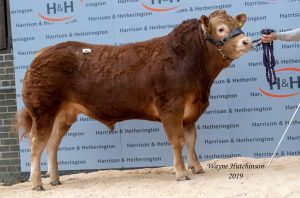 The intermediate champion and reserve supreme from Paul and Christine Tippetts was the first of two bulls to hit 14,000gns when snapped up by young brothers, William and David Moir, for their Cairness herd near Fraserburgh, Aberdeenshire. Wilodge Ninja is the first son offered for sale by Grahams Lorenzo, a 40,000gns purchase that sired the 12,000gns Wilodge Naturelle sold at the Red Ladies Derby last December. Born in November 2017 out of a big and powerful Vantastic daughter, Wilodge Goclaire, Ninja carries copies of the F94L and NT821 genes.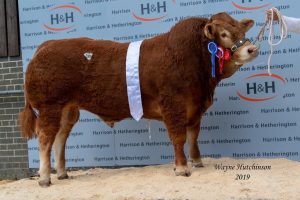 The Wilodge team from Shifnal, Shropshire, received a further 10,000gns for another class winner, Wilodge Navigator, which was born a couple months earlier than his herdmate. Bred by ET and with a pedigree that mirrors the 60,000gns Wilodge Lookout sold in 2017, Navigator is by Gerrygullinane Glen and out of another Vantastic daughter in the shape of Wilodge Gem.
The second bull to sell for 14,000gns was Dyfri Nomad from David, Joan and Aled Edwards, Cilycwm, Llandovery, Carmarthenshire. This red ticket winning bull is a heifer's calf out of one of the best females of her generation in the Dyfri herd, Dyfri Lleucu, an Ampertaine Gigolo daughter. Heading back to Wales to work in the Montgomery herd of RB Jones and Son, Llwynobin, Powys, this November 2017-born Fenomen son carries the F94L and Q204X genes.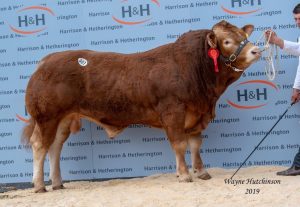 Selling for 13,000gns one lot previously was the dearest of the black bulls on offer in the shape of Albert Howie's own Knock Neo, which was chapped down to Messrs Graham, Miller Hill, Gilsland, Brampton. He is the dearest son to sell so far by the 21,000gns Goldies Goldfinger, while his dam is Knock Jayjay, a Goldies Florida daughter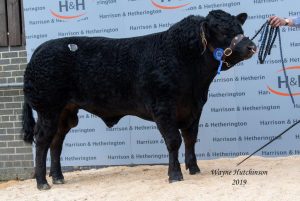 Hitting the 11,000gns mark was Slieve Nando, a Trueman Idol son from John and Shane McGeehan, Mullaghfad Road, Fivemiletown, County Tyrone. Bred from an easy calving line, being out if the Wilodge Cerberus-sired Slieve Jen, Nando is another to head to Wales as he goes to work on the Dafolog herd of DA Thomas, Ffynnondafolog, Penybont, Carmarthen.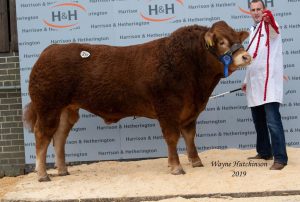 Garry Patterson's senior champion, Aultside Nickelback, was the first of six bulls to sell for 10,000gns when he sold to B Young, East Sinnahard, Glenkindie, Alford, Aberdeenshire. He is out of a home-bred Dinmore Goldcrest daughter, Aultside Jazz, which is in turn out of Garry's prolific brood cow, Spittalton Flush, which produced the 65,000gns Aultside Meanmachine sold last year from the herd at Upper Forgie, Aultmore, Keith. This Lodge Hamlet son had already made his mark at the Stars of the Future Show when he was reserve senior male champion.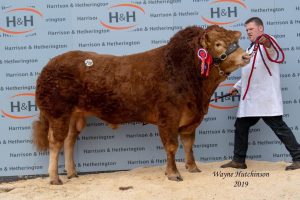 The next two bulls to realise 10,000gns were class winners from Jonathan and Jayne Watson's Tweeddale herd from Bowsden Moor, Berwick upon Tweed. First up was Tweeddale Newsbeat, a son of the Irish-bred Gallaway Kemp and out of the Goldies Fandango-sired Tweeddale Lacey. He was knocked down to PW and SM Greed, buying for their Killerton herd at Columbjohn Farm, Rewe, Exeter.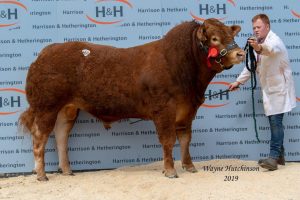 Tweeddale Oxygen, which sold for pedigree work in the Garrowby herd at Garrowby Estate Farms, Bugthorpe, York, offers different breeding to his herdmate. Got by ET, he is by Goldies Fandango and out of Goldies Dahlia, a Normande Arapaho daughter that is proving to be an exceptional breeder and dam of the 10,000gns Tweeddale Lollipop sold in 2017.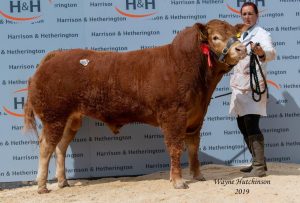 John Richardson bought the last of the 10,000gns bulls to join his Mystyle herd at Ghyll House, Appleby in Westmorland, Cumbria, when he paid that for Ampertaine Octavious, a class winner from James McKay, Kilrea Road, Upperlands, Maghera, County Derry. His dam is Ampertaine Icemaiden, an Ampertaine Foreman daughter, while his sire is Plumtree Fantastic.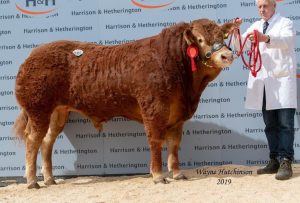 The junior champion and reserve both realised 8000gns apiece, with the first to go under the hammer at that price being Foxhillfarm Obama, which also claimed the supreme championship for Michael and Melanie Alford, Cullompton, Devon. He is backed by money-making genetics, being an ET bred from the 125,000gns Glenrock Illusion and by the 35,000gns Foxhillfarm Jasper, champion at the 2018 Royal Highland Show and in turn out of the prolific brood cow, Bankdale Alice. Obama heads to Kirkcowan, Newton Stewart, with the team at McNeill Estates.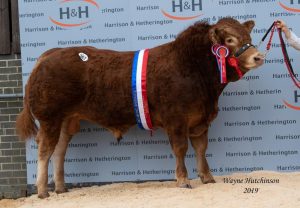 Matching that 8000gns was the reserve junior champion, Petteril Orlando, from first time consignors, Stephen and Ann Morley, who run just three cows alongside a 200-cow dairy unit at Petteril Bank, Southwaite, Carlisle. His pedigree also features Bankdale Alice as his dam, the Dolcorsllwyn Fabio-sired Petteril Lucy, is out of Bankdale Gracie. Forking out the cash was CJ Roots, Kilnford Croft, Dumfries, who takes home an ET-bred son of Mereside Godolphin.
Derek Hume saw his Culnagechan Nirvana secure the reserve senior title before selling to W and J Brown, Hilton of Culsh, New Deer, Turriff, for 7000gns. This Fairywater Haig son from the herd at Maghereagh Road, Randalstown, County Antrim, is out of the Ampertaine Commander daughter, Carmorn Frances.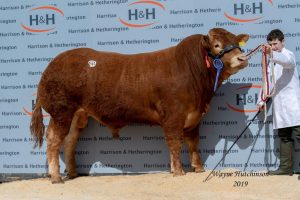 GOLDIES NORMA LEADS FEMALES AT 14,000GNS
The sale weekend kicked off with a top of 14,000gns paid for Goldies Norma from Bruce Goldie. Born in April 2017 out of the Wilodge Cerberus-sired Goldies Freestyle, which is a half sister to the 16,000gns Goldies Novelty sold in February, Norma is sired by Goldies Fortress whose sons have peaked at 20,000gns. Norma's buyer, Graham Morrison, who runs the Deveronvale herd at Inchbruich, Cornhill, Banff, in fact gets two lives for his money as Norma had been AI'd to Carrickmore Maximus, a €38,000 purchase shared with the Tweeddale and Harestone herds.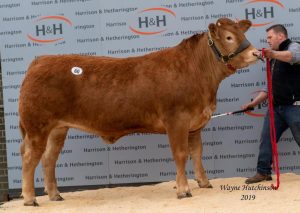 Bruce also received 8000gns from Joe and David Lewis for Goldies Orange which will join their Cattlearch herd near Moston, Sandback. Bred by ET, Orange is a half sister to Bruce's 16,000gns Goldies Ohboy sold the following day, being out of Millington Gorgeous, while her sire is Fairywater Haig.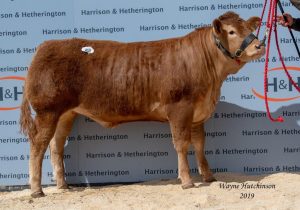 Second in the female trade stakes at 13,000gns when sold to Andrew Ewing on behalf of a client was Ampertaine Odell from James McKay. This shapely 15-month-old Ampertaine Elgin daughter is out of the Plumtree Fantastic daughter, Ampertaine Jane, from a family which has bred many quality bulls, while her sire is Ampertaine Elgin.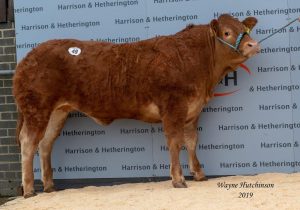 Another to sell for 8000gns was Grahams Overlynice from Robert and Jean Graham, Airthrey Kerse, Stirling. This January 2018-born ET is backed by show-winning genetics as her dam, the Vantastic-sired Milbrook Gingerspice, is a triple winner of Balmoral Show and her full sister, Grahams Melody, was breed champion and reserve interbreed at both the Great Yorkshire and Royal Welsh shows in 2018. Another sired by Ampertaine Elgin, she is also a full sister to the 25,000gns Grahams Malibu and 20,000gns Grahams Michael. Overlynice heads to Coach Road, Portaferry, Newtownards, County Down, with Nugent Estates.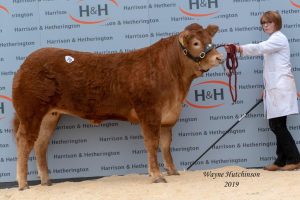 AVERAGES:
Bulls
31 Senior Bulls                   £5466.94
36 Intermediate Bulls     £7433.13
36 Junior Bulls                   £6025.83
103 Bulls Overall              £6349.49
Females
8 Cows & Heifers served and/or suckling                                £2145.94
8 Served Heifers                                                               £3963.75
86 Maiden Heifers                                                           £2481.54