• 83% clearance of 36 females forward
• Trueman Noleen tops the sale at 3,100gns
• 30 females average £1,847
The Northern Ireland Limousin Cattle Club held their fifth annual sale of haltered and unhaltered females at Hilltown Mart on Monday 26 August 2019.
The sale this year was extremely well supported with a super show of cattle in front of a packed sales ring of pedigree buyers and commercial farmers. A clearance rate of 83% was achieved from the 36 females forward and 30 sold to an average of £1847 per head. With commercial buyers actively in the market, these results yet again provide more evidence of how Limousin females are fitting into the requirements of commercial enterprises.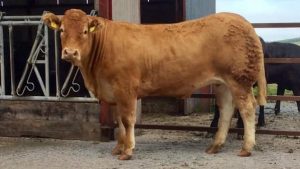 The top price of 3,100gns went to a home bred heifer from Henry Savage & Sons, Cullyhanna, Newry, Co Down. Born October 2017, Trueman Noleen is by Trueman Jagger and out of the dam Trueman Euphonium, considered by Henry Savage to be the best cow in the Trueman herd. Noleen is the heifer the Savage Family very kindly donated to raise funds for the Southern Area Hospice and new training pitches at St Patricks GFC Cullyhanna. Noleen now heads to a new home in Monaghan having been purchased by B McCarron, Emyvale.
The second lot of the evening, Aghadolgan Ogirl, achieved second best price at 2,300gns for Raymond Savage, Drumahoe, Co Londonderry. A January 2018 born heifer, Ogirl is by Ampertaine Foreman and out of the dam Aghadolgan Hesmerelda. Ogirl was purchased by Mel Lucas, Antrim, Co Antrim.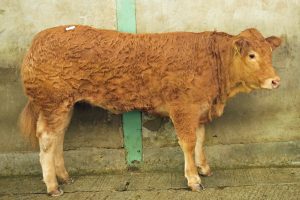 Also at 2,300gns was a cow and calf unit from Noel Murphy, Mullaghbawn, Co Down. Cashel Lorna, born February 2015 is by Ampertaine Abracadabra and out of the dam Newtown Hottot. Her March 2019 born bull calf at foot Cashel Phantom is by Kaprico Eravelle. The pair were purchased by Gavin Rowland, Crossmaglen, Co Armagh.
Selling for 2,250gns was Pointhouse Orpha home bred by father and son Michael & Kile Diamond, Garvagh, Co Derry. Born August 2018, Orpha is by Lodge Hamlet and out of the dam Pointhouse Magic. No stranger to the show ring this summer, Orpha stood second in her class at the N.I. Limousin Championships and was Reserve Limousin Champion at Omagh Show. Orpha now has a new home with Limousin breeder George McCague, Newry, Co Down.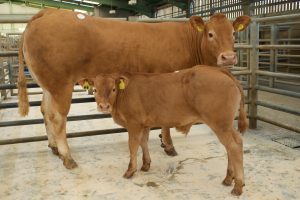 Cow and calf unit Fedneyhouse Lizzie and Fedneyhouse Percy from John Adams, Banbridge, Co Down sold for 2,200gns to Mary Patton, Belleeks, Co Down. Born December 2015, Lizzie is by Aghadolgan Illustrator and out of the dam Fedneyhouse Elizabeth while her bull calf at foot, Fedneyhouse Percy, born May 2019, is by Scorboro Regius.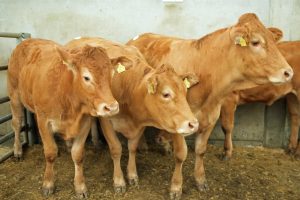 Selling for 2,050gns was Shanhill Mable from a cohort of females forward from Larry Crilly, Mullaghbawn, Co Down. Born December 2016, Mabel is by Ampertaine Gigolo and out of the dam Shanhill Fiona. Mabel was AI'd early January to Plumtree Fantastic and had been PD'd in calf. Mable was one of the purchases at the sale for Shanrad Farms, Katesbridge, Co Down.
Cashel Heather & Cashel Phoenix, a second cow & calf unit from Noel Murphy, Mullaghbawn also sold for 2,050gns. Heather is by Wilodge Cerberus and out of the dam Cashel Eimear while her bull calf at foot, Phoenix, born February 2019 is by Ampertaine Gigolo. This unit was purchased by Stephen Williamson, Benburb, Co Tyrone.
New Club member William Gabbie, Crossgar, Co Down sold Hollowdene Noodles for 2,000gns. Born June 2017, this very smart heifer is by Lodge Hamlet and out of the dam Hollowdene Impressive whose breeding goes back to the great Carmorn Penny. Noodles was purchased by Bronagh Walsh, Newcastle, Co Down.
The Northern Ireland Limousin Cattle Club would like to thank the auctioneer at this sale Mark Stewart and Hilltown Mart for the use of their facilities.