ANOTHER STRONG LIMOUSIN SHOWING AT ENGLISH WINTER FAIR
Limousin Reserve Overall & Reserve Heifer Champion
Champion & Reserve Crossbred Steer
Double win in Baby Beef
Limousins take Champion & Reserve Overall Pedigree Titles
Limousin-sired One-two in the Homebred & Fed Championship
The 2019 English Winter Fair, Stafford, Saturday 16 to Sunday 17 November saw another strong showing for British Limousin breeding with a string of titles for the UK's number one beef breed. Standing Reserve Overall for exhibitor H Hodgkinson & Sons, Harley Grange, Earl Sterndale, Buxton was the Limousin-cross heifer 7UP bred by GC & KJ White & Sons and out of a Limousin-cross dam.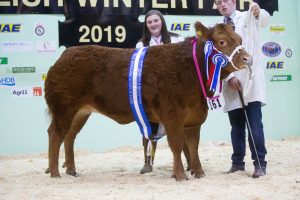 Again under joint championship judges Jim Courts & Stuart Clatworthy on the Sunday, it was a one-two in the Overall Crossbred Steer Championship. Mr G Brooke, Barley Farm, Alfrick, Worcester took the steer title with the May 2018 born Crackerjack. RJ Wright, Bedlands Gate Farm, Bowers Hill, Somerton brought forward the Reserve Steer Champion, Moonshine, a Limousin-cross bred by T Laird, Cumnock.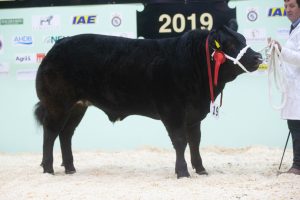 On the Saturday, judge Jim Courts, N Yorks oversaw the Limousin pedigree classes where Edwards Bros & BE Williams' Blackwater Oasis bred by K & S Williamson and sired by the Limousin bull Netherhall Jackpot and out of the dam Liscarn Karissa placed first in the heifer class before taking the Champion Purebred Limousin award and with it the Lichfield Fatstock Show & Sale Challenge Bowl. Reserve Limousin was P&S Sellers' Gillamoor Onceseen bred by Mrs E Cockerill, York, sired by Lodge Hamlet and out of Gillamoor Ida. This duo later claimed the titles of Overall Champion & Reserve Animal in the Pedigree Section with the Supreme taking home the T P Best Perpetual Challenge Trophy. M Morley & N Chappelhow, Penrith won the steer class with their homebred Highgrounds Oreo by Lodge Hamlet and out of Highgrounds Heidi.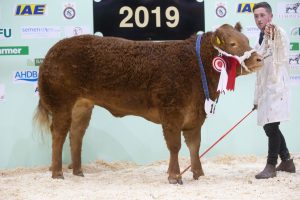 In the National Pedigree Calf Limousin section, judge Jonathan Watson, Northumberland put up the senior bull calf Pabo Oldspice as his Overall Champion. Born 01.11.2018, he is by Derrygullinane Oldspice and out of Pabo Mared and was bred and exhibited by WP Hughes & Son, Fferam Gyd, Llanbabo, Anglesey. Reserve & Heifer Champion was Dinmore Pastelle born 17.03.19 sire by Trueman Jagger and out of the dam Dinmore Elle brought out by PR Dawes, Hereford. Winning the Junior Bull class was Dinmore Premier, again from Paul Dawes, with N&L Hill taking the Senior Heifer class with Quaish OMG.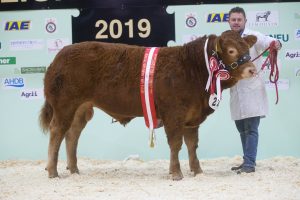 For the champion homebred and fed animal it was a one-two for Limousin-sired animals with BG Price winning the TC Edwards & Sons Perpetual Trophy with Sky, a crossbred heifer by Lodge Hamlet. Reserve was E Edwards' Hash Tag sired by Helyg Idris.
In the Baby Beef section under judge Mr E Thompson, Northants, it was a double win for Limousin-sired calves both of which were exhibitor-bred when taking the Champion & Reserve Heifer titles as well as the Supreme Champion & Reserve. Lady Million from D Hughes & G Morgan, Plas Newydd, Llanbabo, Rhosgoch, Anglesey won the Supreme with Frank Page, Lodge Farm, Elkington, Northants standing Reserve with Dina sired by Heathmount Frenchconnection and out of a crossbred Limousin dam.