Royal Welsh Agricultural Show 2020 will be dearly missed by the show circle…
This week we should all be sunning ourselves at the arguably the UK's biggest Agricultural Show, the Royal Welsh Agricultural Show in Builth Wells, Powys. The event is sorely missed by the show circle this year, especially by a regular to the event, Llyr Hughes of the Pabo herd.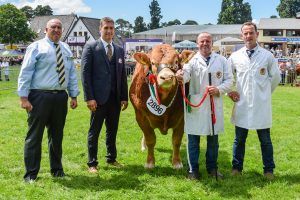 Fferam Gyd in Llanbabo is home to a system of arable, beef and sheep on 450 acres only a stones through from Anglesey's north coast. The Pabo herd was established in 2008 with Lowbarn Benelopa, a foundation heifer purchased at Carlisle for £1400. Llyr says "Benelopa was a fantastic foundation heifer for the herd; her progeny has been some of Pabo's most promising stock including, IceMaden, Francis, Netherhall, Nero and Legend.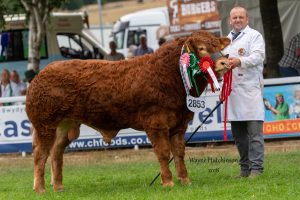 The Royal Welsh Show is a highlight in the calendar for Mr Hughes. "The Royal Welsh is definitely my favourite show! It will be missed dearly this year. The event is very socially orientated, a great setting to catch up with family and friends." Llyr comments "The cattle lines are of the highest standard which makes for good competition and pushes our herd to bring our best to the show."
The Hughes family are no strangers to the show ring, with many successes under their belt. Pabo's most memorable moment is from 2016 when sibling duo Legend and IceMaden took the show ring by storm. Ice Maden was first in her class and part of the winning Limousin Group of 5. Legend was in the limelight for winning his class, Junior Champion Bull, Reserve Limousin Bull and Reserve Overall Cattle Champion. This year's hopefuls were Peredur, Procters and Pinnacle which are all progeny by the well-known AI bull, Derrygullinane Kingbull.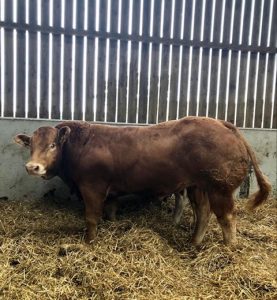 The herd started with success at their first time at the show in 2013 and notable triumphs have continued for years after:
2013: First place with Pabo Harry and second with heifer Greta, who qualified for the group of 5.
2014: Second prize for Greta with her calf at foot.
2015: IceMaden placed first in class and was named the Best Bred Welsh heifer.
2016: Interbreed Junior Bull for Legend and Group of 5 qualifier IceMaden.
2018: One red and two blue rosettes for two of Ice Maiden's sons, Netherhall and Nero, winning first and second prize in their class and champion pair. Netherhall was Junior Bull and Reserve Male Champion. Another of Benelopa's ET offspring, Jenelopa came second in the Cow and Calf with daughter Onelopa at foot.
2019: IceMaden picked up a third. OntheJob claimed second in his class. Nainsy won the heifer class and was part of the Limousin group of 5.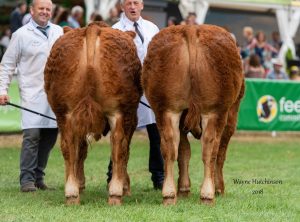 Llyr's successes are not without hard work, Mr Hughes has an eye for detail and says, "a well turned out animal with style brings presence to ring" Whilst presentation is key to catching the judges eye, the animal must have correct locomotion and breed characteristics to be in Llyr's show team. Llyr is a well-known member for encouraging young breeders and lending a helping hand. His 'top tips' for someone new to the show ring are as easy as 123.
1. Preparation –
Dressing of the animal should be to a high standard. Good temperament and handling of the cattle at the show is essential, especially for a beginner.
2. Etiquette –
 Good manners go a long way in the ring. Start at local shows so that you and the animal can learn the ropes together.
3. Advice –
Don't be afraid to ask for guidance. The show circle is keen to support young people and breeders will always take time to share their wisdom.