18,000GNS GOLDIES PAMELA LEADS LIMOUSIN RED LADIES SALE
WEANED HEIFER CALVES TO 10,000GNS
WEANED BULL CALVES REACH 9,000GNS
34 Red Ladies maiden heifers average £5317.94
3 Red Ladies served heifers average £3850.00
35 Weaned Heifer Calves average £3108.00
14 Weaned Bull Calves to average £3599.11
5 Animals Sell for Five Figures and More
85 % Clearance Rate for Red Ladies
83% Clearance Rate for Weaned Calves
A restricted year of pedigree Limousin sales closed with a red-hot trade at the Red Ladies Derby and Weaned Calf sale held at Borderway Mart, Carlisle, on Friday 11th December 2020.
Christmas really did come early with a fabulous show of cattle forward that created both a fantastic showcase for the breed and a trade to match. Breed Secretary Will Ketley commented "we have had such a difficult year, but this sale really created a little normality and a real buzz back at Carlisle again. Credit to the buyers and those breeders supporting the sale who created quality Limousin cattle from start to finish and were rewarded by a strong commercial and pedigree customer base. A sale for all associated with the Limousin breed to be proud of".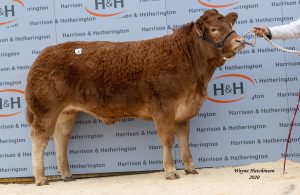 Taking the top spot in the Red Ladies section at 18,000gns was Goldies Pamela, who was brought forward for sale by Bruce Goldie and family, Townfoot, Mouswald, a short spin from Borderway, in Dumfries. Sired by the homebred Goldies James, who was purchased in May 2016 for 21,000gns by the Coachhouse herd, with grandsire Goldies Fandango who sold for 22,000gns back in 2010 and grandam Goldies Fragrance who bred 25,000gns Goldies Neymar.
Bred out of the homebred cow Goldies Joyeuse, an embryo with Ampertaine, Goldies and Wilodge blood boasted throughout her pedigree, who is a full sister to Goldies Olympia and Goldies Owain, the supreme and reserve champions at Carlisle February 2020 and sold for 30,000gns each.
Ian Miller of Miller Farms, Inverurie is taking her home to their Millers Limousin herd and the February 2019-born Pamela is an impressive addition to her new home with a Beef Value of 48, she has a copy of both the F94L and Q204X myostatin variants.
Woodmarsh Opera was first to play her way to 10,000gns mark, from M and JC Gould Ltd, Shrewsbury. Opera, a December 2018-born embryo calf is sired by royalty bull Whinfellpark Lomu with dam, the 7,000gns Truman Miranda, who was purchased in February 2018. Opera displays a myostatin status of F94L/NT821 and Beef Value of 43. Opera is heading across the water to Trevor Shields of the Glenmarshal herd, in Newory, Co Down.
Second in line to hit 10,000gns was Whinfellpark Priscilla, exhibited by Messrs Jenkinson who are based a stone's throw from Borderway in Penrith. She is an April 2019-born calf by Gunnerfleet Lion, who was purchased by the herd in February 2017 for 22,000gns. Out of Whinfellpark Lexi, a homebred cow who is sired by the 120,000gns Dolcorsllwyn Fabio, Priscilla heads home to Boden and Davies, Sportsmans herd, Stockport.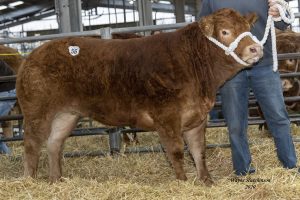 Also sharing the silver spot of 10,000gns was Sarkley Palola. Making her way from Montgomery, Powys, with E H Pennie and Son, who are no strangers to the headlines of this sale. A daughter of the 19,000gns Ampertaine Jeronimo and the homebred Sarkley Jalola, whose back pedigree is laced with French bloodlines such as Rossignol and Jacot. The December 2019-born Palola boasts NT821/Q204X myostatin and a beefvalue of 37 and heads across the waters to Mr Williamson.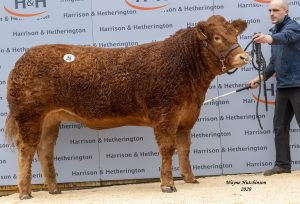 Making a pretty penny hitting 9,500gns was Beachmount Penny, brought forward by Clive Knox, Cragside Farm, Kelso. This June 2019-born heifer was sired by the well-known AI bull Netherall Jackpot, who boasts a French back pedigree and includes the 12,000gns Cloughhead Ainsi, who was sold in their 2006 sale. Penny is out of an Ionesco daughter, Nebo Helen, who was purchased from this sale in 2013 for 3,000gns. She finds her new home with Messrs Shennan & Sons, Knockgerran Farm, Ayrshire.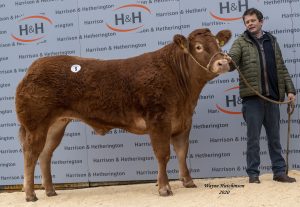 Hot on their heels making 8,000gns was Broadhead Octo, a December 2018-born heifer from Turner Farms Ltd. Sired by Irish blood, Elite Forever Brill, a Wilodge Vantasic son and out of the homebred cow Broadhead Isabella, a daughter of the 32,000gns Huntershall Gladiator, she heads home to Messrs Nelson and Son, Lancaster.
Matching the 8,000gns price was Whinfellpark Peggy, exhibited by Messrs Jenkinson. This April 2019-born heifer is one of the first females brought up for sale to be sired by Gunnerfleet Lion and she is bred out of homebred cow Whinfellpark Love, a daughter of the 30,000gns Lowerffrydd Empire. With a myostatin of F94L/Q204X and beefvalue of 39, Peggy will be a strong addition to her new home with Mr McKinstry of the Crumlin based Ballyaulkin herd.
Next up was Goldies Pommepomme, another from the top price home of Bruce Goldie, and selling for 7,000gns. A May 2019-born embryo calf, sired by the 42,000gns Wilodge Vantastic, Pommepomme's dam is the French-bred Java. With an impressive beef value of 42, and a myostatin status of F94L/Q204X, she heads home with Mr Pritchard, Newcastle upon Tyne, and joins the seven other animals purchased by Mr Pritchard, adding to his 2018 established herd. Mr Pritchard said 'I bought these cattle to join my collection of pedigree animals which I have purchased from Mr Archer, Hexham. The Limousin breed do well for me and I am excited to see what they produce.'
The aforementioned Whinfellpark also reached 6,500gns with their April 2019-born heifer, Pia, another Gunnerfleet Lion daughter, this time out of Whinfellpark Ida, a Dolcorsllwyn Fabio daughter. She heads on with previously mentioned a Priscilla to the same new home at Boden and Davies's Sportsmans herd.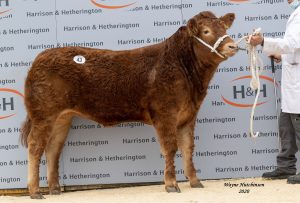 Lodge Plush matched the 6,500gns trade price, from WI and AW Callion, Stirling. Sired by the 38,000gns Ampertaine Foreman, this embryo calf is out of homebred cow, Lodge Indie, a Loosebeare Fantastic daughter who was senior continental champion at the Stars of the Future Show in 2014. She also goes home with Mr Pritchard, Newcastle Upon Tyne.
WEANED CALF SECTION
Moving onto the weaned calves, the trade showed some festive fireworks! 35 weaned heifer calves averaged £3108.00, an increase of over £470 on the previous year. Meanwhile 14 weaned bull calves sold to average £3599.11, with a massive increasing of £1016 on the 2019 average.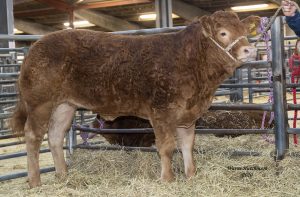 BRENMICK ROSIE – 10,000gns
Topping the trade in this section was Brenmick Rosie, making 10,000gns. This January born heifer, was an embryo calf brought forward from RM Jones, Conwy, North Wales. Out of a homebred cow, Brenmick Anna, a daughter of the 5,000gns Haltcliffe Olympus, she is sired by Irish Elite Forever Brill. Her full sister also sold for 10,000gns when she was presented at Carlisle. Rosie boasts a F94L/Q204X myostatin status and she heads across the water to commercial member Mr G Corrie, Newtownards.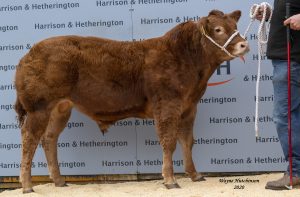 Hot on her heels was Hightown Roscoe, a bull calf selling for 9,000gns. This April-born bull calf was exhibited by Messrs Smith-Jackson. A son of the homebred Hightown Jacko, who goes back to Shire Apollo, he is out of Hudscales Blanche, who has lines of Tunnelby, Gunnerfleet and Grnage throughout her back pedigree. Roscoe boats double NT821 myostatin status and is now calling Brampton, Cumbria home, having been purchased by TR and EA Milburn of the Wallend herd.
Sarkley Radisha was next in demand scoring 7,000gns. Making her way from Montgomery, Powys, from EH Pennie, Radisha is an April-born heifer calf. A daughter of the 17,000gns Trueman Idol, who is by Ampertaine Elgin and uut of homebred Sarkley Hunisha, a daughter of the 43,000gns Haltcliffe Ullswater. This calf is out of the same female line as the 20,000gns Sarkley Odelisha who sold at the Red Ladies Derby in 2019.  Radisha boats NT821 and Q204X myostatin traits and she heads north to Keswick with KD Harryman of the Keskadale herd.
A trio each made 5,500gns, two again being from the Sakrley Herd. First up was Sarkley Reagan, another Truman Idol daughter and bred out of another homebred cow, Sarkley Lemeila, a Rossignol granddaughter, she also heads home to the previously mentioned Keskadale herd.
Finishing off the Sarkley money makers was Sarkley Rose, an April-born heifer calf again by Trueman Idol and this time out of the homebred cow Sarkley Ida, a Haltcliffe Doctor daughter. Reagan and Rose were peas in a pod, both boasting a NT821/Q204X myostatin status. Rose heads home with Mr Lewis.
The final 5,500gns sale was the bull calf Kingshaugh Rex. Exhibited by TW Hutchinson, Rex is sired by Wilodge Inchbyinch, who was purchased by the herd at this sale in 2013 for 3,400gns. Out of Procters Lapurna who was added to the herd in 2017, purchased from the May Carlisle sale, Rex finds a new home with Mr Watson.
He was closely followed in the trade stakes by Stephick Redrose who made 5,200gns. This Carrickmore Maximus daughter was exhibited by Stephanie Dick, Stirling. The April-born heifer calf is out of the  homebred cow, Stephick Moonshine, a daughter of the 45,000gns Ampertaine Jamboree. Redrose was purchased by Mr Richardson, Wigton.
5,000gns was reached twice, firstly with a heifer calf from Bruce Goldie, Goldies Rosemary. An April-born embryo heifer who boasts two F94L genes. Sired by the 15,000gns Rachels Ferrari, a Mas Du Clo son, and out of Goldies Fragrance, who also bred Goldies Olympia and Goldies Owain, the supreme and reserve champions at the Carlisle February sale who each made 30,000gns. Rosemary heads north to Mr Morrison, Cornhill, Aberdeen.
Also making 5,000gns was Blaencwm Redlady from Dylan and Elen Davies, Ceredigion. A January-born heifer, sired by Mereside Lorenzo, a Jacot son, and bred out of Goldies Majesty, a daughter of the previously mentioned Goldies Fragrance. Redlady boasts an impressive beef value of 57 and she heads across the water with her new owner Trevor Shields, Co Down.
Auctioneers – Harrison & Heatherington
Red Ladies Leading Prices
Lot 4 – Meadowrig Ophelia – 5,500gns
Lot 5 – Gunnerfleet Oelune – 4,000gns
Lot 17 – Smithy Peach – 5,000gns
Lot 24 – Smithy Prosecco – 4,000gns
Lot 37 – Cumwhitton Paris – 5,000gns
Lot 42 – Dinmore Primadonna – 5,500gns
Lot 46 – Temeside Pamela – 4,000gns
Lot 50 – Absolute Princess – 5,000gns
Weaned Calves Leading Prices
Lot 83 – Barrons Rocket – 3,500gns
Lot 86 – Derosa Ricario – 4,000gns
Lot 87 – Absolute Rocksolid – 3,000gns
Lot 90 – Shaws Rabbie – 4,500gns
Lot 97 – Goldies Rosalina – 4,000gns
Lot 103 – Foxhillfarm Redhot – 3,000gns
Lot 104 – Foxhillfarm Redlady – 4,000gns
Lot 105 – Foxhillfarm Redrossette – 3,800gns
Lot 106 – Foxhillfarm Redruby – 3,500gns
Lot 107 – Foxhillfarm Rose – 4,100gns
Lot 118 – Sarkley Rosajen – 4,000gns
Lot 122 – Sarkley Rianne – 4,000gns
Lot 123 – Sarkley Ramola – 3,500gns
Lot 136 – Shaws Rosy – 4,000gns