Bernish Pirlo Springs To Top Dungannon Sale For 6,800gns
Bulls – 97% clearance rate
31 bulls average 3570gns
Bulls up £412 from February 2020
Bulls up £837 in total from February 2019
Females – 87% clearance rate
13 females average 2600gns
Heifers up £380 from February 2020
Heifers up £695 in total from February 2019
Despite Covid-19 restrictions, buyers travelled from far and wide to choose their favourite from the first BLCS Society bull sale of the Spring, held at Dungannon Farmers Market. The 32 bulls forward averaged 3,570gns, having met keen interest from commercial and pedigree buyer's alike. Average sale figures have increased year on year by £837 for Bulls and £695 for Females. The sale saw 9 bulls exceeding 4,000gns with high demand for Limousin Genetics.
Northern Irish Council representative, David Hamill commented "I was delighted to see such a successful sale, with a great atmosphere, despite the Covid restrictions. It was promising to see things heading back to normality. It was great to see buyers putting their confidence into Limousin genetics. Appreciation must go to the Auctioneers for all their hard work and the vendors for supporting the BLCS sale."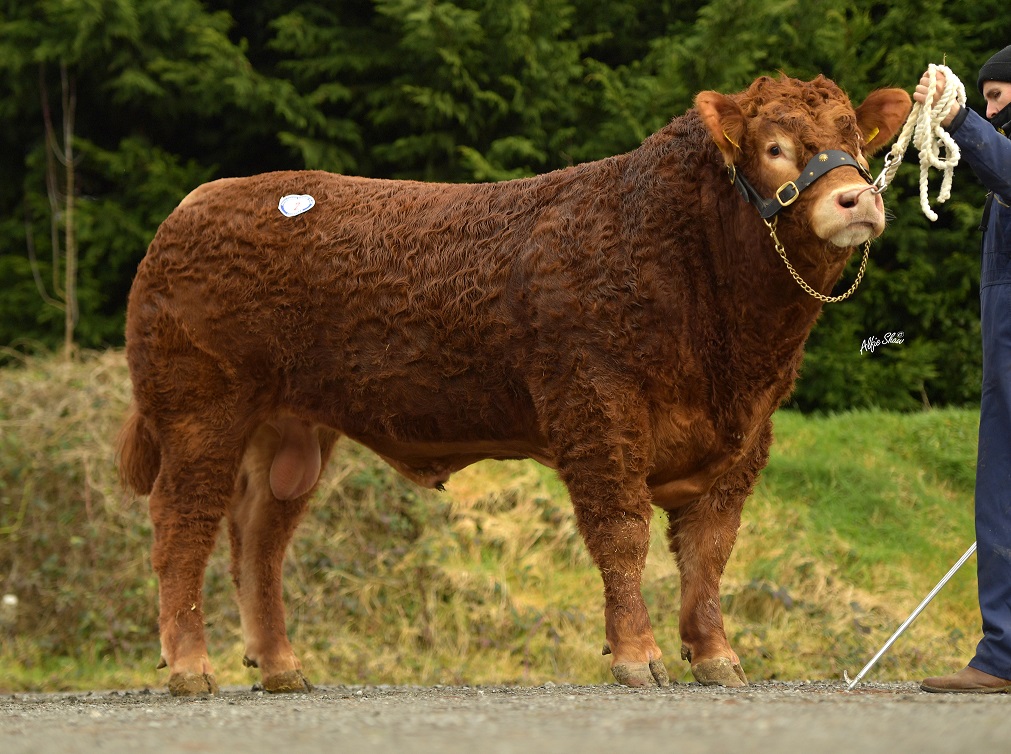 Top price of 6,800gns was given for Bernish Pirlo bred by Mr Kieran McCrory, Co Tyrone. Born May 2019 this Wilodge Cerberus son was out of dam Bernish Julifortune, an Ampertaine Elgin daughter. Mr McCrory described this as 'A unique opportunity to purchase a bull with a proven pedigree!'. Pirlo boasts two sets of the F94L myostatin gene, and a beef value of 46. Two brothers have sold in Carlisle, Bernish Memphis making 22,000gns and Bernish Platini for 7,500gns. For just a 15 cow herd, this member has had great success. Last year Mr McCrory, Pirlo's full sister, Bernish PrincessJuli, won the Rising Stars Competition sweeping the pedigree, junior and supreme championship. Pirlo caught the eye of his purchaser during the viewing slot prior to the sale, he was tapped down to Mr Clive Richardson, Annaghmore, County Armagh.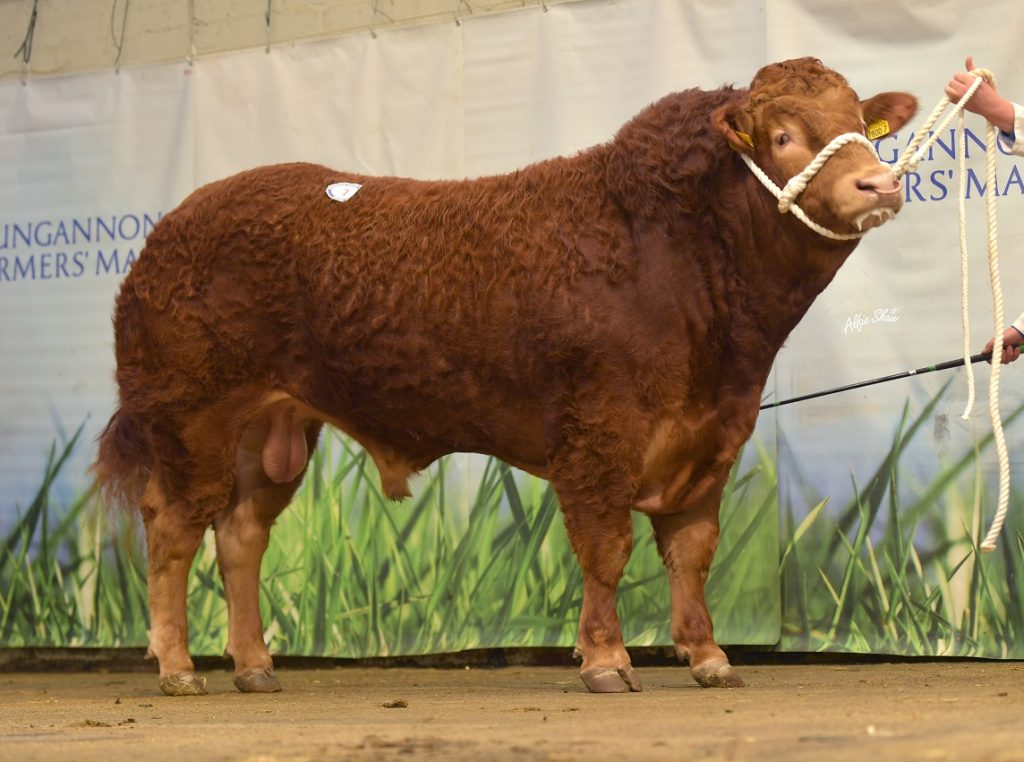 The second-highest price was 4,700gns, given for Ballyrobin Poser bred by Miss Joan Gilliland, Co Antrim. Poser has a myostatin of F94L and Q204X and a beef value of 34. May 2019 born Poser is sired by Ampertaine Elgin and out of Ballyrobin Frenchy, a Wilodge Vantastic daughter. Dam, Frenchy has bred bulls to the value of 20,000gns. He heads home with Mr V Ferguson, Dungannon, Co Tyrone.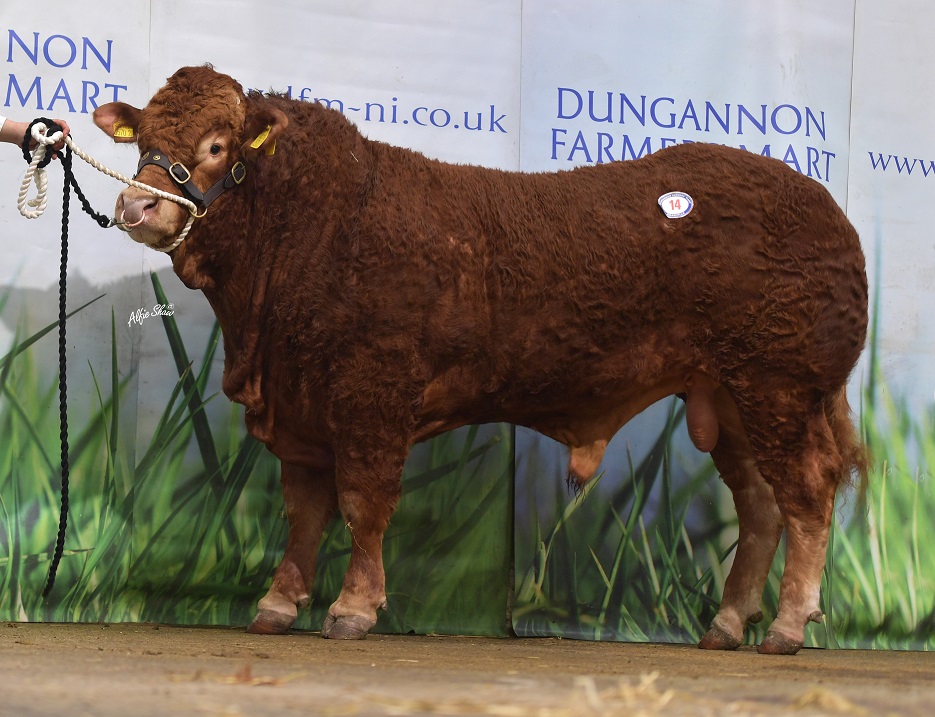 Next up was Deerpark Poseidon, a July 19 born bull fetching 4,200gns. Poseidon, bred by C & R Mullholland is an Ampertaine Abracadabra son, out of Deerpark Masie who goes back to Ampertaine Elgin. Poseidon displays two sets of the F94L myostatin gene and a beef value of 38. This bull was purchased by F McKendry, Ballymena, County Antrim.
Hot on his heels, also reaching 4,200gns was Mcparlands Power from McParlim Genetics. Born July 2019 he is sired by homebred bull Mcparlands Nasper and out of Cowporation Jilonka, an Ampertaine Foreman daughter. Displaying two sets of the F94L myostatin gene, Power was picked up by Mr P Hughes, Newry, County Down.
Third, to make 4,200gns was October 2019 born, Rathkeeland PeakyBlinders presented by the Crawford Brothers. This lad displays two sets of the F94L myostatin gene. Sired by Powerful Irish and out of Curraghree Beyonce, a Grahams Samson daughter. Peakyblinder now calls County Tyrone home with S Hayes, Dungannon.
Two young bulls commanded a price of 4,100gns. First up, presented by K and S Williamson was Blackwater Phantommenace, a June 2019 born Lodge Hamlet son. His dam, Redlands Imogen is by the French-bred Eldorado. He displays myostatin of F94L and NT821. Phantommenace was purchased by Mr L Selfridge, Maghera, County Derry of the Clonmore herd.
Second making 4,100gns was October 2019 born Carnew Prospect, presented by J & J Aiken of the Carnew herd. Boasting a beef value of 43, he also has myostatin of F94L and NT821.  This young lad is by the homebred bull, Carnew Lionheart and out of dam Carnew Holly, who goes back to Bahut. Prospect goes home with Mr Mitchell, Cookstown, County Tyrone.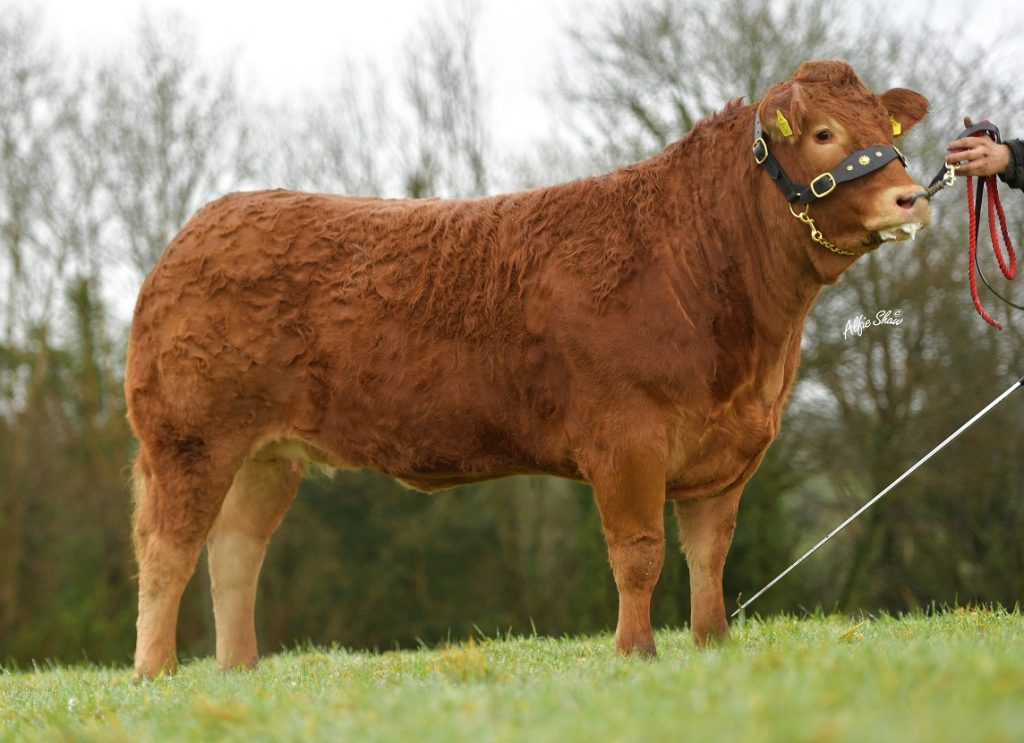 Leading the way in the Female section at 5,600gns was Rathkeeland Phillipa, exhibited by Crawford Brothers, Maguiresbridge. This in-calf heifer is sired by renowned Sauvignon and out of Maybouy Madonna a Gleneagle Idol daughter. Described by her breeder as an "exceptional big, square show heifer with great plates", Phillipa is in calf to Haltcliffe Nijinsky. This promising heifer heads home with Mr P Stewart, Garvagh of the Culnaman herd.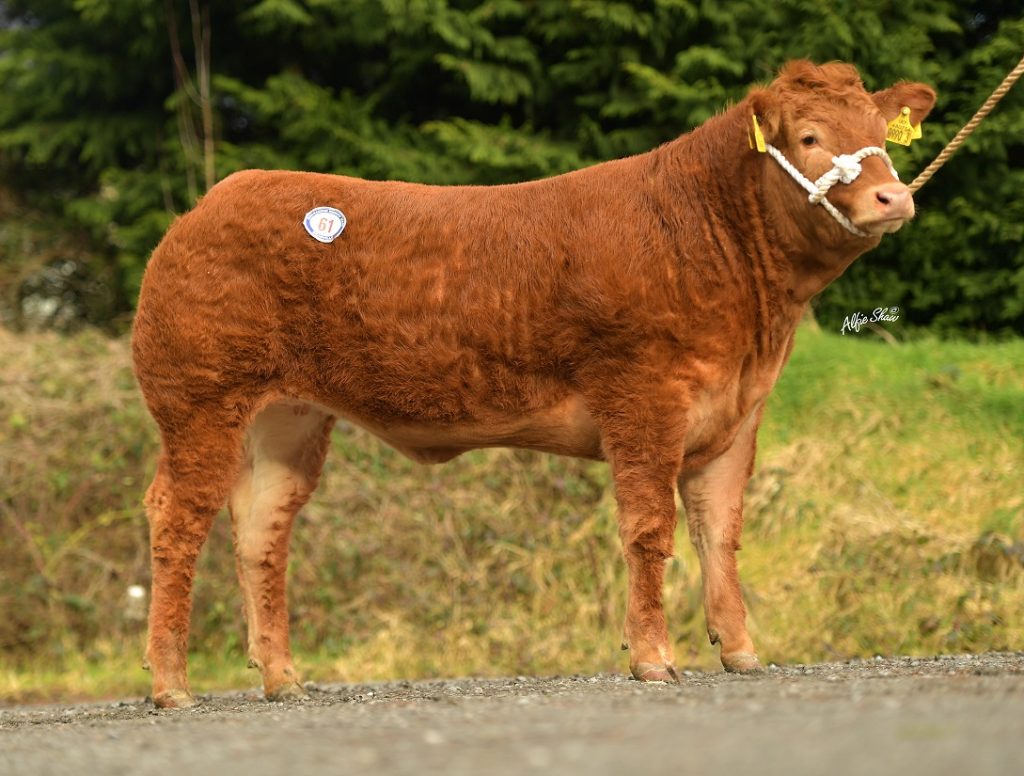 Hot on her heels at 5,400gns was Johnstown Rosie, the youngest female in the sale, presented by Mr Christopher Johnston. The April 2020 born heifer, sired by Ampertaine Magnum and out of Ashmara Classygirl who goes back to Rocky. Rosie boasts myostatin of F94L and NT821. Rosie now calls County Down home with Mr T Shields, Kilkeel.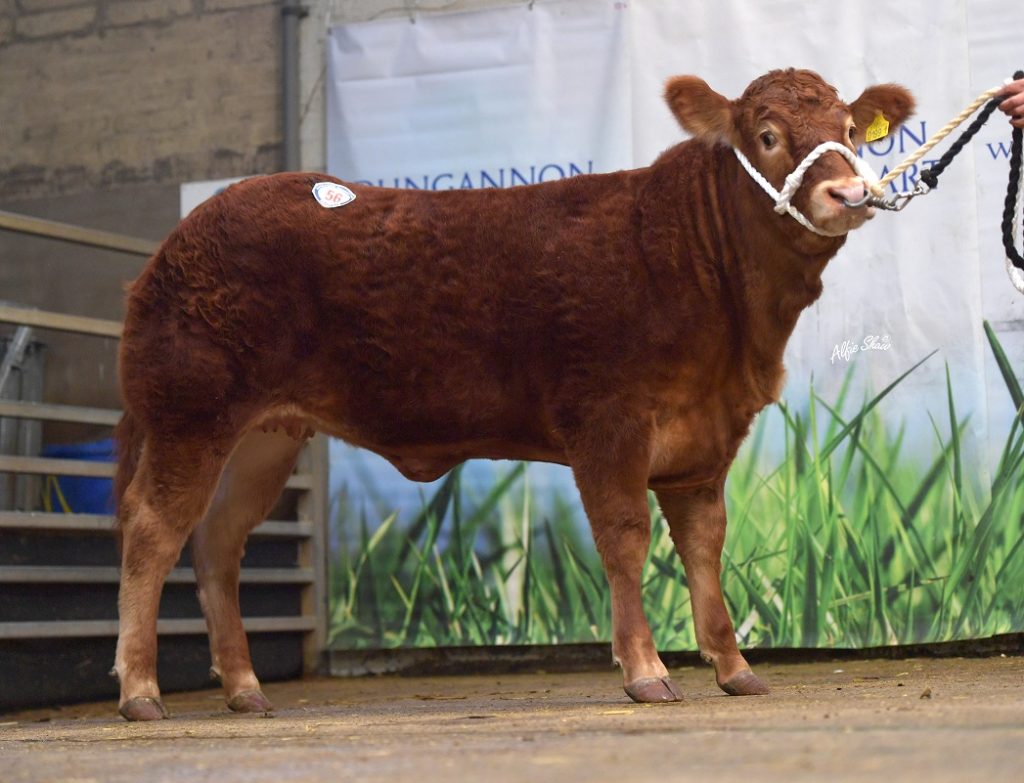 Next up was Carnew Robyn, selling for 3,000gns. Presented by J & J Aiken, this heifer January 2020 sold to Mr G McCague, Newry, County Down of the Bridgeview herd.  Robyn is an Ampertaine Commander daughter and out of Carnew Melody, a Wilodge Goldcard daughter.
Strabane Mills Ltd was the sole sponsors of the BLCS Spring Sale. A well-established family business with 90 years' experience of producing quality feeds. Manufacturing a high-quality range of steam cooked and flaked cereal products including barley, maize and peas. They supply customers specialist feeds for the livestock sector. The Top priced Bull and Female breeders received a voucher for 10 bags of the specialised product feed and Second highest Bull would also receive 5 bags. Sales Representative, Sam Ritchie attended the sale, for further enquiries contact Sam on samuelritchie111@gmail.com.
Issued by the British Limousin Cattle Society. For more information contact Ellie Layton