On Saturday 22nd May, crowds herded to Darlington Farmers Market from the North East area and beyond to the British Limousin Cattle Society Spring Spectacular. A clearance rate of 97% was achieved in the Female section and 81% in the Bull section. Judge for the days proceedings was Mr John Wilson, who used his years of experience to choose the Champion of the day, Whinfellpark Panama, which went to sell on for 6,000gns, the top price of the day.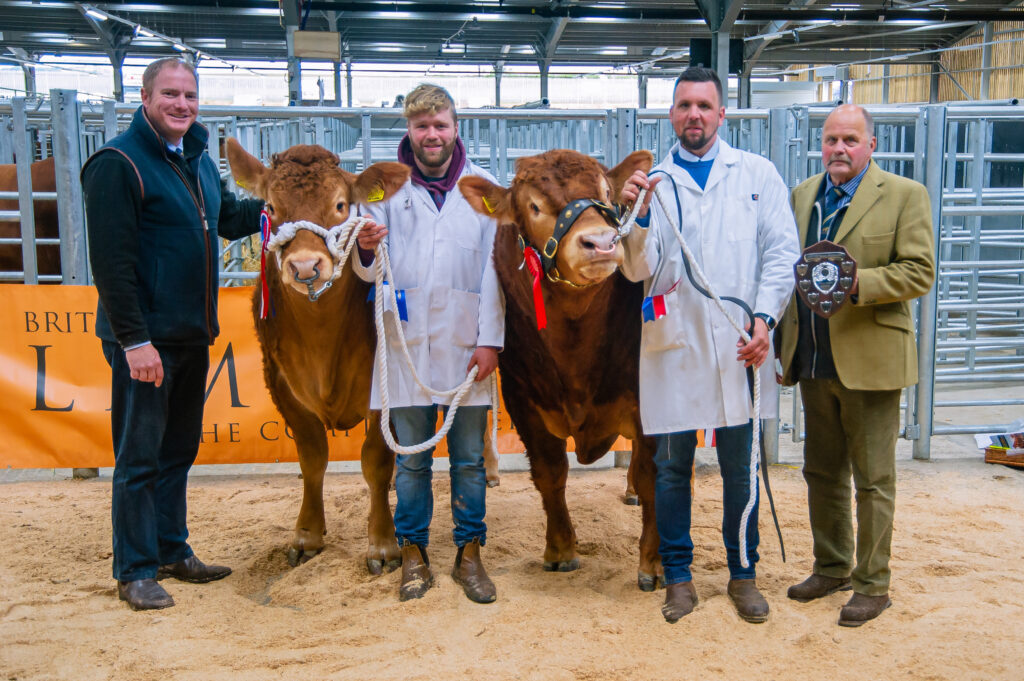 Breed Secretary Will Ketley commented 'We are very pleased with the new fixture at Darlington with the breed being promoted and celebrated on both Thursday in the finished cattle ring and Saturday in the breeding and store ring."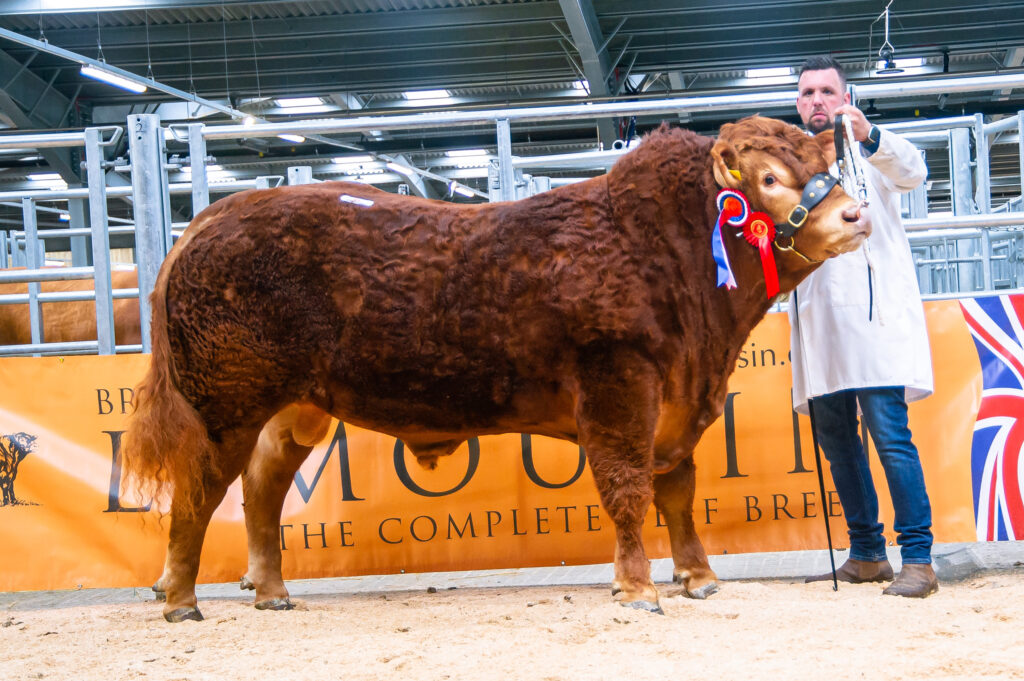 Trade topper at 6,000gns, Whinfellpark Panama was brought forward by Messrs Jenkinson, Penrith and was tapped out as Champion for the day after winning his class. The October-2019 born son of Withersdale Invader, a son of 72,000gns Haltcliffe DJ and out of homebred cow Whinfellpark Marmalade. Panama displays a Beef Value of LM44 as well as myostatin of F94L/NT821. Panama now calls Worcestershire home, with commercial buyers Carpenters Hill Farm, Redditch.
Next in the stakes was Longhirst Roland, a January-2020 born bull from DW Jordon, Morpeth, Northumberland. This Reserve Champion of the day and class winner went under the hammer for 4,500gns. Sired by Glenrock Justthejob, which the herd purchased for 10,000gns in 2016, Roland is out of homebred cow, Longhirst Elano. Roland displays a Beef Value of LM42 as well as myostatin of F94L/NT821. Snapped up by regular at the market, John Norman of Guisborough.
First through the ring and scoring 4,000gns was Ketton Pallas from S & J Dent, Darlington. This red rosette winner was born in January-2019, a son of Tomschoice Jet, and out of homebred cow, Ketton Juno a Bavardage daughter. Pallas displays a Beef Value of LM38 as well as two sets of the F94L myostatin gene.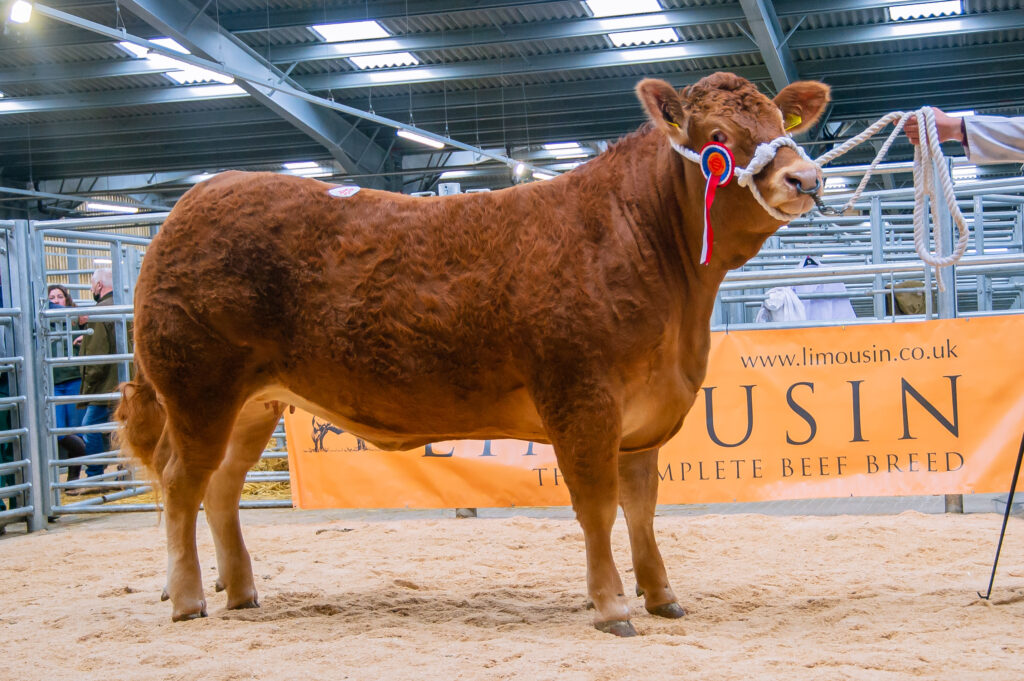 Onto the female section, Champion of the section and joint top price at 6,000gns, Dinmore Patience, from Mr P Dawes who made the trip from Herefordshire. This July-2020 born heifer is Dinmore Lionheart daughter, and out of homebred cow, Dinmore Marseille. Patience displays a Beef Value of LM46. This heifer caught the eye of the Beaconsfield herd, based in Newark with RP & DL Hutchinson.
Cockleshell Jazzy from Mr P Gentry, Lincoln was up next at 4,200gns. This March-2014 born Anside Flint daughter is out of Cockleshell Candy and was sold with her bull calf at foot, Gentrys Redbull. Sold scanned to Gnetrys Properjob, she went home with commercial buyers R & KM Teasedale, York.
Next in the trade at 3,700gns was Gentrys Netiquette, again from Mr Gentry. This four year old cow was sold with December-2020 born bull cad, Gentrys Reetpetite at foot. Netiquette is sired by Mereside Hallmark and out of Coachhouse Etiquette. She goes home with Messrs Common, of the Lowardley herd, Hexam.
Next in line, at 2,300gns was Thorninghurst Roxanne, brought forward from S Gilleard, Doncaster. This May-2020 born heifer is out of Elderberry Helena and one of the first daughters of Glenrock Nemo to be offered for sale, after he was purchased by the herd for 13,500gns in 2018. Roxanne was purchased by Mr Gent, from the Delnic herd, Newark.
Nine year old cow, Beaconsfield Hotpants was then sold for 2,200gns, after being brought to the ring by Mr Gentry, Lincolnshire. This Wilodge Vantasic daughter is out of Venise, a French bred cow. She was sold scanned in calf to Ampertaine Oblivion and goes home to Foxton Livestock, Barnard Castle.
Achieving 2,000gns was Gillyflats Piper brought forward from Mr JL Marks, Stockton On Tees. This April-2019 heifer is a daughter of Lodge Hamlet and out of Mcinnes Molly, a Loosebeare Fantastic great-granddaughter. This heifer joins Mr Barlow and Sons.
Female clearance of 97%
Bull clearance of 81%
Auctioneers – Darlington Farmers Auction Mart
Issued by the British Limousin Cattle Society. Written by Ellie Layton, for more information contact on 02476 696500/ellie@limousin.co.uk