100% clearance
Bull average £5,486 (+1,820 on 2019)
Heifer average £1,874 (+383 on 2019)
Seven bulls exceed 5,000gns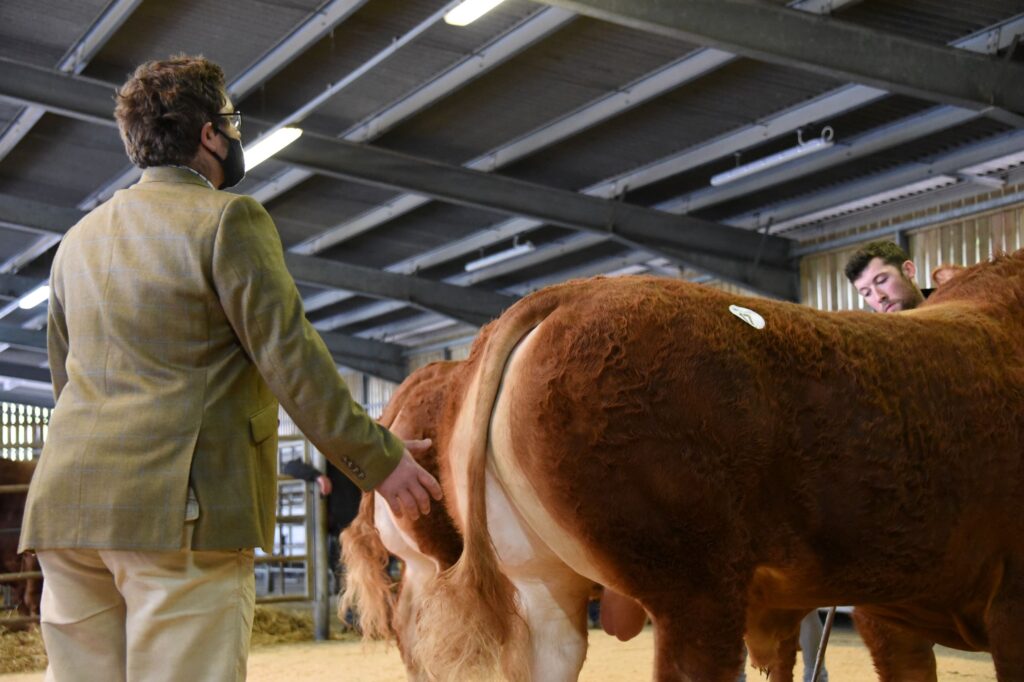 On Saturday 15th May, crowds flocked to Brecon Livestock Market from the Welsh borders and beyond to the British Limousin Cattle Society Spring Welsh Show and Sale. A clearance rate of 100% was achieved in both the Bull and Female sections. The 17 bulls forward averaged £5,486, an increase of £1,820 on the 2019 sale, and four maiden heifers averaging £1,874, up £383.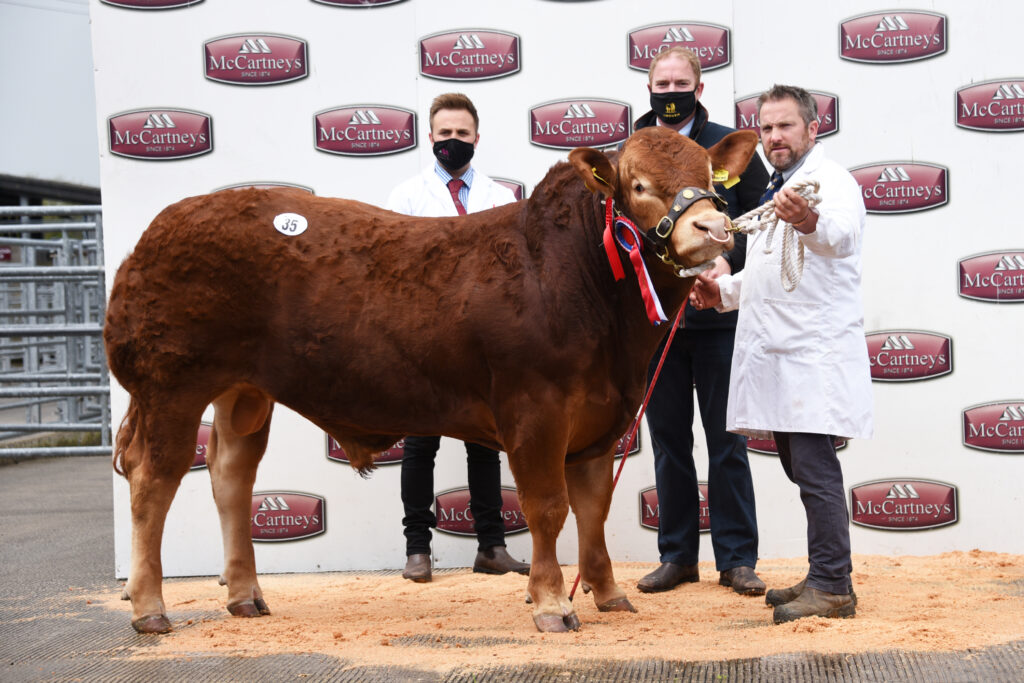 Topping the trade and the show line was Ashledge Rascal, who rose to the top, selling for 10,000gns. Brought forward from the Kirton Family, from Bewdley, Worcestershire, this March-2020 born son of French bred Chaumeil is out of homebred cow Ashledge Nester, a daughter of the herds stock bull, Haltcliffe Iceman. Rascal displays two sets of the F94L myostatin gene and a beef value in the top 1% of the breed, 57.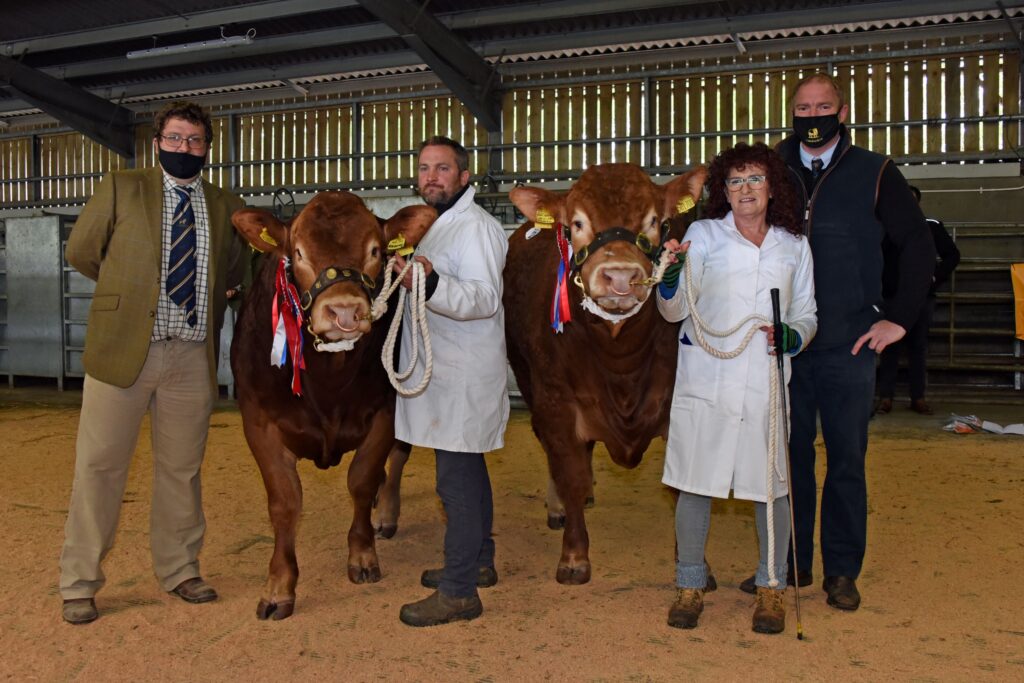 Judge for the days proceedings was Mr Jack Stevens, who travelled up from Wells, Somerset, where his herd of Pedigree Limousin cattle are based, under the Miljak herd. Being one of Mr Stevens's first judging experiences, he commented "I was honoured to be asked to judge at the Brecon sale and loved the experience. Ashledge Rascal, the Junior and Overall Champion stood out in the ring amongst a strong run of cattle, and I was pleased to see he gained the top price." Rascal now calls Llanllyfni home with show calf breeders T & E Jones in his Trefid herd. Regular supporters of the Brecon based sale, are Peter and Michael and Rob Kirton who run the Ashledge herd. Rob commented "We are delighted with todays result and Rascal coming out on top of the show. He is a sweet and correct bull who has youth on his side. We wish purchaser Mr Jones all the best with him."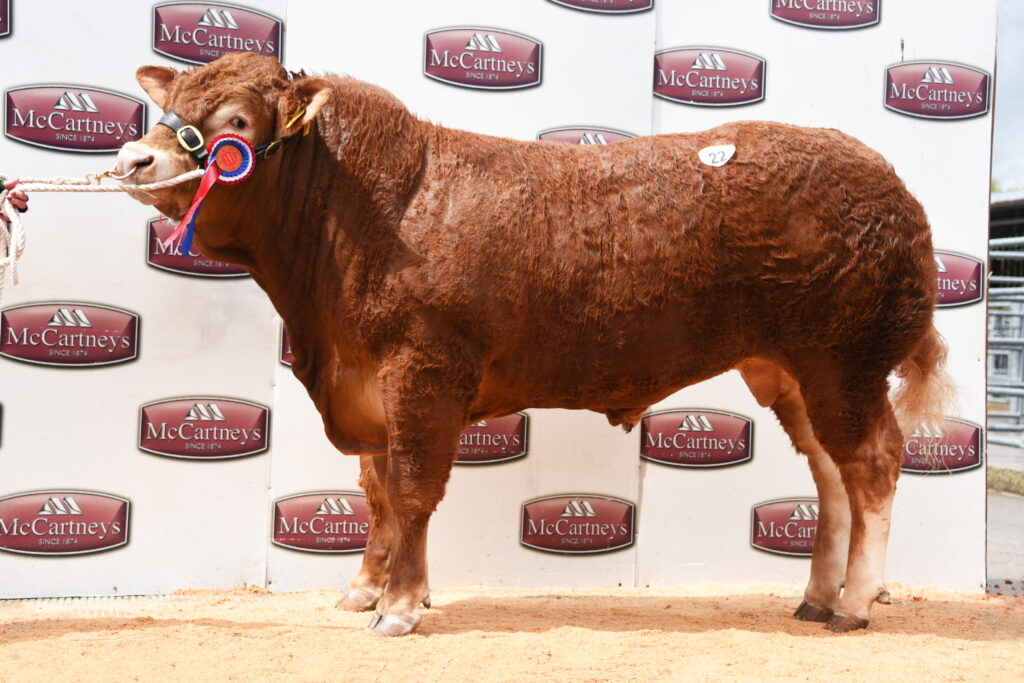 Next in the stakes was Wilodge Poldark who sold for 8,200gns after being crowned Senior and Reserve Overall Champion. Travelling from Shifnal, Shropshire with the Wilodge herd, this November-2019 born embryo calf is a son of Whinfellpark Lomu and out of homebred cow Heaven who bred the second top price, 25,000gns for Wilodge Onhigh, at the herds sale in January this year. Poldark displays a Beef Value within the top 10% of the breed of 48 and myostatin traits of F94L and NT821. Poldark was snapped up by E I Lewis & Son and goes to Llwch Y Carreg, Llanidloes.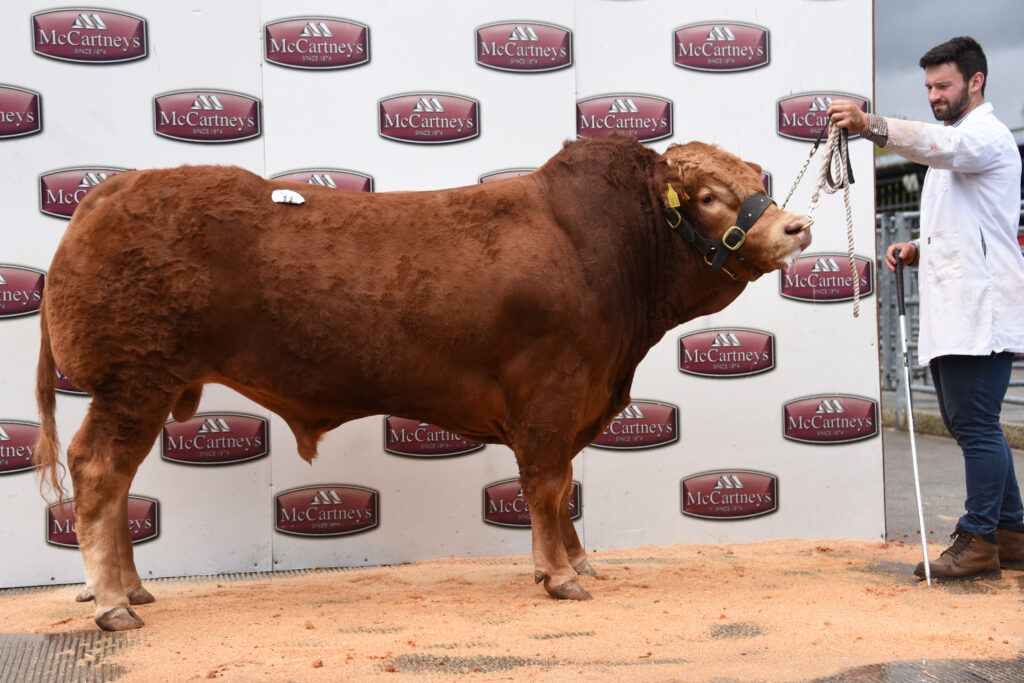 Hot on their heels was Cowin Paster from WDD & C James, Carmarthen who went under the hammer for 7,000gns. This August-2019 born son of 12,000gns Loosebeare Master is out of homebred cow, Cowin Gucci, who has a pedigree packed with French breeding. Paster gained second prize in the show and displays two sets of the F94L myostatin gene and a Beef Value within the top 10% of the breed, 44. Heading just over the border into Radnorshire, he goes to the Byton herd with S & M Edwards & Sons, Presteigne.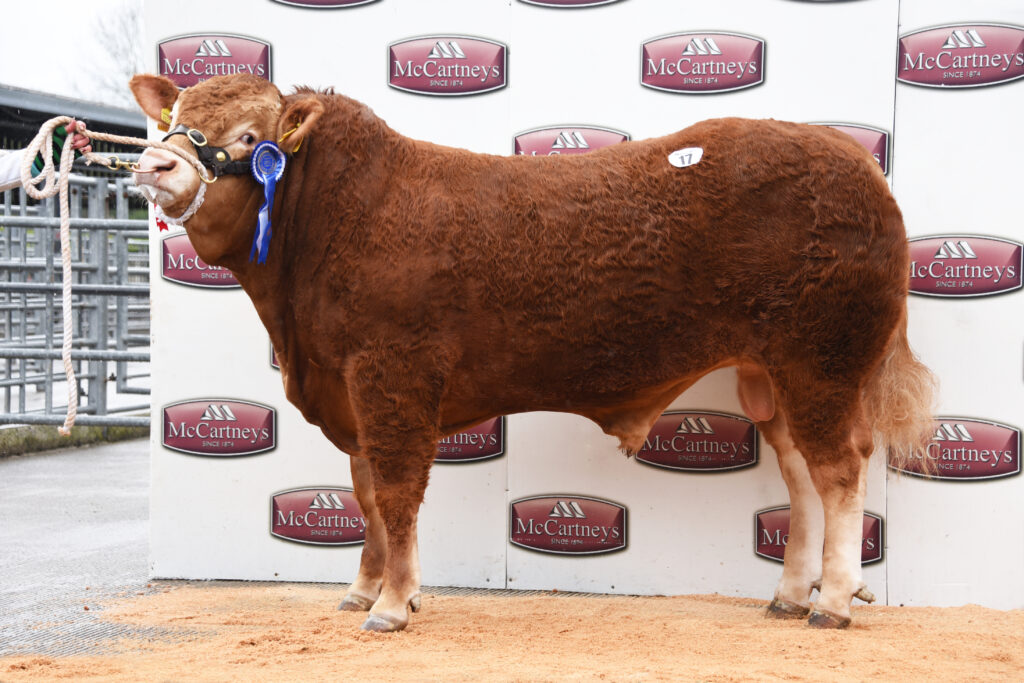 Going under the hammer for 6,500gns was another entry from the Wilodge herd, Wilodge Pegasus. Another Whinfellpark Lomu sired calf out of homebred cow, Wilodge Littleannie who also bred Wilodge Joskins, who was sold for 10,000gns in 2015 at Brecon. Pegasus was first in his class and displays a Beef Value of 42, in the top 10% and myostatin traits of double F94L. Heading South, he goes with JL Ward & Son, Torrington to the Marland herd.
Next in line at 5,800gns was Nealford Ross from JH Neale, who made the trip up from Launceston, Cornwall. This February-2020 son of Loosebeare Nelson is out of homebred cow Nealford Madame, an Ampertaine Foreman daughter. Ross was second in his class and displays two sets of F94L myostatin and a Beef Value in the top 10% of the breed, 46. Spotted by CR Davies, Aberystwyth, he was secured as their new commercial stock bull.
Top price for the Killerton herd was Killerton Pagan, brought forward from PW & SM Greed, Exeter. Achieving 5,400gns, this November-2019 born son of 18,000gns Ampertaine Lawson is out of homebred cow, Killerton Lanya. Carrying two sets of the F94L myostatin gene and a Beef Value of 34, in the top 25% of the breed. Pagan has a short journey home to Three Cocks, on the outskirts of Brecon with MG Jones.
Making 5,200gns was Killerton Rennie, also from PW & SM Greed, Exeter. This March-2020 born Ampertaine Lawson son is out of homebred cow, Killerton Jenny, a Barrons Fjat daughter. Rennie was tapped out as second and displays two copies of the F94L myostatin gene. Catching the eye of M & J Labbett, Kington he heads over the border to Herefordshire, the newest addition to the Labbett herd.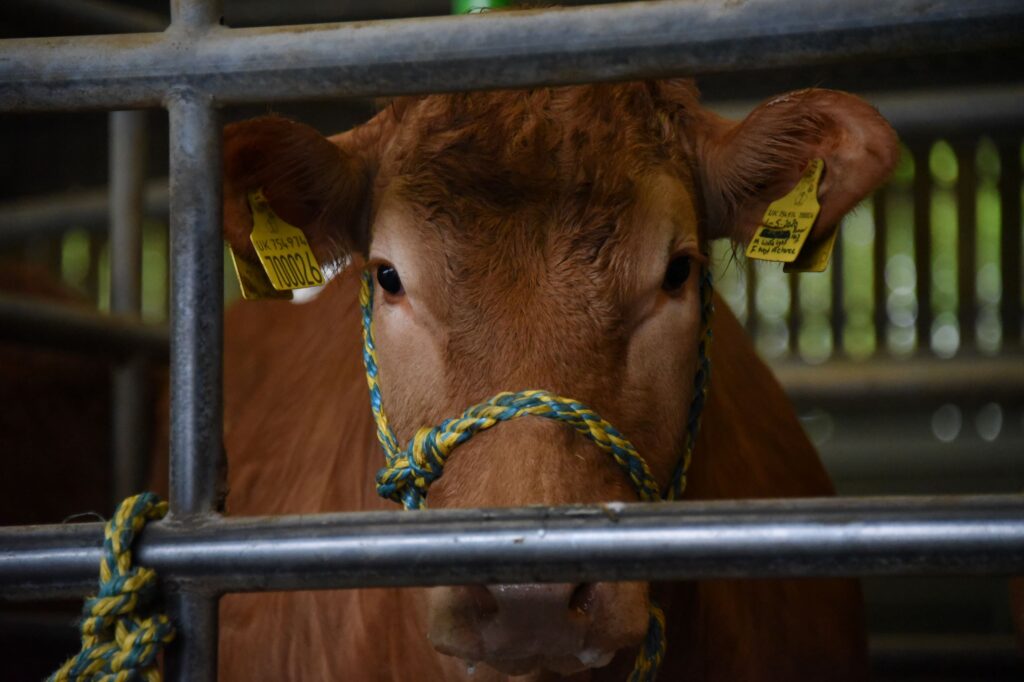 Onto the female section, the top price heifer was Comer Rumourhasit, brought forward by JJ Comer, Llandovery. Making 1,900gns, this May-2020 born heifer is a daughter of Foxhillfarm Notachance, who was sold at the sale for 3,800gns and out of Moonleaze Limelight. This heifer caught the eye of R & S Evans, Fishguard going to the Saralou herd. They also took Comer Rita, who sold for 1,300gns.
Achieving 1,800gns twice, was Millards Peaches and Penny brought forward by Mr K Griffiths, Kilgetty, Pembrokeshire. Both sired by Teifi Jockey and our of homebred cows, Millards Joy and Hatty. These heifers stay together, finding their new home with J Kembery, Camerton, Bath to the Kamvalley herd.
Auctioneers – McCartneys
Issued by the British Limousin Cattle Society. Written by Ellie Layton, for more information contact on 02476 696500/ellie@limousin.co.uk