62 bulls averaged £8206.58 (up £628 on 2022)
13 bulls sold for 10,000gns or over
Team Goldie of Townfoot, Dumfries set the trade alight with their aptly named Goldies Torpedo who shot to the top selling for 32,000gns at the British Limousin autumn Sales hosted by Harrison & Hetherington Carlisle, on Saturday October 14th.
Goldies Torpedo is a double F94L myostatin with exceptional growth figures. Torpedos dam Goldies Glamour (full sister to Goldies Comet) has previously bred bulls and daughters to values over 20,000gns and his sire Ampertaine Opportunity has produced progeny in the high fives, including Goldies Relish (30,000gns).
Commenting after the sale Bruce said "we are all delighted with the trade, our pen of five bulls averaged £13,755 and we're delighted to see them go to good homes where we can hopefully see their success in the future. It's good to see great demand for the better end of the bulls through the ring".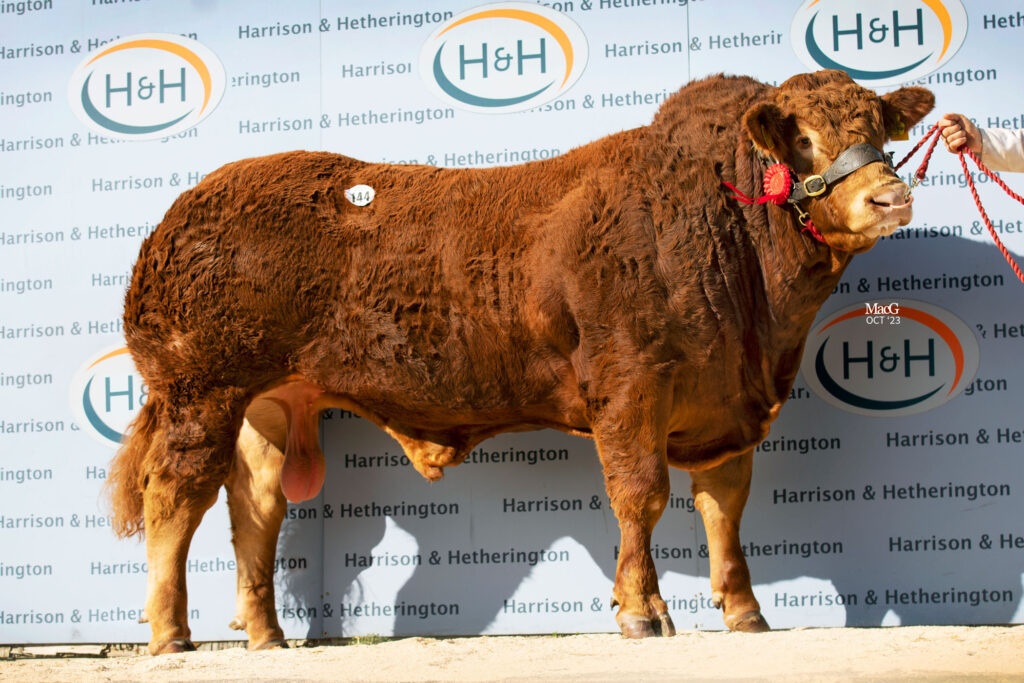 Bulls with top pedigrees and those that dominated the 2023 Show circuit fueled the trade with thirteen bulls making over 10,000gns. There was value for the commercial buyers with 36 bulls making between 3,000gns and 6,000gns; 62 bulls were sold, averaging £8,206 up £628 on the previous year.
May 2022 born, Foxhillfarm Titan went under the hammer for 30,000gns to Mary Cormack. Titan has continued his dams Foxhillfarm Gracie success in the show ring taking the Breed Champion at Ayr Show and Junior Male Champion and Reserve Male Champion at the Royal Highland Show; following up with identical results at the Great Yorkshire. Titans granddam is the notable breeding cow Bankdale Alice.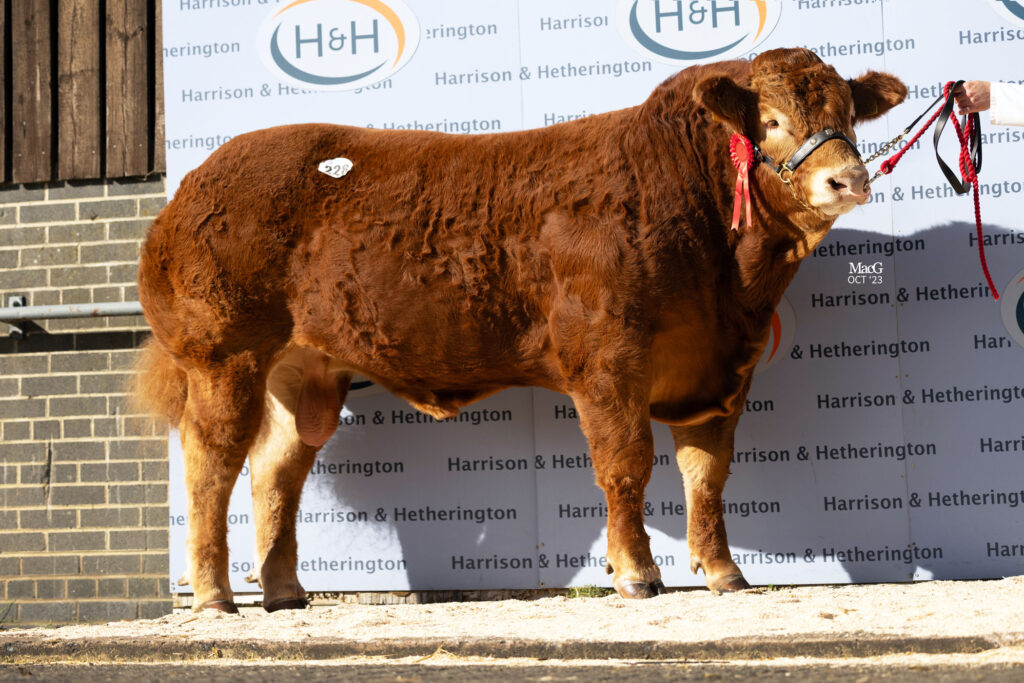 And it was Bankdale Farm Tigerroll, presented by Helen Wilson that made 20,000gns. Helen knows the importance of a strong female line and she knew Tigerroll has this in his pedigree. His maternal great grand dam Bankdale Alice went on to join the Foxhillfarm herd where she realized her full potential for Mel and Mike Alford. Commenting after the sale Helen said "Tigerroll's quality was clear from a young age, stylish, easily fleshed and a carrier of the F94L gene. When I set off to Carlisle I was feeling nervously excited that Tigerroll may give me the start towards my personal ambition of trying to match the bar my parents set with their achievements with the Bankdale Herd. He certainly made it a very special weekend for me, and I wish his purchaser Keih Eunson huge success with him up in Orkney with his commercial herd". Tigerroll is sired by Plumbtree Vantastic.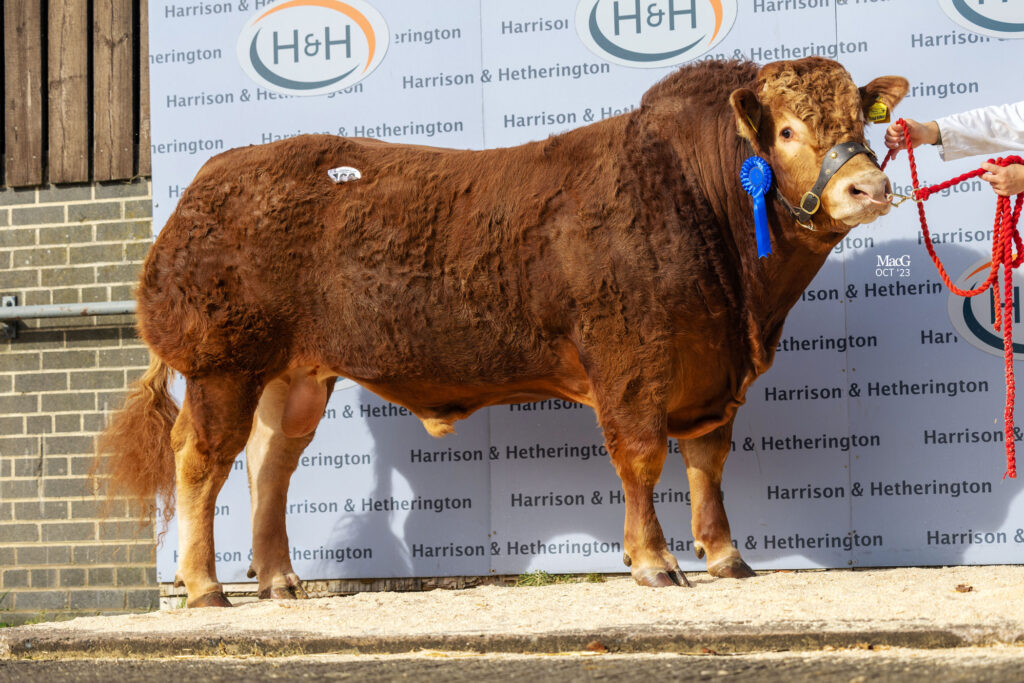 April 2019 born, Meadowrig Pedro a double F94L myostatin carrier was knocked down to Trevor Shields for 20,000gns. Pedro was purchased privately by the Calogale Herd and has proven breeding ability with offspring now retained in the herd.
British Limousins CEO, Alice Swift comments "as a breed we are indebted to the support we receive from the commercial buyers. The beef industry needs genetics that deliver a young age at slaughter and a high kill out percentage and it's this demand that fuels the trade. There were bulls sold to suit all budgets from 3,000gns to 32,000gns. I'm incredibly proud of our Limousin members who are some of the most accomplished stockmen in the country and it is their knowledge and skill that deliver such spectacular and enjoyable Sale days".
Scott Donaldson, Managing Director at Harrison Hetherington commented:
"Although the entry was less, the October sale at Carlisle still offered commercial producers a selection of top quality Limousin bulls to fit all budgets. With both Autumn and Spring born suckled calves selling well ahead of last years values there is renewed confidence as commercial breeders see the benefit in making that added investment to breed quality.
I strongly believe that spring calving producers should consider purchasing in October in order to allow a young bull to settle in to his new home before being put to work, the option to defer the breeding warranty for three months, combined with the NBA conditions on fertility, allow for this with time to spare."
Judge Vince Corbett travelled up from Powys in Mid Wales to tap out his champion Trueman Trombone, for breeder Henry Savage. Commenting after the sale, Vince said "my champion oozed style from the moment he came in the ring, he was incredibly long with wonderful locomotion and from behind had incredible width which was through his whole body reflecting the modern-day Limousin. It was a wonderful show of Limousin bulls from start to finish with farmers willing to pay top money in the sale ring for the best cattle while also studying the bloodlines as well as shape demonstrating that the Limousin breed is supplying what the commercial market wants". Reserve Champion went to Deerhouse Thor, presented by Henry Wood and was sired by Goldies Novelty.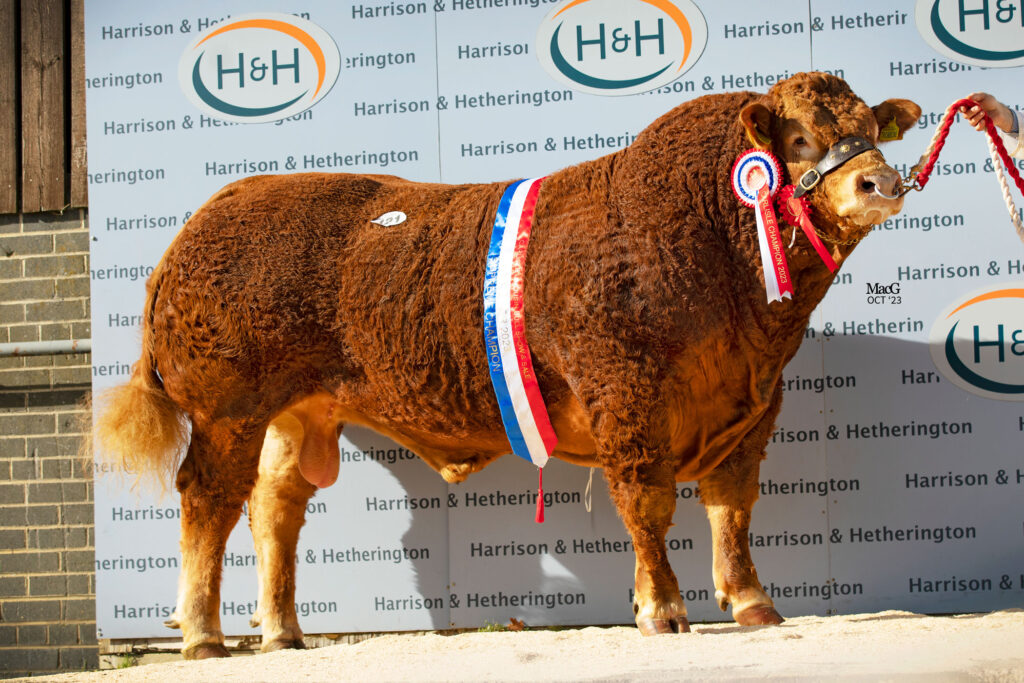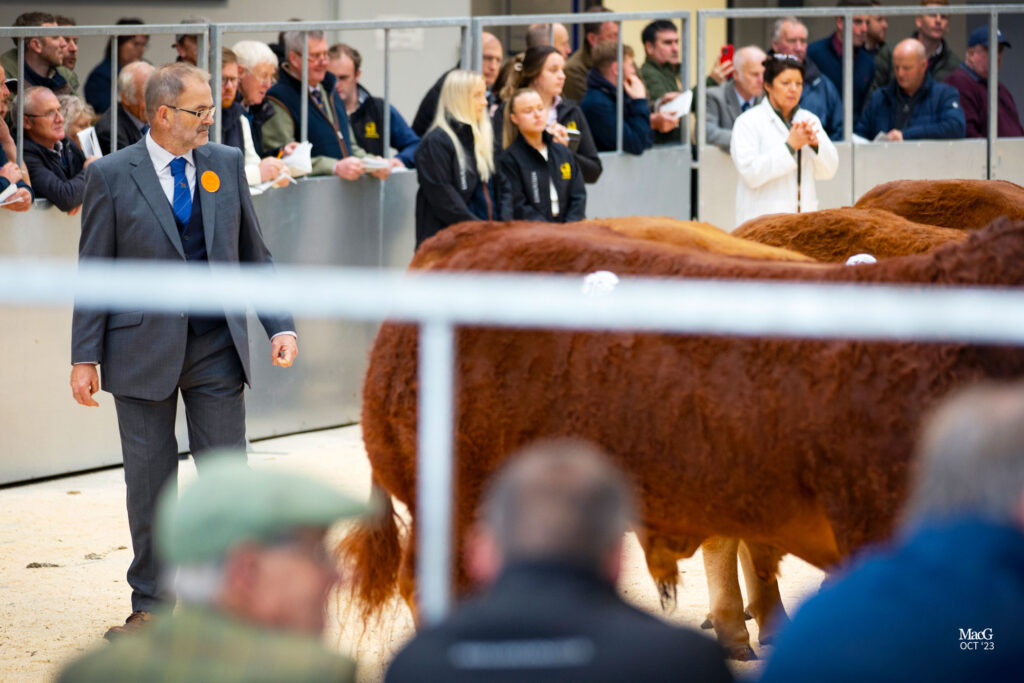 13 bulls sold for over five figures.
Lot 144: Goldies Torpedo (1st Prize Class 4) presented by Bruce Goldie sold for 32,000gns to Messrs Campbell, Carstairs Junction, Lanark.
Lot 228: Foxhillfarm Titan (1st prize class 12) presented by Mr & Mrs M Alford sold for 30,000gns to Mary Cormack, Chepstow, Monmouthshire.
Lot 101 : Meadowrig Pedro, presented by G J Lee & C M Lloyd sold for 20,000gns to Mr Trevor Shields, Kilkell, Newry, N.Ireland.
Lot 160: Bankdalefarm Tigerroll (2nd prize class 6), presented by Helen Wilson sold for 20,000gns to Braebuster Farm,Deerness, Orkney.
Lot 173: Ampertaine Shotgun (1st prize class 7)presented by W J & James McKay sold for 17,000gns to Messrs Wood & Sons, Ratlinghope, Shrewsbury, Shropshire.
Lot 194: Maraiscote Tonto (1st prize class 9) presented by J Nimmo sold for 15,000gns to Messrs Johnston, Shapinsay, Orkney.
Lot 212 : Spittalton Tesla (1st prize class 10 & Reserve Junior Champion)presented by Mr J Burnett & Sons sold for 15,000gns to Stuart Perkins, Terry Hill, Radstock.
Lot 129: Cornsay Thunder (1st prize class 3 & Reserve Senior Champion) presented by W I Suddes & Sons, sold for 14,000gns to Messrs Barron, Burnhope, Durham.
Lot 149: Goldies Tango (1st prize class 5 & Intermediate Champion) presented by Bruce Goldie sold for 12,000gns to Messrs Bunting & Son, New Abbey, Dumfries.
Lot 151: Spittalton Trump presented by Mr J Burnett & Sons sold for 12,000gns to Messrs Hutton, Threlkeld, Keswick, Cumbria.
Lot 159: Glenrock Terminator (1st prize class 6 & Reserve Intermediate Champion)presented by Mr S & Mr T Illingworth sold for 12,000gns to Messrs Graham, Blairdrummond, Stirling.
Lot 229: Garrowby Tarzan (2nd prize class 12) presented by Garrowby Farms sold for 12,000gns to Robert Graham, Bridge of Allan, Stirling, Stirlingshire.
Lot 204: Garrowby Troy, presented by Garrowby Farms sold for 10,000gns to Messrs Mulholland, Carlisle, Cumbria.