Anside Titan tops at 14,000gns
A strong commercial trade continued for Limousin breeders at Stirling with Anside Titan topping the trade at 14,000gns, with the 29 bulls sold achieving an average of £7,053 up £1,162 on the year and overall clearance of 74%.
Martin and Mel Irvine turned out a strong quintet selling to an average of 8,500gns, three being the first sons off stock bull Anside Prometheus. It marks the second year running that the family has led the trade at the October bull sale. Top price Titan (myostatin: F94l/NT419), Champion at this years Keith Show, was knocked down to M Robertson, Fodderleter Farms and Anside Tyrone (myostatin: F94L/ NT419) the reserve junior champion sold for 10,000gns to return customer Messrs Muir & Sons, Shapinsay. The third Prometheus son, Anside Titan secured 7,000gns selling up to Caithness with Messrs Swanson, Quarryside.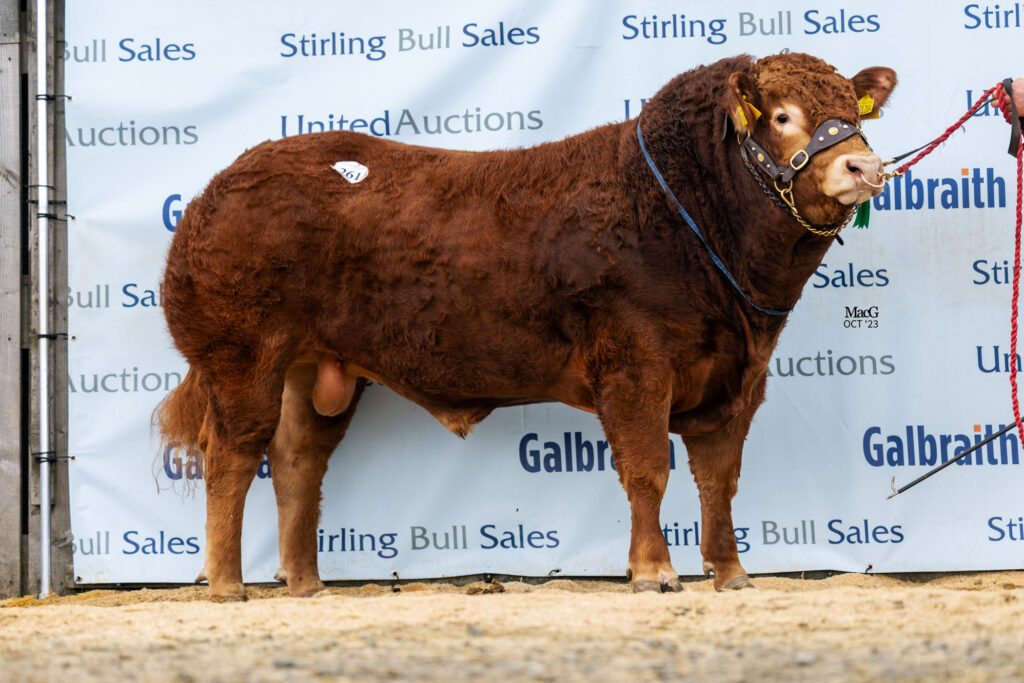 Dyke Tank, a March 2022 calf and a double F94L myostatin carrier, stormed to 13,000gns for Donald and Jimmy Mcgregor. Tank is out of Whinfellpark Ohagan and out of Dyke Nina, a daughter of Dyke Gandalf.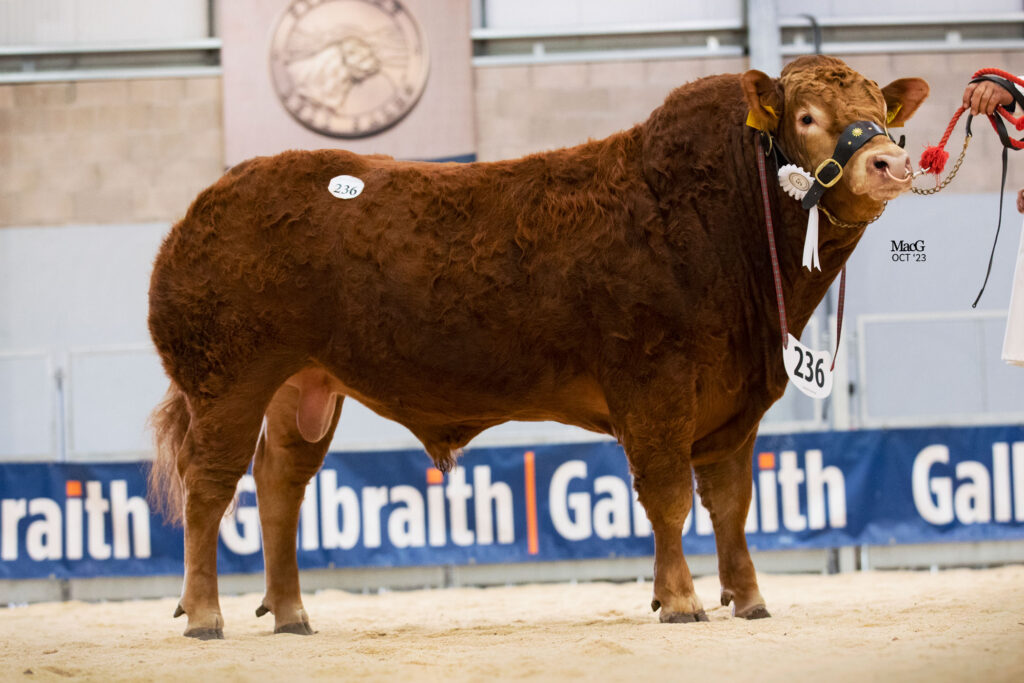 Andrew Burnetts Spittalton Toby, a double F94L carrier caught the eye of pre-sale show judge Colin Lewis, winning Intermediate Champion and Overall Reserve Champion. Toby was knocked down to J & J Pattillo for 12,000gns, a son of Ampertaine Opportunity out of Spittalton Ivana, who goes back to Spittalton Denzil.
Foxhillfarm Topper carried on Mike and Melanie Alfords winning form standing first in class then went on to take Senior Champion and Overall Champion at the pre sale show. Topper was immaculately turned out by Drew Hyslop and sold for 5,800gns. Colin Lewis of the Garyvaughan Herd, travelled up from Welshpool mid Wales with wife Elaine to judge the pre-sale show and said it was a great honour to judge at Stirling.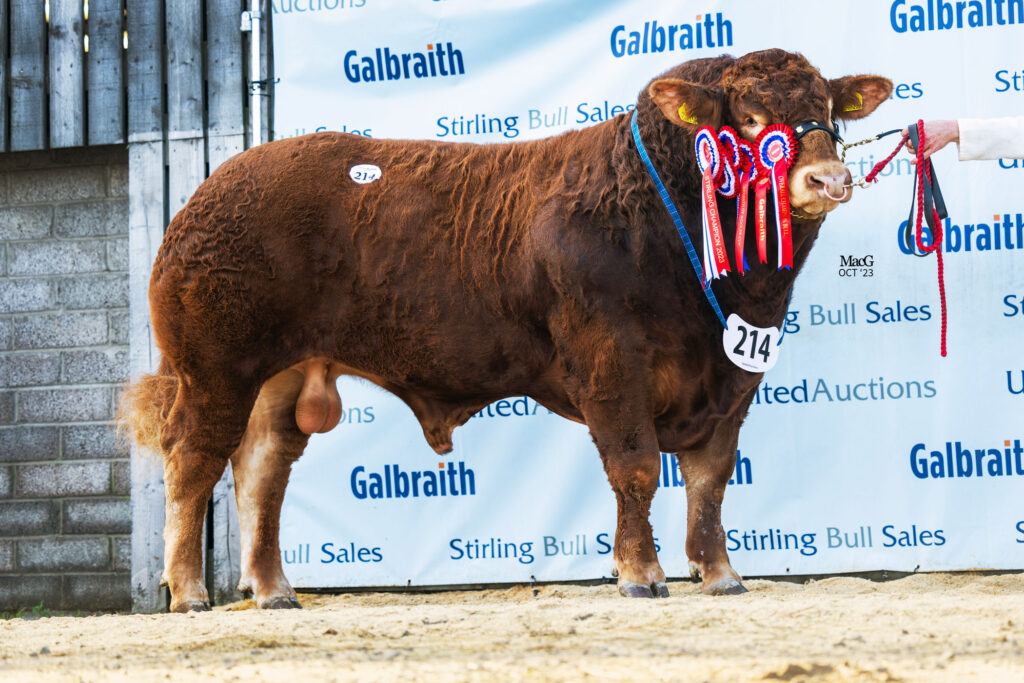 Stephen and Thomas Illingworth's Glenrock Tornado, a heifers calf and a double F94L myostatin carrier, was knocked down for 10,000gns to Jim Gobb, Toftcombs, Biggar. Out of Glenrock Peekaboo, it's grandam Glenrock Harmony has previously bred bulls to 25,000gn. The Glenrock herd have enjoyed a hugely successful year and picked up a number of prizes at the Scottish Limousin Clubs awards evening including the Reserve Overall herd.
Ian and Moyra Nimmo's Maraiscote Toppa made 9,000gns and Maraiscote Tiesto was placed Reserve Intermediate Champion and knocked down for 6,800gns. Maraiscote have had a super year topped off by winning the Overall Best Herd at the Scottish Clubs awards evening.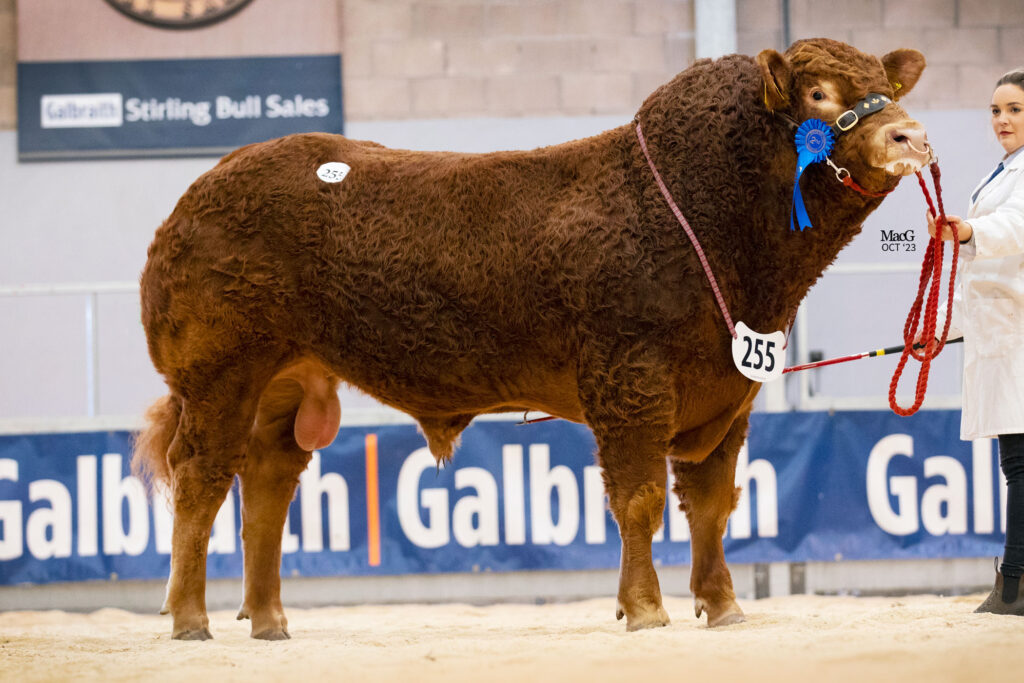 Top Prices
Lot 261: Anside Titan sold for 14,000gns.
Lot 236: Dyke Tank sold for 13,000gns.
Lot 240: Spttalton Toby sold for 12,00gns.
Lot 234: Glenrock Tornado sold for 10,000gns.
Lot 266: Anside Tyrone sold for 10,000gns.