Kindly sponsored by The Saskatoon Colostrum Company
A good turnout of Limousin Young Breeders competed for a total prize fund of £2,800 at the annual Young Limousin Breeders' Stockjudging Championships held at the Royal Show on Thursday 9th July 2009. Conditions were fine as the competitors, drawn from the Society's nine regions, surveyed three classes of stock made up of one young bull and two heifer classes under the watchful gaze of Master Judge Daf Griffiths who runs the Mynach Herd of pedigree Limousins at Cilgryman Fawr, Cwmfelin Mynach, Hen-Dy-Gwyn, Carmarthenshire.
Douglas Crighton Silver Salver – Ashley Persey
With a prize fund comprising cash and product generously presented by Craig Watson of the Saskatoon Colostrum Company, this already prestigious event also serves as the qualifier for the Anglo-Irish Stockjudging, an annual competition involving teams from the Republic of Ireland, Northern Ireland and UK Mainland. Up for grabs in addition to all this was a trip to Agribition, Canada – due to take place in November 2009 – for the highest placed 17-21 year old.
Following a keenly contested competition, twenty-seven year old Ashley Persey from the South West Club took home the overall honours and with it the Douglas Crighton Silver Salver. Ashley's family run a commercial suckler herd at Allhallows Farm, Blackborough, Cullompton, Devon and Ashley, a trained chef, works at The Keeper's Cottage, the family pub in Kentisbeare.
In the Team competitions, Ashley teamed up with 20 year old Geoffrey Williams, Tretharrup Farm, St Martin, Helston, Cornwall to take the Senior title. In the Junior section, following a re-count, the title went to the North West Midlands & North Wales team made up of Caroline Barlow and Dan Ingham. The Noel Lusby Cup for Best Junior resulted in a three-way tie between Harriet Wilson, Caroline Barlow and Thomas Illingworth.
Agribition Winner – David Gethin
The highest placed 17-21 year old was David Gethin, Cwmcaebitra, Sarn, Newtown, Powys representing South Wales & Mid West. He will now represent the YLBC at the International stockjudging event to be held 22-24 November at the Agribition Show, Canada.
Grateful thanks on behalf of all the Young Breeders goes to Craig Watson of The Saskatoon Colostrum Company who gave so generously of his time and presented cash and Calf's Choice Total Colostrum to all the winners. YLBC would also like to thank all those who made the event such a success, particularly those bringing out stock to support the Young Limousin Breeders.
Junior Team
1st NW Midlands & N Wales, Caroline Barlow & Dan Ingham
2nd S Wales & Mid West, Katie Higgs & Whitney Jerman
3rd North West, Edward Hird & Thomas Illingworth
4th South West, Scott Reed & Stuart Persey
Senior Team
1st South West, Ashley Persey & Geoffrey Williams
2nd S Wales & Mid West, Ffion Jones & Matthew Jerman
3rd Northern Ireland, Kim Nicholson & Ian Davidson
4th North East, Richard Priestley & Annabel Mason
Overall Individual
1st South West, Ashley Persey
2nd S Wales & Mid West, David Gethin
3rd= South West, Geoffrey Williams
S Wales & Mid West, Ffion Jones
N Ireland, Lynsey Lawrence
Douglas Crighton Silver Salver & Overall Champion: Ashley Persey
Noel Lusby Cup & Junior Champion: Harriet Wilson, Caroline Barlow & Thomas Illingworth
Winner of Canadian Agribition Trip: David Gethin
Geoffrey Williams & Ashley Persey
Geoffrey Williams, Ffion Jones & Lynsey Lawrence
Kim Nicholson & Ian Davidson
Matthew Jerman & Ffion Jones
Noel Lusby Cup. Tom Illingworth, Harriet Wilson, Caroline Barlow
Scott Reed & Stuart Persey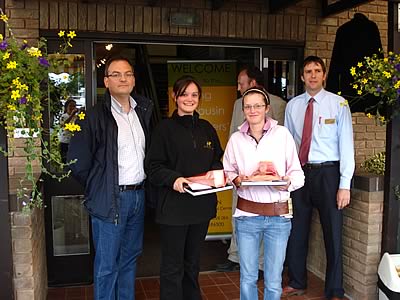 Whitney Jerman & Katie Higgs
Craig Watson (Saskatoon), Richard Saunders (BLCS), Daf Griffiths (Master Judge) & Craig Norman (YLBC Chairman)