ALL-IRELAND DERBY SEES A ONE-TWO FOR NORTHERN IRELAND LIMOUSIN BREEDERS
Erne Ezabel wins Heifer Derby for Raymond Crawford
Michael Loughran's Millgate Fame secures Bull Derby Crown
The All-Ireland Bull & Heifer Derby finals saw Northern Irish breeders take both the Bull and Heifer titles at the fifth annual running of the event held at Castlewellan Show on 16th July 2011 between the Northern Ireland Limousin Cattle Club and the Irish Limousin Cattle Society. The Challenge Shield, presented to the team with the highest number of points, was retained by the Northern Ireland Limousin Club.
Held first at Castlewellan in 2007 and then in subsequent years at Virginia, Clogher Valley and then Cappamore, the event returned to Castlewellan attracting a large crowd who witnessed a first-class showcase of Limousin cattle from both Northern and Southern Ireland. Judge was Mr Brian Jones of the noted Bailea Herd of Senny, Sennybridge, Brecon, Powys.
In the Heifer Derby, sponsored by Ulster Bank, for heifers born on or after 1st June 2008, the Judge selected Erne Ezabel, a July 2009 born heifer who displayed tremendous shape and power. Owned by Mr Raymond Crawford, Rathkeeland, Maguiresbridge, she is by the Crawfords' high-profile sire Sauvignon and out of the Saphir-sired dam Hafodlas Beren.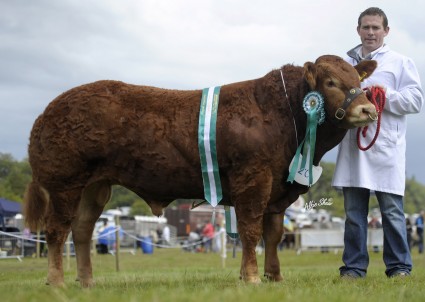 The Bull Derby title went to Millgate Fame owned by Michael Loughran, Dungate, Dunamore, Cookstown. Supported by Teemore Engineering, this May 2010 young bull is by the French sire Condor, who is currently the Millgate Herd's junior stock bull, and is out of Kilcurry Cailin, a Rocky daughter. Millgate Fame had earlier this year stood Reserve Junior Bull Champion at Balmoral Show and displayed tremendous muscling and style.
Reserve Heifer was Brookland Emma from Messrs John & Tom Hickey, Knockbrittas, Kilcomman, Thurles, CoTipperary. This September 2009 heifer was bred by the profilic 42,000gns sire Wilodge Vantastic and is out of the Ferry-sired dam Brookland Beauty and again displayed power and size. Brookland Emma had been placed as Reserve Female Champion at the 2010 Beef Expo held in Kilkenny. Third place in the females went to the youngest heifer in the final, Elite Forever Free, born September 2010, from Mr Edward Tynan, Beechill Farm, Doon, Mountrath, Co Laois. This young and very stylish heifer is sired by Wilodge Vantastic and is out of the dam, Ardlea Coillte.
Reserve in the bull section headed to Mr Bryan McElroy, Enagh Road, Dromara, Dromore with the March 2010 born Bridgeford Floyd. This young bull is sired by Haltcliffe Underwriter and is out of Bridgeford Saskia, a Greensons Gigolo daughter, and the ILC 2004 Female Champion. Taking third spot was Keadyview Francis from Mr Barney O'Kane,Liscall Road, Garvagh, Coleraine.  This June 2010 born bull had previously won the Junior Bull Championship at the 2011 Balmoral Show and is bred by the high profile sire, Sympa, and is out of Carmorn Babe.
Heifer Derby Results
1 Erne Ezabel                         R Crawford, Rathkeeland, Maguiresbridge, Co Fermanagh
2 Brookland Emma               J & T Hickey, Knockbrittas, Kilcommon, Thurles, Co Tipperray
3 Elite Forever Free ET       E Tynan, Beechill Farm,Doon Mountath, Co Laois
4 Ardlea Ennebelle               D Tynan, Beechill Farm, Doon, Mountrath, Co Laois
5 FedneyhouseElizabeth     TJ Adams, Fedney Hose,50 Shot Lane, Banbridge
6 Derriaghy Fancypants       DG Green & Sons,Derriaghy Road, Lisburn
7 Elite Edel ET                      E Tynan, Beechill Farm, Doon, Mountrath, Co Laois
8 Melbreak Fairylight            J & A Callion,Skreen Road, Shaneragh, Dromore
9 Ballinascraw Fantasy        J & S Lynch Ballinascraw, Ballinalee, Co Longford
10 Oakfarm Edan                 Mr & Mrs D & JBell, Derrygortinea Rock, Dungannon
Bull Derby Results
1 Millgate Fame                    M Loughran,Mill Road, Dungate, Dunamore, Cookstown
2 Bridgeford Floyd                B McElroy,Enagh Road, Dromara, Dromore
3 Keadyview Francis           B O'Kane & Sons,Liscall Road, Garvagh, Coleraine
4 Baltray F392                       PJ & Hilda McDonnell, Station Road, Gormanstown, Co Meath
5 Erne Ferdo                         R Crawford, Rathkeeland, Maguiresbridge, Co Fermanagh
6 Chinauley Filmstart            A Finney,Castlewellan Road, Banbridge
7 Millgate Ferry                     M Loughran,Mill Road, Dungate, Dunamore, Cookstown
8 Rhyne Fantastic                 M Hagan, Rhine, Killoe, Co Longford
9 Ballinascraw Foreman      J & S Lynch, Ballinascraw, Ballinalee, Co Longford
10 Birchpark Federico         O Flannery, Clounty, Mountshannon, Co Clare
11 Barryroe Fionn 2              J Wycherley, Lislevane, Bandon CoCork